You will find most flavors are already in the database. When you're building a recipe and start typing the flavor name, you should get a popout listing flavors with the letters you just entered. For example, if you type str you should start seeing all the stuff with strawberry in the name. That popout has a scroll you can use to find the correct entry. However, @daath pointed out a much better method some time back where you use 3 letters for each word of a flavor that has multiple words. For example, Vanilla Bean Ice Cream. You can type van bea ice cre and this will hone in on the specific name. Then you can just scroll to the correct one. Another thing I like to do is if I want to find a specific flavor/vendor quickly, I'll type the first 3 letters and then a left parenthesis and the first letter or two of the vendor name. Example - to find Strawberry from Flavorah I would type str (fl and the results would be like this…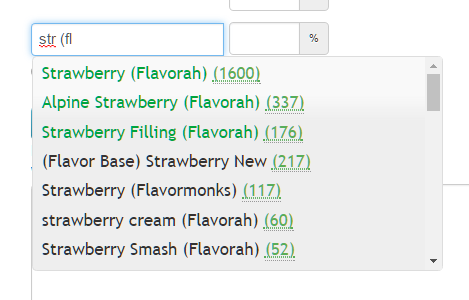 As you can see, my desired flavor shows up first.
The reason I mention this is the flavor database (as of now) is a community db so every entry done by anyone is accessible by everyone. This makes duplicates and incorrect entries a problem and right now there are only 2 people working to correct these. So we need everyone's help to minimize dupes and mistakes. So please everyone, do your diligence to make sure the flavor isn't already in the database before you enter a new name and click save. Thanks!!