Dokken, then Mr.T, your taking me back tonight
They do. When you get to shipping, put in BCF's address.
OooOOOooh!
Eye spy new flavor houses being carried since I last checked!


Nature's Flavors…
One on One…
Solub Arome…
Loving this!!!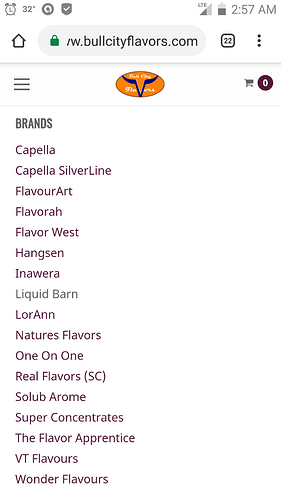 @BullCityFlavors
Just need to add Medicine Flower to that list!

Bull City is moving in the right direction…bigger place…new flavors…great CS…they listen…
Has bcv made a major change to their shipping? It used to be one of the main reasons i ordered from them, their excellent turn over time, they put other vendors to shame. But i ordered for the first time in months the other day and noticed a couple of things that seemed off to me. First, i got my order to over $50 just to get free shipping but the free shipping was $4.25. Umm, thats not free. Then, much to my distress, lol, i notice the shipping is from fedex. Yikes. Say it aint so. To no surprise at all, 4 days after i ordered, my package is in tennesee, im in nj, bcv is in nc, that doesnt add up. Not gonna complain after only 4 days of ordering, just saying this to me is a huge deviation from the dependable bcv shipping supremacy. Is this just a temporary thing while moving to the bigger warehouse or whatever or is this just what it is now?
https://www.bullcityflavors.com/domestic-shipments/
FREE SHIPPING POLICY:
Free Shipping is only available to the Continental US (Lower 48 States)*
To receive free shipping for domestic orders your cart must meet the $75 requirement before sales tax and after any coupons are applied.
---
There is currently a code which can make free shipping start at $49.95 ( FREESHIP )
Did you use the code?
Arggggghh… no! I used the elrecipes 6% code. Lol. Eh, whatever, still saved some. Didnt realize the code was needed for free shipping. Thanks!
I may be wrong, but I believe one can only use only ONE code when ordering.
I guess my math teacher was right when she said her class might come in handy one day.

Its not free if you use another code… That just happened to me this weekend as well .
Whoah!!! I'll be checking that out next order. No problems ever with current NF vendor, but i look forward to seeing just what flavors and which type they carry.
I may make an order with BCF just to let them know the brand is worth carrying.
WHATTTTT! Wish they had them for the Easter Sale…i made a total different order at DIYVS as no one else had them. This is good! I like DIYVS their selection is among the best but they don't ever seem to have sales or free shipping without spending a good amount of $$$.
i don't see them on BCF…were you teasing me?
False alarm! Well, maybe there is hope for a more complete offering, but for now @BullCityFlavors is only carrying Ginger NF and Malt NF. I have those already. Malt is awesome, if you don't have it already, pick it up next time you're there! Ginger is very good, but not a whole lot of recipes i make call for it…yet! Just got Oatmeal Cookie RFSC and might blend a little in to see what happens.
Oh you big tease! Yeah I have seen these before…always wondered why they didn't carry more.
I lay the blame on @Sprkslfly! He got me all excited! Guess i should have checked before posting!


I'll take it!
I knew there were only two when I posted that shot, but I was hoping that it was only the tip of the iceberg for things to come (kind of like how ECX or NR only add them as they go on the shelves).
They got me too !!
Just wanted to update that yes, i was wrong, it was my mistake attempting 2 codes like a dolt! And my latest order from bcv was back to the insane fast turnaround like usual.
Dang, 2 months later??? Like they say, time keeps on slipping, slipping…