Good to know
Thank you.
It does list food coloring so I'll stay away from them.
Some do. Picked these up out of a PIF box at a meet way back. LA Piña Colada is above, LA Blueberry with its stupid red and blue coloring is below.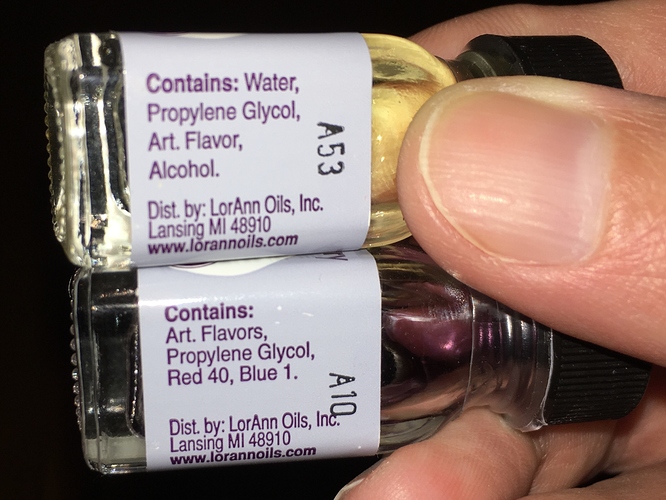 I'll tell ya, I don't know who the worst. LorAnn for adding Food coloring in most their stuff, or the FDA which allows it. Guess the latter, LorAnn doesn't have a problem with ECigs…
Made a little order tonight to Ecigexpress for some flavors to chase after this thread; priming my tastebuds for the butter rum and a few other creamy, buttery vapes in the future.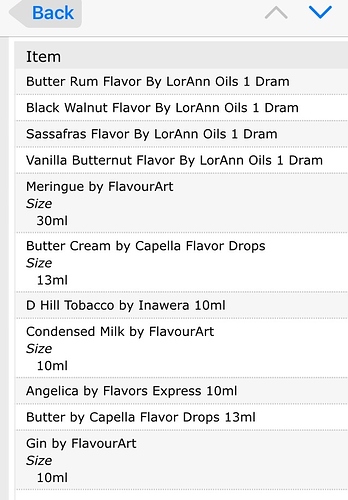 I bought both of these with my very 1st order. Both have food coloring and a foul aftertaste. I never made a single successful mix with them.
Sun Vaporer
Moved On
ECF Veteran
A Taste Of Lorann Flavors That Are Compatible With Our Atomizers
About 1 year ago, I bought every flavor from Lorann that is compatible with our atomizers. Everyone likes them. Here is my take on the flavors not mixed with others.
Note that the stronger the better as you just use less in your mixture (weak means I could not justify buying again). Again do not even bother with the flavorings in the grocery store as you will not get flavor–they simply are not strong enough:
Apple (Medium–Very good)
Bavarian Creme (Strong–Very Good)
Black Walnut (felt lke a squirrel)
Blackberry (Strong–Very good
Brandy (Got lit of this one)
Bubble Gum (Strong–Very Good)
Butter (went looking for some bread to put it on)
Butter Rum (Strong–Very good)
Champagne (Rang in 09 with it–will not in 2010!!)
Cheesecake (strong–very good)
Chocolate Hazelnut (Strong but not too little on the Choc)
Cinnamon Roll (Medium–Very good)
Coconut (strong --Very Good)
Cotton Candy(Strong–Very good)
Cranberry (Strong–very good)
English Toffee (Strong–Very Good)
Guava (did not bother to try–yuck)
Honey (The bees loved it–not me)
Horehound (Strong–taste like a cough drop)
Key Lime (never cared for it so I took a pass)
Lemonade (Strong–very sweet)
Licorice (if you like it–go for it)
Mango (Good to mix with the Strawberry)
Marshmallow (weak)
Mint Chocolate Chip (disappoints but try anyway)
Pecan (not exactly nuts over this one but Strong)
Pina Colada (strong–very good)
Pineapple (Good to mix with the Pina Colada!!)
Pistachio (passed up on it
Plum (not any time soon for me)
Pomegranate (Take a pass–weak–what is it?)
Praline (needed the cream)
Pralines And Cream (Strong–A Winner)
Sassafras (Medium–Not exactly Root beer as you would Expect)
Strawberry Kiwi (Look out Hawaii–nice)
Teaberry (Storng–very good)
Tropical Punch (Strong–puts you in Summer Mode!!)
Vanilla Butternut (the best you can do for a Vanilla–but not vanilla)
There is a Vanilla, but I have found that the alcohol content is way too high and tends to take over the flavor so I can not recommend it–Sun
Looks pretty tasty !
Vanilla butternut LA is outstanding it is probably the most underutilized flavor by LA that should have more props. It adds depth mouth feel oh it's creamy and has a sense of heartiness to it Yumo !
Gin - hmm let me know what ya get outta it ?
Sassafras - delicious !
Black walnut - again keep me posted
Just got butter cream caps it is looking pretty promising in adding well rounded cream/ buttered tones.
Condensed milk FA- I literally use 1 drop and it gets the job done. But rarely use it d/ t naughty ingredients.
LA Vanilla is my go to vanilla. It's just spot on to me. I know most ppl have their's picked out early on but if you feel like trying one out I love it. I never really got a high alcohol taste from it. Odd I looked at the ingredients and it does not have it listed.
@Pro_Vapes just to add to that LA thread you inserted there.
Here is another color coded LA chart
Ed says:

June 23, 2015 at 2:16 pm
More to add:
Rum: oil-based
Vanilla (not vanilla oil): oil-based.
Black cherry: oil-based.
I tested these myself in water.
Reply
Ed says:
June 23, 2015 at 12:50 pm
Black cherry should be added as a non-water soluble oil.
Creme de Menthe is also oily and shouldn't be considered water-soluble.
It's true vanilla LA the ingredients says sweet almond oil. But I have been using it for ages. Hmm not too crazy bout that but it is what it is.
Hey all,
My Flavor West and Lorann's butter rum arrived today, I mixed both at 15%, 70/30, 2mg nicotine. (I drip all day).
They are taking a bath on the candle warmer so I haven't tasted them yet but:
Flavor west - smells exactly butter rum Lifesavers! Dead on! Can't wait to see how it tastes. Color is slightly Orange, mixed at 15% is almost colorless.
Lorann's - So much alchol I can't smell much else, except maybe… Clove??? I hate clove. We'll see if that is the case when I taste it. The color is deep, looks like melted butter.
Taste reviews coming soon.
OK dudes I have two mixes I like test 1 more than test 2 mainly because you get that rich deep gooey sense of butterscotch.
| Ingredient | % |
| --- | --- |
| Butter Cream (CAP) | 1 |
| Butter Rum (LA) | 2 |
| Butterscotch (FW) | 6 |
| MTS Vape Wizard (FA) | 0.1 |
| Sweet Cream (FW) | 2 |
| Sweetner Ecig Express | 0.1 |
Flavor total: 11.2%
Remember to rate it at
e-liquid-recipes.com!
| Ingredient | % |
| --- | --- |
| Butter Cream (FW) | 2 |
| Butter Rum (LA) | 0.76 |
| Butterscotch (Flavorah) | 5 |
| Caramel Candy (TPA) | 1 |
| Cream (Flavorah) | 2 |
| MTS Vape Wizard (FA) | 0.1 |
| Sweetner Ecig Express | 0.1 |
Flavor total: 10.96%
Remember to rate it at
e-liquid-recipes.com!
Off the bottle of each mix they both had an overwhelming alcohol scent and smelled pungent. I tried them regardless and this scent does not translate into the taste of the mixes thank goodness. I think the missing ingredient was the Butter rum. @Brotherbob1 you hit the nail on the head !!!
I have to agree. The LA Butterscotch is strong. Really strong. I love it. I only use it where that flavor is dominant, otherwise I use TFA for background flavoring.
you mean LA butter rum right ? And yes a light mixer it will Destroy a mix in a hot minute if too high!
I have it at 2% on the FW butterscotch and really because of the cream content in that mix I think it can blend with those flavors. It may end up coming down to 1.50 ish if proves overtime to be too prominent but as for the " roughness " I used 1 drop vape wizard to cut that and it worked beautifully.
Dang it! Yes, I meant Butte rum. It's Lifesavers gone nuclear.
I got one I'm gonna try on my next mix session…
| Ingredient | % |
| --- | --- |
| Butter Rum (LA) | 2 |
| Butterscotch (Flavorah) | 4 |
| Cheesecake (LA) | 5 |
| Graham Cracker (CAP) | 3 |
| Rum (INAWERA) | 0.5 |
Flavor total: 14.5%
Remember to rate it at
e-liquid-recipes.com!
I began the mission long ago to find the perfect butterscotch, only to be disappointed as many times as I was elated…to each flavor of butterscotch I would find notes of flavor from my childhood along with the undeniable feeling that something was still missing…
Though each company seems to embrace their very own definition of butterscotch, no one company seemed to deliver my definition of butterscotch…so I thought, why not put them all in the same bottle? So I did…and so far, its the closest ive come yet…
| Ingredient | % |
| --- | --- |
| Butterscotch (FA) | 3 |
| Butterscotch (Flavorah) | 3 |
| Butterscotch (FW) | 3 |
| Butterscotch (LA) | 3 |
| Butterscotch (TPA) | 3 |
Flavor total: 15%
Remember to rate it at
e-liquid-recipes.com!
i mixed it on 9.17.15 and opened it tonight and i must say, its pretty butterscotchy…
interesting!!! But that LA butternut don't play well with others it likes to steal the show…you may consider dropping it for a back note in the 0.75% range. Although the mix looks yummy, and I feel that the FLV butterscotch was a wee weak to me even at 5% just my take on it. But could have to do with the flavors I paired it with.
and i will definitely follow the lead of butter rum probably playing a role in the equation…i ordered some today…cant wait to add some to that…