Hey all good to be here…
Something if anyone can offer a good recipe using canabis type flavor tpa.
Thanks
TPA Mary Jane 5% and TPA Honey 5%… It's my ADV when I am going through weed withdraw.
First thing to mention is:
If you have this flavor in your stash, you need to change it to Mary Jane (TPA).
They don't make a flavor using the name you used.
Unfortunately, some vendors (flavor resellers) take liberties with flavor names. This is one such example.
https://shop.perfumersapprentice.com/p-6692-mary-jane-flavor.aspx
I have merged Cannabis TPA (and other variants) previously, but that was before Lars implemented the change to hopefully prevent re-entering a previously merged flavor name.
Cannabis TPA (and variants) will be merged again though, and we should be seeing instances like this decreasing in the future.
But i dont understand i bought canabis type flavor from tpa this same site you linked

well shit…sry

Granted, they still have that 'snippet' shown, but they don't list it as a flavor sold by TPA (for some unknown reason). Interesting, and good find.
The item for me is, if you search by Cannabis (or Canabis ) you get: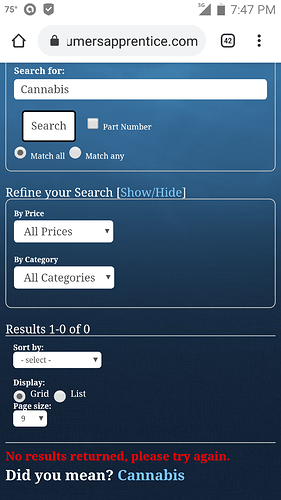 Now, I do know that they sell Terpenes, and I went through early on, and l painstakingly entered every variant that they had listed. That was approx six months ago though…

It may be a leftover from the separation back when. Hard to say, but I'll try to dig into it further.

Off topic, but since you mentioned a change that Lars implemented…there is a sizable amount of duplicate submissions (going all the way back to Feb) that would benefit from that change if a merge were to ever happen again.
That's twice now you've publicly made snide comments at me…
I'm WELL AWARE of the list, and what needs to be done.
I've made several attempts to show you what should and should not be submitted. Why solutions/dilutions DO NOT belong merged into the primary group, and a host of other issues.
I have done some merging in the last couple months (not nearly as much as I would like to, but again, I'm trying to get a house packed and it's taking much longer than I expected), and your particular submissions continue to be frequently problematic, so they get put to the bottom of my list.
This must be the first thread ever where @anon44012888 is literally the only one contributing to the OP's question for a cannabis flavored recipe… crazy
Cannabis Type seems to be the updated version of Mary Jane by the way
https://e-liquid-recipes.com/flavor/267750 (see @Silhouette's notes)
Also
https://www.savevape.nl/en/cannabis-type.html
confirms the same thing. So please don't merge these flavors.
@ethan_diy you may want to check up recipes for Mary Jane flavor and use your Cannabis Type instead. Wish I could recommend a recipe but I'd rather have the real deal than a flavored liquid

And that's more than twice now that you've responded with a crappy attitude! You're unbelievably quick to jump down my throat when this topic comes up. You seem to think it's ok to talk down to people but you're a user like the rest of us, with one 'admin' privilege.
There was nothing 'snide' in the reply. Maybe I should just forget the subtleties and attempts to show you some respect and just come right out say it…
Do the damn job you're tasked with!
Problematic or not at least I'm making an effort. All we see from you is talk! Apparently you're not too busy "house-packing" when you're here replying to threads! Don't ever talk down to me like that!
Mommy! Daddy! Stop Fighting!
Ok, lads please take it to PM
Chillax, and help yourself to some of those yummy, decadent, pleasure-free aroma-therapy Terpene Tarts.
Source: https://omg.blog/images/2010/lizardlover.jpg
Haven't tried this yet. But seen and heard some folk, say it can contribute to your flavor profile. If you read the notes. The pine note seems to be a major factor I guess? idk

Whoosh hell of interesting topic Thanks all for your advice and insight
Cannabis Type is a citrus Cannabis flavor, improved upon. The Mary Jane is separate. I think they wanted to make a new Cannabis flavor that didn't taste like smooshed pine needles.

Yakima Hops and Cannabis Type are good together, also Yakima Hops and Euro Amsterdam.