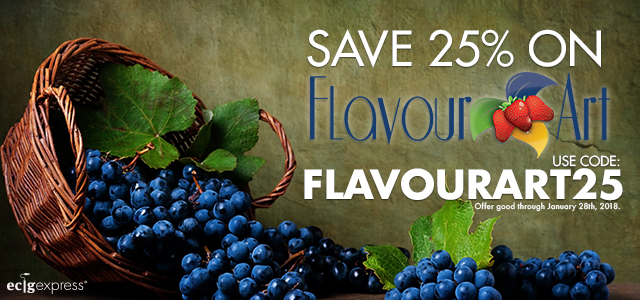 Good Morning fellow mixers! This week's sale is on FlavourArt! Save 25% with the coupon in the pic above.
Also, we have a few new items in our catalogue worth checking out
Chili Mango by Signature/TFA
Passion, Orange, Guava (POG) by Signature/TFA
Both great flavors that are deliciously unique, but not so unique that they cant mix well with other flavors.
We also have new one shots available!
Blackberry Milk by mlNikon
Enjoy the flavor of fresh ripe blackberries mixed with delicious vanilla milk.
RY S'mores! by Christopher Kopel
Hidden under dense layers of warm chocolate, graham cracker, and marshmallow lies a robust RY4 that will appease both tobacco and desert lovers alike.
An ADV for all seasons, this RY4 will leave little to be desired.
Note: This complex flavor recipe requires 10-14 days of steeping to reach it's full potential.
Other than that, We hope you have a great weekend and as always Vapesafe and Mixwell!


Agree or no?