1.Do you build your own coil yourself? If so, what's the specification of wire, like stainless steel, 28awg; If not, simple comment "Desire Rabies RDA"
Very basic Kanthal Wire
2.Which feature of Desire Rabies do you like?
Large Build Deck
4.Share your vape gear here (pictured preferred)
Sigelei 213W with Tsunami 24 RDA
5.Do you know Heaven Gifts's slogan? If so, comment here; If no, comment "Heaven Gifts1"
Heavens Gift

I wind the cantal and the stainless steel on the mandrel
1.Do you build your own coil yourself? If so, what's the specification of wire
316L Triple Fused Clapton (28gx3: 36g)
2.Which feature of Desire Rabies do you like?
Build space, well, and drip-tip
5.Do you know Heaven Gifts's slogan? If so, comment here
I didn't see it on the site, so Heaven Gifts
1
Yes, mainly SS and Kanthal, simple coils usually 26awg.
Big building deck and deep juice well.
Maxo Quad with Goblin mini, Wismec RX200 with Wotofo Troll RTA to name a few. Sorry camera is f@ck3d.
I looked for it but I can't find it so Heaven Gifts.
Good news!!!
Do you think 1 set is not so enough for you to fight for? Wanna more chance to win this Desire Rabies RDA? Here you go.
Another giveaway is in full swing on our site-- Win! Win! Win! Get Desire Rabies for Free, Enjoy Dense Cloudy Vaping! 8 sets are waiting for you!
Please don't hesitate to join us. Good luck!
My favorite coils to build are Aliens using 3*26g (ka1)cores with 38g alien wrap (ni80)
When time is short I love triple fused claptons using 26g and 38g.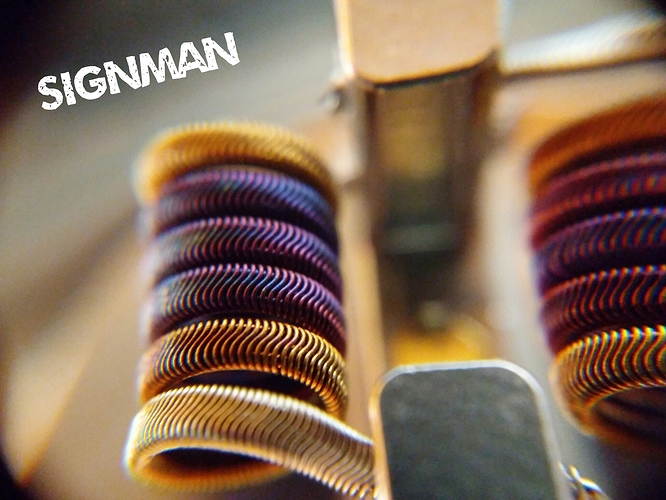 The deck design and airflow is pretty neat. I also like how the ultem drip tip looks on top