Seems after a few glasses of wine my taste has started to return! That or it's coincidence… Or I'm drunk
Vaper's Tongue Cure Recipe (Tested and Approved!)
Wine (Red Touch) 100%
Just what i was looking for . Thank you. I thought i ruined my taste buds.
Drink 8oz of Cosmic Coil Cleaner, when you wake up your Vapers Tongue will be better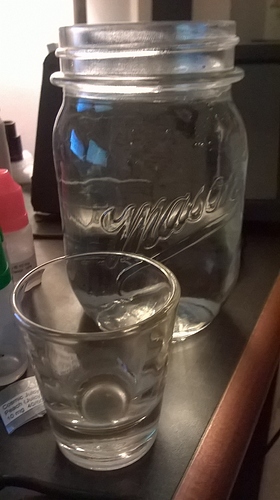 May have a slight headache
I discovered a nice solution to cleanse the palate… Ginger beer. I'm sure just some Ginger Ale would work, but the heavier ginger in the Ginger Beer really did the trick …or maybe it was the Spiced Rum

Ya but does it cause headaches like Cosmic coil cleaner?
and that's what I have discovered today, I was eating a cake and realized that I taste only sweetness, while this is actually supposed to have a great taste - my mom made it for me and my wife in the weekend and it supposed to smell great too. Smelled it couple of time - nothing :((((
While eating, I've had a second, when I've felt all the taste and it was great but then felt just sweetness… It's the nose! Will try spray with sea water for couple of days… this story is annoying as I'm a cake and custard vaper


I don't like fruits and mints and so on … When when when my cakes will be back??? :)))
That's one of the things I love about DIY. I used to buy the same one or two cheap liquids I could stand online, and pretty much vape the same thing ALL THE TIME. Now, I'm constantly changing up my flavors, especially once I notice I'm no longer feeling euphoric about what I'm vaping.
We all read the post about the cooling/reset effects of peppermint on the tongue. We also can likely agree it has as much (or more) to do with the nose. Remember all of our vape flavorings are water based and real peppermint is oil-based. I don't think the experiment with peppermint used the water-based vape flavoring. Maybe we need a lozenge.
Ever do this as a kid (birthday party I remember) where you poke a peppermint stick into a half lemon and suck the juice? I have been having good results cleansing my palate during testing with Ginger beer, but don't think it would be a restorative for lost taste.
Last night I took an orphaned tank and vaped it down to add another juice. I think it had pulled alot of moisture from the air and was spitting like a 2 year old. It kinda burned my tongue and today I have a crispy tongue like I ate a couple slices of too hot pepperoni pizza. I think lowering your vape TEMP may be a better idea to preserve your tongue.
I haven't looked yet but a lemon ginger peppermint vape sounds good. What sounds better is a lemon ginger peppermint CANDY or drink …made with oil-based or natural flavorings. Anybody know of a cough drop or such with these? A test… Altoids, ReaLemon, Ginger juice. Here's an old trick I use for ginger… freeze unpeeled ginger root, when thawed the inside woody cells have been destroyed by water expansion (freezing). With the skin still on you can just squeeze the now-mushy ginger root and extract lots of juice
Wow I need to start a KickStarter campaign for this… who wants in on the ground floor? LoL
I vape at least 7-8 juices daily, no tobacco anymore, but desserts and fruits. The more acidic fruits cleanse well for me.
In acute arenas, you may need a more drastic approach…
Try eating a small cat turd and see if that will restore your taste on the next 10 vapes.
ozo, there is no unlike button here. If there was I'd use it.
And for a reason, eh?
Protection of the eccentric elders, maybe?
Have you ever tried one?
No, and I don't intend too. I just switch around my vape, gargle, drink juice, eat peppermint, drink shots, or quit vaping several hours.
Fresh mountain lion poop isn't bad…feeding only premium beef cuts…
but most folks don't have a mountain lion in their home, so I understand your reluctance.
I think this solution is in line with hitting your thumb with a hammer when your foot hurts …so it's actually makes perfect sense

Interestingly while gardening today I started chewing on a root I pulled up and that actually refreshed my palate quite well.
I find the funny little mushrooms I find in my garden do the job. It's just the blackouts that they cause can be a bit of an issue.