Know one could ever say your not consistent…
To be honest I didn't like kiwi flv. I kept getting an undertone of green mint.
If you can swing it. Play with combinations of kiwi fa, kiwi double tpa, and kiwi mf.
Use kiwi double to supplement fa's. Use mf to blow kiwi out of the water…if you want the brown skin included.
What was the amount you used? Might have had it a bit too high or a combo of flavors you added it to, @Chrispdx…

I dunno… I can't say I got mint out of it at all… I feel left out

TLDR - I read it and instantly thought of Kiwi Double (TPA) Keep in Mind it did steep 2 Mo's before I got to SF test it:wink:
Kiwi Double - Tested 3% (TFA) 0.5-2%` 2 Month Steep Best mouth watering effect - think drooling. Has that Kiwi green note up front with some melon and a purple-berry under tones (wow never heard of a purple berry! lol) slight tart lil dry and lil sweetness Nice additive for the juicy feel better then Cactus INW since catus has a distinct flavor you might enjoy but I can't stand. Kiwi Dub (TPA) Might be a good Kiwi main If you like the other notes in this - or can bring out the Kiwi by adding to Kiwi or blending or hiding the other notes (wondering what a 0.25% lemon will do to this flavor?). Maybe perfect for a Fruit & Melon Mix bowl type recipe where you want Kiwi in it also - Then start @3-4% and go up from there. TPA Im thinking 5% max for mixing- it was strong and present @3%
Sorry didn't get to SF test it shorther than 2 Months. (Read - under 2 Mo's might not produce the same results but it did last that long which is a plus+) Only have 1 Kiwi but like you love that flavor, will watch this thread for promising Kiwi's.
Don't feel left out that usually is the case - too much or little % too short a steep.

I'll admit I'm in the minority but I didn't enjoy kiwi double at all, it just got too sweet for me with a steep.
Freddie… I'm not in the club that overuses flavors and does a 6 mo steep.
Nic and flavoring both have a nasty habit of breaking down, deteriorating… after a too long steep. Not sure where you picked that up from… but I like mine within a month, maybe 2 at the most. I don't over flavor, as the flavors I work with are a bit expensive and really, you do not need much at all.
edit 7/12/2019: Just had someone find one of my juices, aged 8 mo… no fading no bitter… just juicy kiwi and strawberries… I just personally like my juice within 2 months, and if a bottle will last that long. Normally I end up vaping mine all gone before a 2 month period…
I agree. Have you tried to supplement kiwi fa with it at 0.5-1%. I pairs really well with other melon fruits and coconut fa.
No, I pif'd it months ago. I haven't felt the need to supplement the FA honestly, I love it.
I made a kiwi/strawberry with extreme ice . it's quite nice.
Yall talking about 2 month steep times? ain't-nobody-got-time-for-that, #shakeandvapebaby
I've got the Kiwi Strawberry (with stevia) from CAP and FA's Kiwi. CAP was very disappointing IMO while FA's Kiwi is a very realistic, bold, round, juicy flavor that I really enjoy.
Some great suggestions, thanks!
just more suggestions, @Suomynona

Same as @Letitia here, My vote goes to FA 3 to 4% very easy to work with, even if slightly on the thin side, have to steep a bit.
Can't stand the TFA double kiwi it''s chemical to me and the same goes to INW's haven't been able to wotk them out.
Id be the first to throw out a bad flavor.
If you have TPA it's not a loss at all. Note: It's very strong for a TPA flavor.
TPA Kiwi Doub beats Cactus Inw and any Pear I tried for a watering effect. And it mixes and fills out any fruit or melon recipes "very nicely."

But YES it's very strong not like other TPA flavors. If you used over 3% you might have been out of range. That's why I lowered the USABLE RANGE to Max 2% over what I tested at 3% below.
If anyone has it… Just make a stone let it sit around with your other flavors for a month or 2 and use it for fruit mixes. If you want a Fruit/Melon/Berry mix with some Tartness than go up to 2%. (For watering feel I'd start at 0.5%) If you want a Kiwi note, It's a more real'ish Kiwi note not to candy. You'll be happy.
If your developing recipes. This one will sit on the shelf without fading.
I suppose when the OP says things like
You just can't have enough kiwi concentrates to try out
@Suomynona Funny! Yes "kiwi with watermelon" Thats the only reason I mentioned TPA.
As far as Pumpkin… Haven't tried vaping those yet.
I do have Wood Spice (Flavorah) on my shop list, I hear it's like Sandalwood. My absolute favorite scent!
Maybe Pumpkin Sandalwood & Kiwi?

Have to wonder if sandalwood tastes like rope soap?
It -won't go to waste- if it doesn't work as a vape.

Defo I did… tried in SFT @4… and I thought I kept it low… you're right, but my bad, I then put it aside even if I usually try again, on that one, I just thought well… TPA…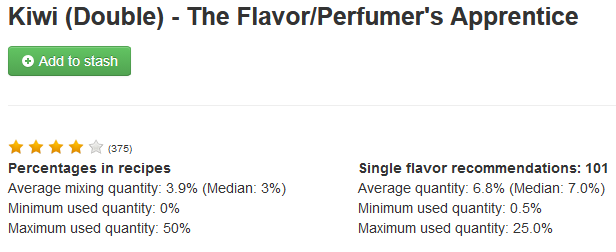 Trying it at 4% is definitely a mistake that many will have made, especially with 101 people having an average single flavor median at 7%. You would also believe that the median for 101 people would be a bit representable.
Proof again that you could use it as an indicator, but doing SFT's at 1 given % is a totally wrong approach to SFT.
Don't get me wrong, you'll catch me doing the same mistake sometimes because I just don't have enough bottles or time. But if you don't like a concentrate, it's definitely worth revisiting it with a different approach. Now that I remember… I still have to do that with Watermelon Double (TPA)

Had a bit of a similar experience.
That's another hard one, I was thinking of doing a layer it with the One Drop Watermelon I bought on sale from Chef's.