How you like the Koopor plus so far. Looks nice!
I hate to wait, too. I used to have a bunch of Fasttech Evod clones in a rainbow of colors that I got real cheap. I could have strawberry shortcake in the red tank, blue moo in the blue one, vanilla-whatever in the white one, grape in the purple, etc. It was nice. Although the orangish one died from a banana pudding. Was so annoyed with myself over that.
Cheap dripper clones and a ton of cotton seems like the most cost friendly way to do this now tho for the mighty plumes and disregard for plastic cracking flavors that I've become used to.
Since I'm moving toward strictly temp control I'm leaving my other mods out. This is what I've picked up in the last couple of months. That little sucker on the left gets a ton of attention though. Only holds 3 ml but I bet I fill it up 7-8 times a day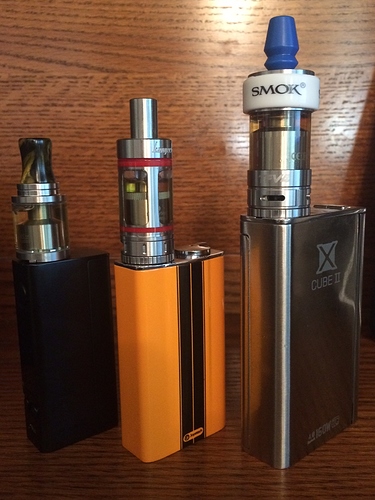 I'm actually liking it a lot. It works. Feels totally solid! No rattling. Fingerprint-magnet though.
This is more what my rotation looks like…no kidding…obviously I'm taking a break from the TFV4 right now due to condensation, but its usually right in there…2 of them actually, lol…and hell yeah, @SthrnMixer, that little tank should be called gorilla, lol…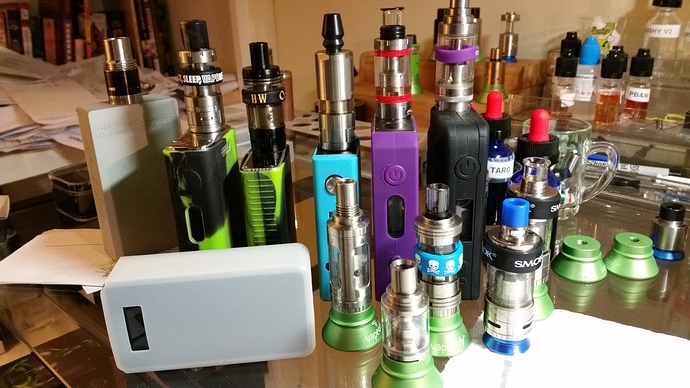 And at home I carry around a box of bottles of juice, from my bedroom to my lab upstairs, of my flavors im choosing from…its actually quite ridiculous, lol…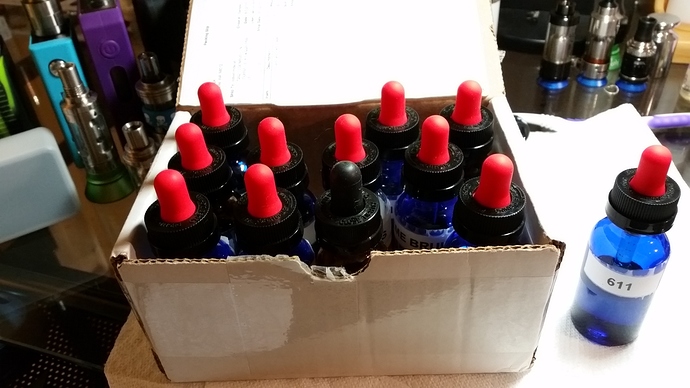 I like your all glass set. I use all glass for mixing and steep, but I use plastic for transport to work and when I'm out and about. The skinny tip plastic bottles make tank refills easy.
I have a 7 day 12 hrs per work schedule this week… I'm stealth vaping at the moment.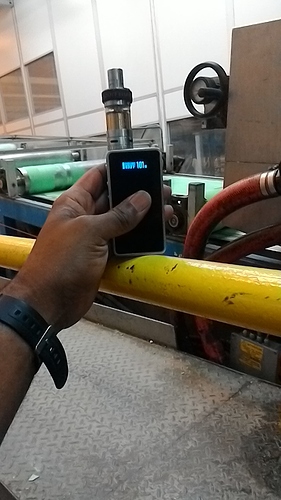 What mod is that ? Love the look. I have mine on a sigelei,but like your look better and usually i don't care so much about look as long as it is a good hit

Since I rediscovered tanks with the TFV4 it's that and a Bellus on a Cube 2 and a IPV3 li. I'm hoping to get hemp on the bellus. So far I'm getting good flavor by choking it off to about 20% of full throttle, but any coil in the TFV4 just blows it away on vapor production. The Bellus is a little messy too. Guess I need to get a Crown and a Billow 2.
I have yet to even fire my dual RBA on my TFV4…I should do that.
You should take a look at Mutation X MT Tank. IMO it blows them both away. I vaped 4 tanks from it yesterday and I must say I was very impressed.
Dual 22g Ti builds are superb on the TFV4!
The setup @zigz shows in the picture is the Kanger Subox Mini Kit. Nice setup…
I should've looked closer… I thought she was reply to me. My bad.
No shame in that setup. Good flavor. Good clouds. And it just works. Mine makes it into my rotation daily while I'm waiting for batteries to charge for other mods or cleaning a tank and swapping flavors.
Ah sorry I haven't been on tonight to reply, but it looks like others covered it. My only complaint is the paint is starting to get pretty dinged up, and I don't think I'm that rough with my gear.
Here it is rocking the black Crown tank, turned to show the paint chips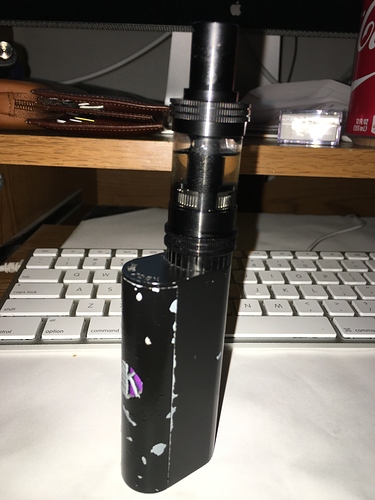 Well crap, I just bought both tanks that I mentioned their variations, a freakshow cuz WTH? …and a DNA200 mod. Pretty sure my buying vape gear priveledges are about to be revoked for awhile.
I'll attempt a dual Ti build with hemp using my 24ga Ti…but it was too low to fire at 6 wraps in the bellus on my Cube 2.
That's odd. The build @Pro_Vapes shared with 6 wraps of 22ga Ti is just high enough to fire on the cube, and 22ga wire will have lower resistance per inch that 24, no? What is the inner diameter of your coils? If you do 6 wraps 22ga Ti 1 on 2.5mm ID, and you space the coils, this should come in at 0.08 ohm, high enough for the cube to fire.
Yes you should it is awesome!!!
Damnit. I thought I was nuts about vaping. You guys are making me jealous. I will post some pics of my stuff tonight. Nice tank zigs. I have the same one.