It's nice to see what a Lil TLC and a bit elbow grease will create…lookin good, brother…Looking good
Thanks man, I'm gonna paint it with that hammered looking pewter paint. I just have to wait till the eagle shits again
Hey, this is coming along REAL nice! Can't wait to see it all dolled up.
Well I finished priming it, but couldn't take any pics right then the fumes had my head spinning. I'll get a couple today.
Looking awesome so far from what i see

great find and great work!
Went out and looked at it this morning, had three or four little spots that needed to be recoated. After spraying two cans of primer I was seeing 9 of em so I didn't catch the light spots yesterday.
Picked up 2 cans of forged hammered siver greyish paint today. and now it's almost 100 degrees outside and I don't want to paint it when it's that hot out. Wifey put the stoppers on me painting it in the spare bedroom, go figure

thanks mike, I can't wait to have it finished. It's gonna make me keep a neater tidier work space. I love having the perfect space and setup, I just don't like cleaning up after myself.
Looking great Jedi! Can't wait to see the finish.

TY DM.

All primed up and nowhere to go
Told Wifey that it looked so good I thought I'd just hit it with a couple coats of marine lacquer and call it good, she's the one who bought me the paint.
With the additional primer and the hammered paint I'm into it for about $16.00 not a bad price in my opinion. Of course that's barring needing a third can which is entirely possible
Not a bad investment at all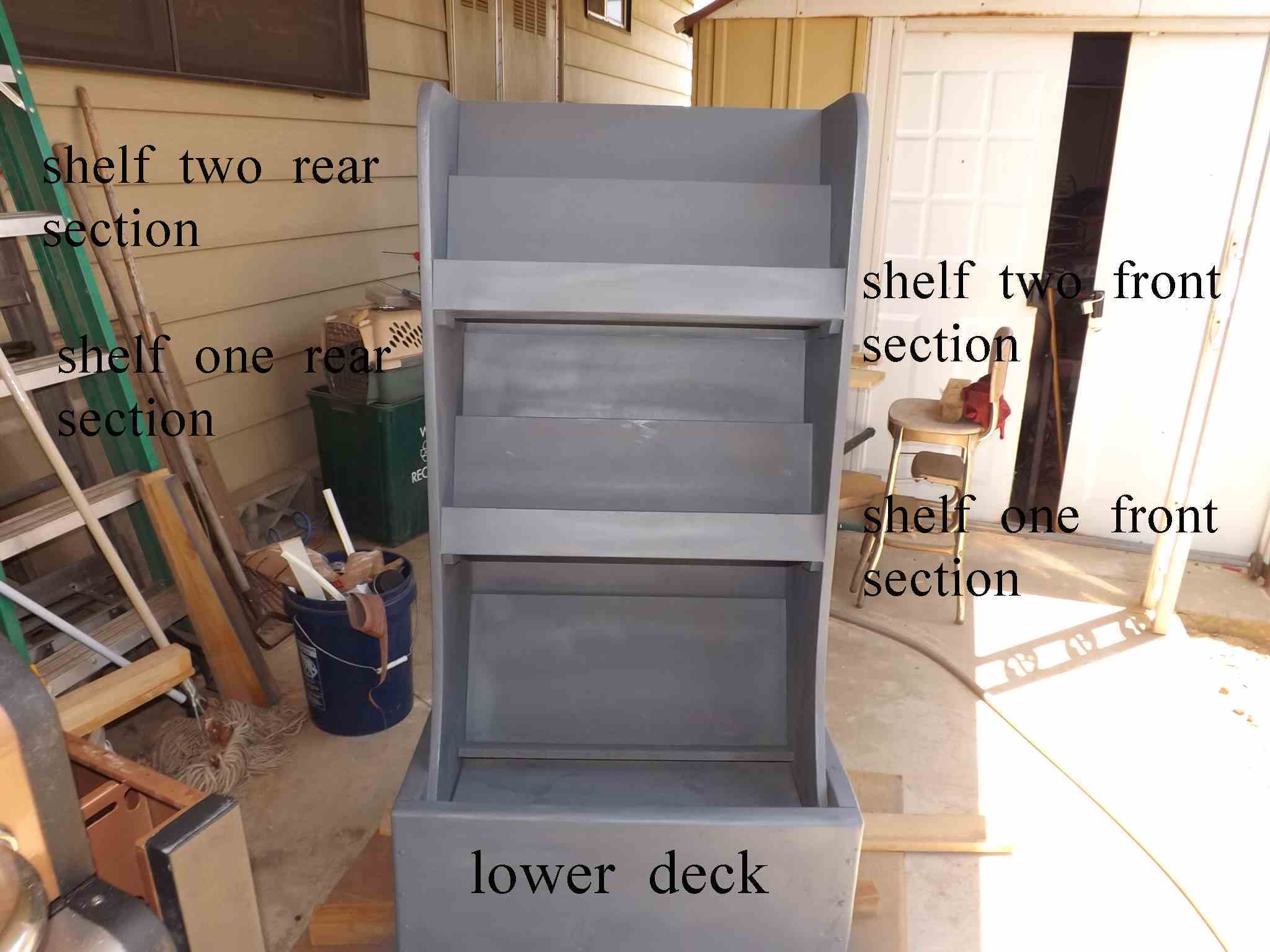 Shelf one front section will have an insert in it with holes for pipettes and syringes
Shelf one rear section has a raw wood insert for 60, 120, and 180 ml bottles to set on.
Shelf two front section has a raw wood insert for 1 oz bottles to set on
Shelf two rear section has a raw wood insert for 60, 120, and 180 ml bottles to set on.
The lower deck is for gallon jugs of VG and distilled water, possibly my UC Haven't decided for sure.
Before you ask why raw wood to soak up any residue that might be left on the outside of the bottle. Might even make thinks smell better.
Thanks a lot, wait till I get it painted with the forged hammered pewter paint. The stuff looks so cool
I did a tool box in that… it's bitchin'

can't wait to see that. looks killer so far!
I be doin the cool looking paint after a few more cups of coffee. It's hard to paint with my eyes shut so I gotta have my morning coffee.
Well two cans of forged hammered pewter (dark Greyish silver) pain on and in. Dayam that thing eats the paint. Sure glad I primered it. Looks like it might be taking another 2 or 3 cans to make it look right. The bare wood has 4 yep count em 1, 2, 3, 4 coats of primer cause I knew it would suck it up. and still I spray it and phet it's gone. I'm considering getting a couple cheap cans of enamel and see if I can seal it with the cheap stuff before I sink more $8.00 a can paint into it. Any suggestions would be received with mucho appreciation!
Every time I see your tag and the ensuing statement the first thought that comes to mind is this guy has what it takes to be a politician, It takes a helluva man to be able to lie that big. ROTFLMAO