nice ty, did you do the fruits all at the same percents ?
I tried them at 3% up to 5% but I have a sensitive pallet, I generally test at half the recommendation and go from there.
makes sense im hoping i didnt put too much SB with the custard and vanilla , if so oh well ive done worse lmao
Except for the Cherry, I started low on it and tested at 2% to 3%. Cherry always fools me so I start low on any new Cherry.
ty again always appreciate your input btw i finally took a dive into Flavorah flaves
@fidalgo_vapes from the pro CC SDS…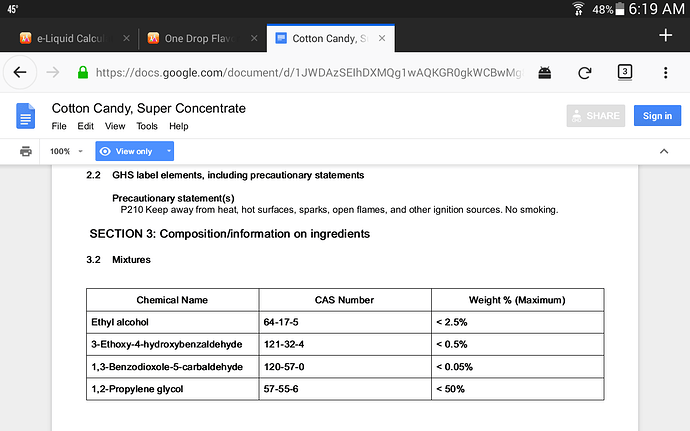 I threw together a neapolitan mix using…
Strawberry- 8% initially, bumped it to 10%. Still quite weak (to me)
Chocolate- 2% I wanted a subtle chocolate…I have subtle. It's generic but detectable at this level.
Vanilla- 2.5% Not really sure on this one yet. I stayed low erring on the side of caution but I'm getting more mouth feel than flavor. Might have to bump it a bit more.
VBIC (TPA) 4%
Note: My impressions are after only 2 days steeping.
I mixed a 6% chocolate test and it reminds me of chocolate lip balm or a scratch and sniff sticker
I've start testing some of these today as well. I have all of them but only mixed 3 today, Strawberry at 8%, Grape at 5% and Blue Raspberry at 8%.
It's too soon to really comment much on them yet, but if people are interested I could post up my thoughts after I try them all. I've never been one to keep notes or anything on flavors I test, but I could always start lol. I'll get around to mixing them all up to test throughout the week.
Let's do that! We have never enough of reviews and opinions about new flavors. Thx for your time.
I haven't mixed the singles yet but have used the orange and strawberry to boost a couple of faded mixes and 2 drops in a 20ish ml worked very well. Brightened up both mixes. I've been pleasantly surprised.
I hate to hear that. This is the first chocolate I've ever ordered and was kind of excited. From memories of childhood the scratch and sniff chocolate kinda sucked.
Sorry That was first day test. I'll try it later and I'll let you know.It's my first chocolate and it was tested in a kanger tank
I forgot I did the 6% chocolate and 1.5 % marshmallow (tpa). It tastes little better today. But maybe try the 9 % stand alone and see
Cotton Candy (ODF) 9% (4-15-18) – After 2 weeks steep, this one proved to be a rather nondescript sweet-ish flavor. No standout hints of any profile, and to me, did not have the typical EM flavor. Not much of a surprise as no one vapes Cotton Candy as a SF, but is used as an additive/sweetener. With that said, it was not overly sweet, but could be used as an enhancer. 6/10.
Chocolate (ODF) 9% (4-15-18) – Having tested many of the other RF SC Choclates assumed this would be similar and it was. Not a great stand out chocolate despite elements of it being present. Had almost a malted nature to it, but not overpoweringly so. To me, it wants to be added to a peanut butter to complete it. Def. NOT a dedicated/specific chocolate like TPA DCC, or MF DC, and INW MC. Just more of a malted chocolate mixture. RF SC does some great things with this, but mixed. As a SF Chocolate however, would place it at a 4/10.
Strawberry (ODF) 9% (4-15-18) – Very similar to the RF SC SB, but this one seemed to miss some of the pizazz or kick that the SC version had, even at 9% this one seemed like it needed a bit more. Good SB, not great, but good. Sweetness and tartness were there, along with a good SB flavor. Wished it had more punch like the SC version. 6.5/10.
Custard (ODF) 9% (4-15-18) – As a custard fiend it's hard to impress me, and realizing ODF flavors are dik free, custards have to be tricky. This is not a VC, and hence just the Custard name. Overall, it's a very even mix with some custard elements. Nicely sweet, and fairly full at 9%. Def. NOT getting an eggy-ness which is good for my tastes. It does seem to share some of the malty notes that I got from the chocolate. It's not an overt Malt flavor, but if you vape the ODF Choco and this, you'll get it. Just an undertone, but it's there. Not sure as a stand alone, but could def. see it as a base mixer. 7/10.
Raspberry (ODF) 9% (4-15-18) – Sooo many bad raspberries out there, most artificial or chemically offset. This one is NOT one of them. Just as good as the RF SC Raspberry, although a slight bit less intense. Nothing off putting notes, or chemical/artificial tastes, but a slightly subdued natural raspberry. Not overly sweet, with a hint of tart. Sometimes it's easier to say what it's not, than what it is. Not at pungent as INW Raspberry, and not jam like it that helps. I didn't get the bit of seeds that I did with the RF SC version, but very good none the less. Might need a boost if you want to add a little punch or extra tartness. 9/10.