ok i know i should know this… but what does wip stand for?

i new that. (ya right)
thanks
Its so little you could probably sub any coconut you have. It just rounds it out and gives it body.
It is amazing how much we progress as mixers. Atleast it is for me. Anywho, here is one of my first recipes, I remember liking all the triangles. I think I'll make this and see if it needs fixin.
warning waffles : http://e-liquid-recipes.com/recipe/326479/warning+waffles
2% Caramel (Original) (TPA)
2% Toasted Marshmallow (TPA)
3% Vanilla Bean Ice Cream (TPA)
3% Vanilla Custard (TPA)
7% Waffle (Belgian) (TPA)
Flavor total: 17%
Remember to rate it at: http://tjek.nu/r/2BAA
OMG I just noticed the %. The first thing I would do is lower the Percentages. I don't even have the waffle anymore.
I had some issues getting it to work, finally figured it out…
cool. I think I'll give it a go. Thanks
i agree completely , imo its the most versatile cream flave , it can be used as a light whipped cream to creating a heavy custard hands down my fave
This ended up turning out great! It's fairly spice heavy, but with a really good steep its pretty lush. It tastes like a really buttery, chewy sugar cookie with swirls of thick butter soaked cinnamon (think cinnamon roll filling) and caramel.

VapeyMama's PSA of the day:
Ok seriously guys, if you're reading this then you're probably cool with diacetyl. And if you're cool with diacetyl then you really, really need to get yourself some FA Butter. Holy shit that stuff is amazing. Its like Paula Deen blessed your ejuice with Paula Deen "holy water" (melted butter). Get some, fo realz.
ty ive tried Cap golden butter and Cap butter cream ive even used both in the same recipe to get that butter taste and it hasnt panned out like i have hoped ill try the FA for sure where did you buy it ???
You know, it's scary how close we are (in progression, and profile) sometimes. LMAO

I've been eyeballing the Baker's Touch for a good while now, but had other priorities to tend to first. Now that the majority of those have been tended to… That's in the short list whenever the next order opportunity comes up!
Have you tried it SF yet? Thoughts on it?
TIA!
Same here man.
Though for the butter cream, I was expecting a buttercream frosting TBH.
As for where to get it… It's limited. But this should help (in more ways than one!):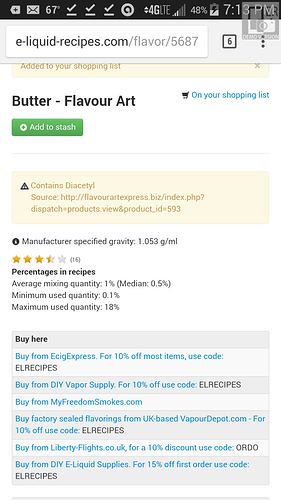 I haven't tried cap golden butter, but I use cap butter cream and I really don't get butter from it. More of a thick cream. Definitely try the FA butter! I got it from ecx.
its not worth trying , especially if the FA works for ya
I have both and FA wins hands down.
to have a good butter flave would help so many of my desert recipes especially the lemon sugar cookie
What I get from it is a bready, strong bakery cinnamon.
Butter or baker's touch? Either way, I have not… Lol The butter has found its place into many recipes of mine and I'm very pleased. The bt I've used here and there, and like I said, its bready so it does well in recipes that would have flour I suppose. It is somewhat dry, so pairing it with the butter is really nice for moistening it up. It definitely wouldn't be a good standalone.
gotta love ECX for carrying the DA heavy FA flaves like CW and this butter