OK… so we are getting a new Dog. It's a Golden Doodle, It's my husbands and my Christmas present to each other. We are excited but marriage being what it is, we are arguing over a name. It's a girl dog.
When we get her she will look like this: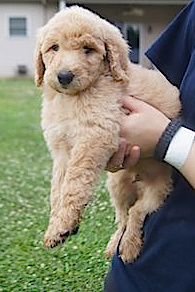 But when she grows up, she will look like this:
I don't want to name her "stuffed bear" (because she will look like a stuffed bear when we get her). I want something cute and funny with a calming sounding resonance where I won't sound like an idiot yelling her name across the yard to the neighbors. Any ideas?