Just remembered that today's my 6 month mark!! =D
/cue Snoopy Happy dance
Grats!

Oh congrats

Has it only been 6 months? It seems to me you've been hanging around here for a lot longer than that, congratulations!

Congratulations and happy lungs

Congrats!!!

That made me think…I'm not sure of the exact day, but this month marks a year for me!
Great job, you've got the hardest part behind you now.
Awesome! Keep it going brother!
Thank you everyone! I think the thing I'm most proud of is not caving (even once) to the times where the pressure/urge struck. Twice it was really close.
The first one was (looking back) a hysterically hilarious moment (of shame). When I was on the road, had just loaded the tank to the brim, had a fully charged battery, and after arriving at my destination and getting unpacked, went to vape and nothing. No vapor, no lights, no power, just nada. /panic/ I was coming unglued at the 10 minute mark of not being able to figure out WTF, and it had already been 30m or more since my last vape so I was "due"… My first thought was "I am not going to buy another pack" (as it had already been 2-3 weeks of not smoking) and closely followed by "this mod's brand new, WTH?!" (my first subohm, a flask style 60w)… Anyways, I hit the phone up (thank God for Internet on smart phones) and find the nearest local vape shops, and walk in fully prepared to buy a new one if I have to, and within about 5 minutes of back and forth with the sales rep, we both have the same thought at the same time: the fucking thing was locked (but doesn't have any display while in the "off" state).
Sooooooo… 5 clicks later, and I'm back to my fully charged battery and full tank of liquid! whew
The second time of "serious concern" was really an odd experience. It's still, to this day, the only time I had a real major craving for a smoke. It was three months and two weeks in, and I had been at a solid 3mg level for right at two months at that point, so it wasn't the "small craving" you get when dropping down in nic levels… But somehow, out of the blue, for the first time, I really and truly wanted a smoke. Fortunately the will-power won out, and I powered through the desire by chain vaping for what had to be a solid 10 to 15 minutes.
That one "scared me" a bit with the very real reminder that "this fight ain't over yet" /sayeth cigarettes. To which I replied: "Get thee behind me BEOTCH!"
@Josephine_van_Rijn: Hopefully that's a good thing?!! lol (It definitely feels like home here, and I always enjoy the time spent and the wonderful, passionate, yet thoughtful personalities here at ELR!)
@VapeyMama: Well, whether I'm early or late, I'm still thrilled to wish you a Happy 1 year off tobacco!!
@DIYer_Straits Congrats on your 6 month mark as well! (if I haven't already said so in some other thread. - Sorry, but sometimes my memory's shite, and in addition to which, I read a lot on here, so some "faces" are still new to me! Though I look forward to getting to know yours as well!)
Anywho… I hope my little 'insights' above not only bring a laugh, but remind those still trying to quit (as well as those still wanting to quit) that it just takes time and perseverance. And there's both known and unknown battles (LMAO) as you get into this wonderful new way to live a healthier life than what we had been!
To this day I have never had another mod lock 'accidentally' (by sheer dumb bad luck) like I somehow managed to achieve with the flask that one time … /smh
Yes bro, it is a good thing

I finally got my sister to vape and I was over there on saturday with a shitload of liquid and equipment and we had our picture taken together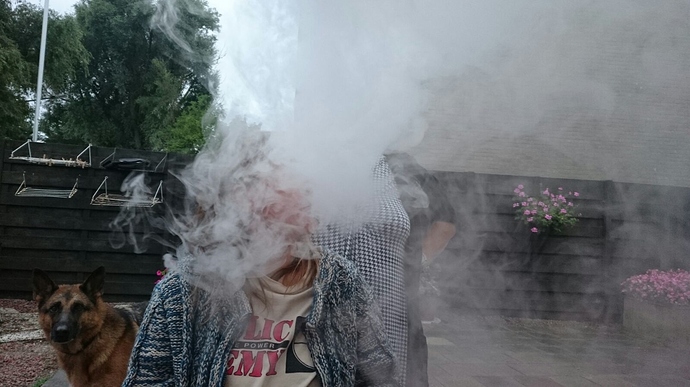 Oh man, I did the SAME THING a couple weeks after starting to vape!! I was totally prepared to walk to the corner and buy a pack of smokes. Luckily the light clicked on in my brain and I realized what was going on. Click click click click click…ahhhh.
Congratulations on six months of living without the stankies! That is the hardest part IMO , your body puts up a terrific fight for the first few months without a cigarette but after that it is a mind game only and a weak one at that as you have already proven you don't need them!

Yay congrats that's awesome !!
Well done!
Congrats on the 6 mts mark. Keep it up.