Ok so I infused some cbd into my 70/30 premix how can I calculate to add my flavor
Welcome to ELR.


Here's what I would do. I'm sure others will pipe in.
Most important thing is select that 'Use vape-ready nicotine base' at 30/70 ← your premix
Input total ml's of liquid you want. 60ml's in my example.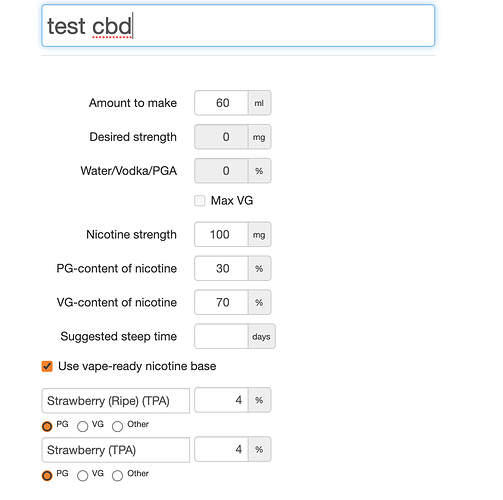 Add your flavors as a % and you'll notice your quantity of pre mix decreases as you add flavors.
Looking you'll also notice the PG/VG ratio has also dropped from adding those flavors (most are PG)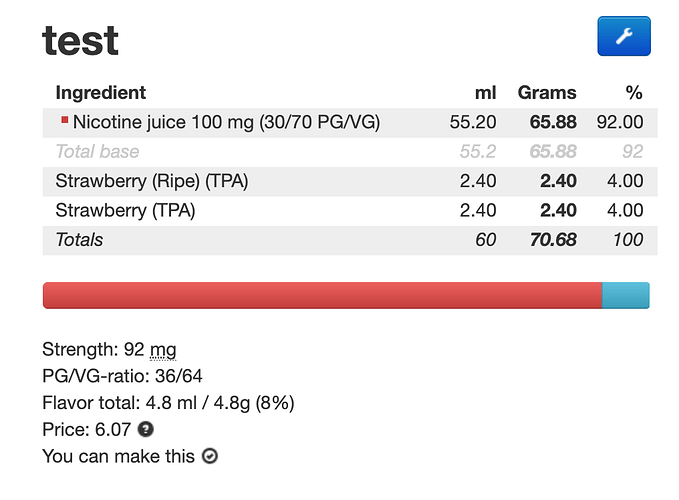 Thanks for the response but one last this is there a way I can keep ratio 70/30 after adding flavor
So you bought a batch of 70/30 pre mix of vg/pg? If you did you cant. If you add 5% more pg its going to make it 65/35. Because you will be adding concentrates with pg or opposite if you add vg concentrates. So no it will never be 70/30 after adding flavors
Thank you for the response question "one shots" by adding a one shot recipe to my 70/30 mix will it alter my ratio