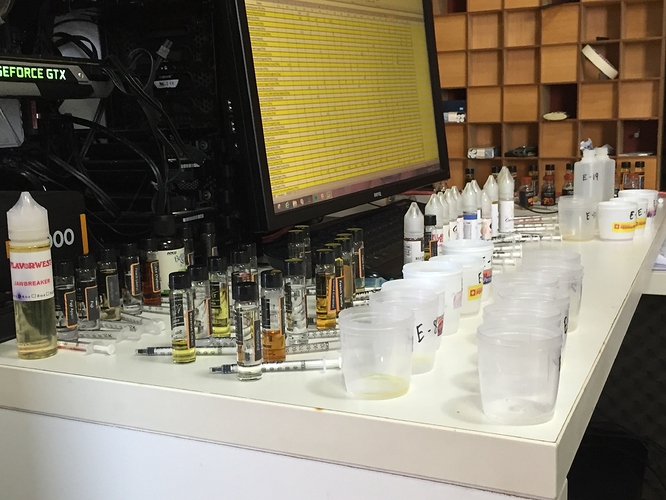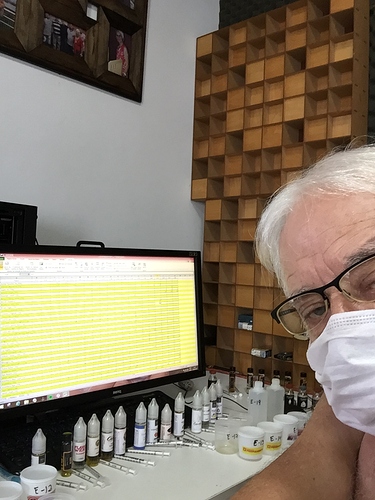 Computer with the recipes
defined and separated essences
numbered containers
And the fun will start!
What's with the mask? You're not Japanese!
Wait… I may be mistaken here. You are wearing a mask to protect your Eliquids from becoming contaminated. But are mixing with no shirt on?
Seems contrary to what your intention would be.
I think it's very useful for not breathing on your scale though…
But seeing all the syringes, I do doubt that is the reason

Why wear a shirt if your not wearing any pants?
OMG !!! Hilarious!
Now I cannot get that image out of my mind


Hey at least he uses a GeForce GTX! One of the best graphics chips out there!
wait a sec…doesn't everyone mix naked?
They noticed the batterfield killer: Geforce GTX
Thankfully they did not notice my juice receptors …
Surely the FDA could use this to condemn the vape.

I noticed two packs of nasties in the cubbyholes behind you. Hopefully they have been there for years.
Ok
Nasties are like souvenirs of the second war, untouched since I started working, just 4 months.
But it referred to receptors for stool examination …


the current law here in Brazil that prohibits the importation of electronic cigarette articles obliges us to create alternatives …
You didn't get the memo? We all mix naked now.
Dang! Nope. I must be in the wrong forums