Advken Manta Subohm Tank
Disclaimer: This Advken Manta Subohm tank was sent to me by @Cookie from vaporl.com for the purpose of this review. I'll try to be as objective as possible in giving you my honest opinion.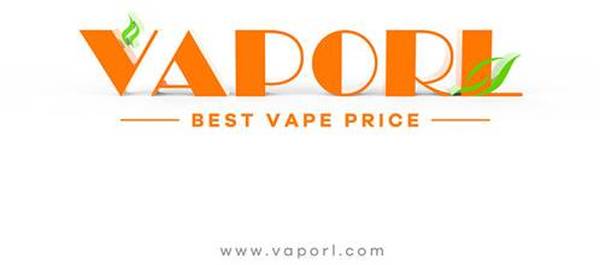 Intro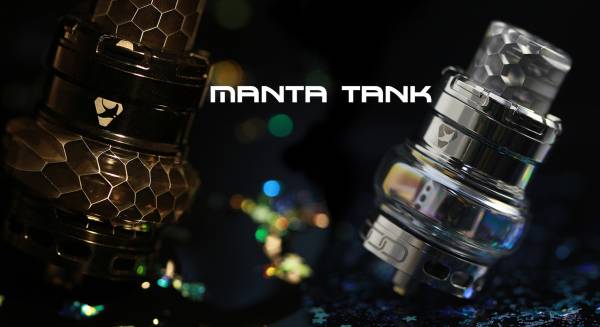 I knew there was a Manta RTA but this Manta Tank was totally new to me. It's a mesh tank that stands out by its looks. Compared to all my other tanks, this one looks really different. Initially I had to get used to it, but I kind of like it that it's just different.
It comes only in 2 colors, black and stainless and both drip tip and tank are made of a resin with a honeycomb pattern. The tank has a 24mm base but the width of the bubble glass makes it 30mm wide. The bubble tank is really short and wide so it looks a bit like an oddball. To increase liquid capacity, you can fill the tank a fair amount above the glass which IMO just adds to the weirdness of it all.
The tank is currently available at https://www.vaporl.com/advken-manta-sub-ohm-tank-atomizer-4-5ml.html# for the very competitive price of $21.80 which sounds like a steal of a deal.
Unboxing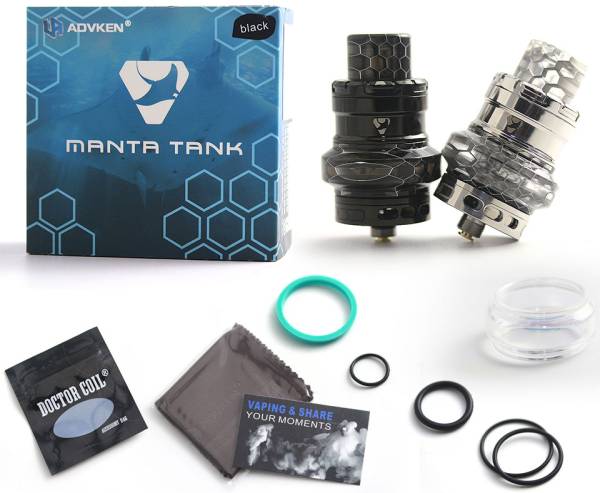 The Manta Subohm tank comes in pretty standard packaging with all the necessary info, except for the material of the coils. Inside you'll find the tank with 1 additional coil, an additional rainbow pyrex glass, some extra o-rings, a little cloth to wipe off excess e-liquid. No manual.
The drip tip is a standard 810 goon-style drip tip (without the o-rings). It's made from a standard resin and the honeycomb resin matches that of the standard fitted resin bubble tank. It's perfectly crafted so it sits snug but is easy to remove when you want to. The resin is a bit on the thick side so the inner width is a lot smaller than the average 810 drip tip. It has nicely rounded edges and feels very comfortable between the lips.
The top cap doesn't slide as smooth as other tanks I've tried, it also doesn't click in place, but it seals as it should and underneath there's a large filling hole…
The 2 different bubble tanks are each made of a different material. The black honeycomb resin tank looks best but it's not much of a see-through tank. If you like to have a look at your liquid level, you'll probably want to opt for the pyrex glass version. In most circumstances it will look like a regular glass tank but if the lighting is right, you'll see a faint rainbow effect on it. Both glasses are the same size and hold 4.5ml of e-liquid.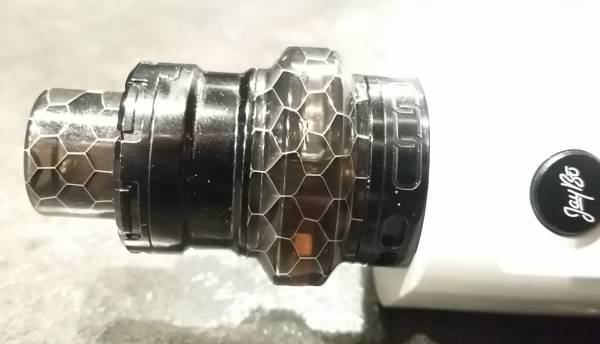 Both coils are mesh coils from Advken. One is 0.2ohm and the other 0.16ohm and they have slightly different looks so you can easily see which one is which. The 0.2 is rated for 50-70W while the 0.16 is rated for 60-80W. Since I didn't know what material they were made of, I contacted Advken support who quickly told me they were both SS 316L. Neither of them worked in TC so I can only say I have my doubts about that…
The coils are also compatible with the Smok Baby Beast, Vaporesso NRG coils and other compatible coils.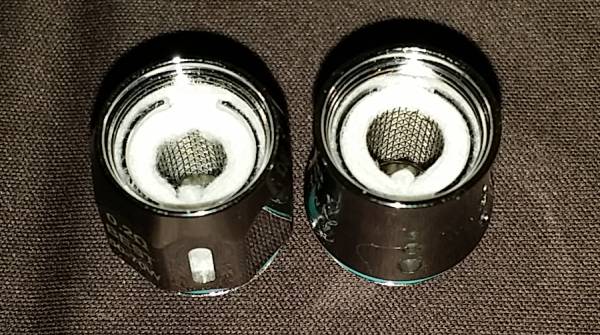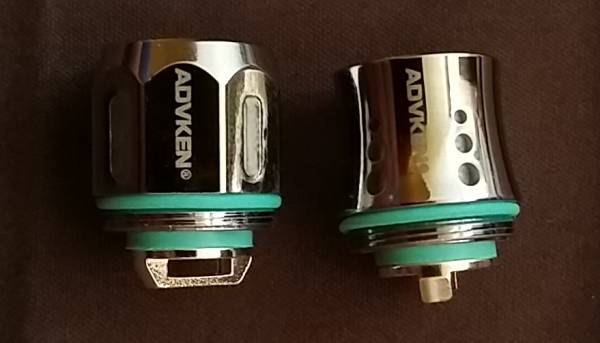 The AFC has 2 slots opposite each other with each 3 holes, matching the honeycomb pattern. The ring locks in both directions to make it easier to screw/unscrew the tank on a mod or replace the coil.
The 510 pin is gold plated and is not adjustable. It is a little bit shorter than the average tank so it won't make a proper connection with every mod on the market.
Thoughts
Straight out of the box, I didn't get any weird or machining smells from the tank, which was very positive to start with. Despite this, I still recommend to always wash your tank before first use. It's not because you can't see or smell anything wrong that everything is guaranteed to be clean.
The only branding you will find is a tiny logo on the metal part of the tank, which is a very helpful indication of where to slide the top cap open. The brand name, logo, CE sign and recycle icon can be found where it belongs, on the bottom where it's usually out of sight.
Screwing the Manta Subohm tank on different mods, immediately revealed that the non-adjustable pin is a problem. I could not get it to work on 1 mod (Wismec - pressfitted cheap 510 connector), the 4 or 5 other mods I tried had no problem with though. At the same time, it also revealed that it wasn't looking half bad on most mods. Even though I prefer to see my e-liquid level at all times, especially if I can't use TC, I opted to start with the resin tank.
When there's plenty light, it's not that difficult to get a reasonable idea of what the level is, but once it was starting to get dark, it is bloody difficult and found myself filling the tank each time way before it was near empty or grabbing a strong flashlight which I usually don't walk around with.
The coils also use a lot of liquid, so it never felt very comfortable being blind. So it didn't take long for me to swap the resin tank for the pyrex one. It may not look as good, but it increases the level of comfort exponentially. 4.5ml capacity is more than enough for me with the see-through tank but with the standard black resin tank it was just a little too small for comfort. Should you opt for the Stainless Steel version, it would already be a huge improvement because the resin is so much lighter.
With the AFC, I had this "What were you thinking?" moment. It's nice that it locks on both ends, it's nice that you have plenty airflow but it's very loud and nearly impossible to change the setting with the tank screwed on to the mod. There's no knurling on the AFC ring, it's very narrow and sits right under a very wide bubble glass. Not only that but it also has a lot of resistance. The positive side is of course that it will never change unintentionally. I thought it would ease up a little with some liquid, but no such luck. So if you want to adjust it, unscrew the tank, set and forget it.
Not only is the airflow loud, it has a pretty strong whistle in certain positions as well. You can get easily rid of it but of course that requires taking the tank off again. In all positions, I had a bit of turbulence in the airflow. It's maybe a bit harsh to call it turbulent, not nearly enough to call it unpleasant, but if you've had a vape as smooth as a baby's bottom, you can tell the difference.
The overall vape quality itself is very good though. The flavor production is really outstanding with the Advken coils. I used 70/30 VG/PG juice I never had an issue with dry hits. It does start leaking if you leave liquid in the tank and leave it for a day or 2. But the leaks are just drips, you could leave the tank for a week and still find most of the liquid inside of the tank.
The tank is compatible with Smok Baby Beast and Vaporesso NRG coils. This will also give users the option to use non-mesh coils or just the favorite coils that they're used to. I was very pleased with the stock coils however. You easily get 2 weeks of heavy use out of them before I started to get a bit of a burned off taste (which I'm pretty sensitive to). Even though the coils were rated up to 70W and 80W, I preferred both of them around 55 to 60W and they do vaporize a lot of liquid
The tank has some cons but if I'd have to do a blind test and just vape this tank (either coil), I'd probably guess this is a tank in the $35-$45 price range, and to me, that's what it's all about.
Pros
different take on style, matching resin drip tip and tank
nice crisp flavor
cloud production
insanely good price/quality
good standard mesh coils
compatibility with Smok and Vaporesso coils
Cons
no mention of coil material, no manual included
AFC difficult to adjust
resin tank is too opaque
thirsty tank
rather loud
strong whistle in some AFC positions (easy fix)
can leak a few drops if left unattended for days
Conslusion
I've mentioned more than a few negative sides of this tank, but that's just part of my honest review. It's easy to say "everything is great, go buy it" but I always take the time to try and find the things I would improve on a product. That doesn't take away that I really enjoyed vaping this tank and will continue to do so. The question at the end is, would you buy or recommend this tank to your loved ones? That answer is a definite yes. The price/quality is very good.
I've bought tanks that were quite a bit more expensive and less enjoyable. The looks are certainly no deal breaker for me and some people even commented that it's not as boring as my usual tanks. Ultimately the vape quality is what matters and that is exactly where this tank shines. It's not a stealth vaper because of the vapor production and the loudness of the AFC, but the flavor is oh-so-good.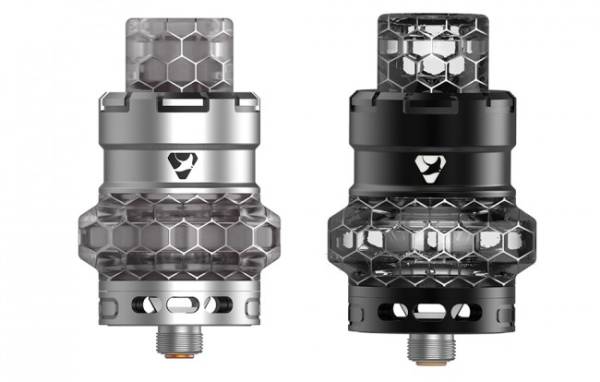 If you want to pick one up, head out to https://www.vaporl.com/advken-manta-sub-ohm-tank-atomizer-4-5ml.html#
VAPORL gave me some non-time limited coupon codes:
10% OFF for orders over $50, coupon code : VAPORL10OFF
8% OFF for orders over $30, coupon code : VAPORL8OFF
5% OFF for all orders, coupon code : VAPORL5OFF