Two weeks ago I received my order from Gear Best. It was supposedly coming through USPS who couldn't find it until it eventually showed up here with Fedex. The package itself was all beat to hell but everything was in working order so, no big deal. Now I get this seven page bill from Fedex demanding duty taxes and fees. I've clipped two relevant pieces from these pages to show.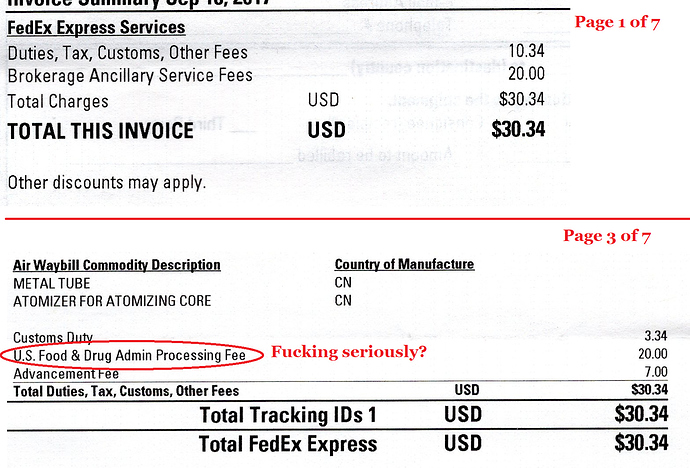 Not only do the listed fees not match from one page to the next but 20$ for the FDA? There is no way in hell I'm paying them a dime! Has anyone ever heard of this? What are they going to do if I ignore them?
UPDATE!
Thanks to all of the wonderful folks on here with their wealth of knowledge and a lot of poking around, I've learned that in this case, it's not a scam. Fedex has paid these fees already on my behalf but their delivery department and their billing department are out of sync so that's why I'm getting this bill weeks later. It sucks but they paid it in good faith so yes, I will pay them.
For those who didn't know this could happen, I didn't either. I've been ordering from overseas for years without ever seeing this, even from China. Given the recent news about hacking and scams I was skeptical but this does legitimately happen so here's a couple bits of advice about it.
1 - Double check all the information in the invoice is accurate and that any website they're directing you to is the authentic website for your package carrier. Look up the official phone number for your carrier to make sure the one on your bill is the same. If not the same, call the official one you looked up. If your carrier has no record of your invoice number, then the letter you got is probably a scam.
2 - The higher value your order is, the greater chance it will get pulled for inspection so if it's possible, break your order into smaller bundles of under $ 200 value. The extra you might pay in shipping will still be less than these fees. (And a HELL of a lot less aggravating than knowing the FDA is getting any money off me.)
3 - If the invoice is legit but the info is inaccurate, the package carrier will tell you the steps to correct or amend the charges but don't stiff your package carrier no matter how pissed you might be. They paid your bill in good faith and don't deserve to be left out to dry.
4 - Be mindful that this can happen to anyone, with any package of any value. Is the savings of buying from China really worth it if your country is going to charge you 10-50% of the value to deliver it? It's a gamble I will probably still make but now I know what can happen.