I have 4 of the top 5 tanks. If you'll bear with me, I'll give my impressions…not so much a review just personal insights.
1 TFV4. I've only had this tank a couple of days and only used the pre-installed triple coil head so far. It rocks for sure. Once primed, the flavor is surprising from a sub-ohm tank. The juice capacity at 5ml is nice, but don't expect it to be that obvious compared to others when you start using it. It drinks juice like a hobo drinks wine. The top fill feature is exceptionally enjoyable and easy
What I think may be trouble down the road -
Top fill cap. Things loosen over time and I'm wondering how well that little hinge will hold up. You'll be swinging that door open often seeing how refills will come more frequent than most tanks. There is a lip that grabs this hinged lid which should certainly aid in reducing wear, but time will tell the story here. Additionally, to take the thing apart for cleaning or to change coils you must unscrew the top section from the bottom which is connected via the chimney to the coil. Then you must pull the glass out from the base. There is a little…very flimsy gasket in the base where the glass seats in. This came out when I first filled it. However, seeing a bit into the future I moistened the seal with juice hoping this doesn't come out next time I change coils. We'll see. Other than that and the fact you need to push power - 70 watts seems fairly miminum for the triple coil - this is a solid and well manufactured tank. And for something that blows the clouds, the flavor is nearly that of an RDA.
2 Crown - I don't own one.
3 Delta II - I'm hooked. I don't buy the manufactured coils anymore because the rebuild deck is easy to build on and the thing works like a champ with it. However, I never had a problem with the stock coils except for a box of nickel ones that I bought. They sucked but I think it was a bad batch because I've seen others use them with good success. This is by far my favorite sub-ohm tank due to the cloud production and flavor. In my opinion it has the TFV4 beat for flavor. The sweet spot for me is 45 watts.
Cons - it can be a pain to fill. Once you're used to it then it's not bad at all, but the space between the chimney and edge of the tank makes using a bottle dripper a bit cumbersome. Still that's how I fill mine and it's easy now. The thing is also a piece of solid construction except for where the base screws into the tank. If you ever drop and break the glass, you're done as it's a sealed, non-serviceable item.
4 - Kanger Subtank Mini - For what it is, it's not a bad tank. It's easy to use and has decent flavor. And it does have a decent tank capacity so running at 25-30 watts (35 if you put major suction on it) it seems to sip at the juice instead of guzzle it so fillups are less frequent. The organic cotton used in the stock coils is good too. Problem is it won't wick liquid fast enough which is why 25-30 watts is about the max for normal vaping. For that reason I use the rebuild deck.
Cons- the 25-30 watt limit kills this tank for me using the stock coils. I don't get the satisfying volume of vapor that keeps me coming back like some other tanks do. Really that's the only complaint I have. The Subtank Mini very well manufactured and easy to use. I would call it the perfect introduction to sub-ohm vaping or for someone who wants more vape volume but still keeping a lid on it.
5 Atlantis 2 - I don't like it. I had some very high hopes for this tank but feel that aside from a redesign of the air flow and lower-resistence coils, it's the same as the original Atlantis where you sacrifice flavor for clouds. I bought mine a couple of months ago, filled the tank and it still has half a tank left of that first fillup. Look for this to be a giveaway soon and I don't recommend it to anyone who wants more than blowing big clouds - which you can definitely do with the Atlantis 2.
That was a good analysis. From my standpoint that list has excluded some much better tanks. I do see the top 2 in that list though… the TFV4 and the Crown. The others are much further down the list of top tanks. The Billow v2, The Goliath v1 and v2, The Goblin updated version and even The Cthulhu are much better tanks than the bottom 3. Even the Zephyrus may squeak by some of the bottom 3. Nothing against your Delta II, but I've read many negative reviews about it. Tanks are like movies though… some will love it and some will hate it.
It's hard to judge those you have not tried but, here goes…
1: Uwell Crown: For me, this tank using the RBA coiled with Ti wire and used under TC conditions is fantastic. Perfect airflow, good vapor, fairly easy to wick, all around thumbs up…
2: Smoktech TFV4: Own it but need to build it (Haven't tried yet). Judging from others comments. All in all a good tank. Gobbles more than a turkey (JUICE that is) using stock coils but flavor and vapor is tremendous. Downfall is the hinged fill cap being knocked open constantly when bumped…
3: Kanger Subtank Mini: (Non Stock) Take the OCC coil, rebuild with Ti wire and you got yourself a very nice subohm tank. The airflow is also good for me as the crown, good flavor and good vapor…
4: UD Goblin (Updated): I like this tank for the most part. Easy to build, good taste, good vapor, . Downfall and a big one. You must unscrew a tiny little screw on the bottom of the tank to fill…
5: Innokin ISub G: The reason I have added this to the list is because of the low cost of both tank and replacement coils. This tank paired with the Coolfire IV is quite the combination and a apparent crowd pleaser…
@Pro_Vapes , sorry, don't really care for the Zephyrus and don't own any of the others (Goliath, Billow, etc). Did almost add the herakes though for a good sound subohm tank…
I feel you brother…about the movies. I happen to think Shaun of The Dead and Hot Fuzz are awesome…and others think I'm fktarded for thinking it!
You can read good and bad reviews for most everything, so if you ever get a chance to use a Delta II with the rebuild deck…jump on it. I have mine build with Ti and love it. Been using these things for months now and always have good vaping times.
@ringling I have never rebuilt the OCC coil but I did rebuild the RDA deck with Ti. It's pretty darn good my friend…certainly outshines everything their stock coils are. I'll have to try rebuilding a OCC one and get back with my thoughts. Also I would love to try the ISub G, but as it stands now I have far too many tanks and not ennough devices. May need to grab another or three…but you can bet I'll be TC from here on out till something better surfaces.
With the triple coil. the capacity is around 4 ml

It's a HUGE head!

Another truth I've tried to get across. Sometimes a new RBA/RDA isn't needed. There are very simple ways to upgrade a device. I haven't used a tank or rda that wasn't highly improved using Ti or SS. More than likely it was kanthal users with the negative comments. So I retract my statement about the Delta II.
They left out a lot of tanks. Some that come to mind is Billow v2 and the Horizon Arctic - I like those!
@daath I'm trying the quad coil head and I feel I have spoiled my taste buds. I spotted the kanthal taste right away. I haven't used kanthal in a more than 2 months. I'll keep vaping it though and see if it will improve, but it's a huge drop off from my usual. It even makes the TFV4 taste like a normal tank.
With the TFV4 I use the drop band around the top. This keeps the hinged top from opening. With the Atlantis V2 I found that the newer style coils. The coils made by Aspire with the huge juice ports a top 10 tank. I used generic coils, atlantis 1 coils but it wasn't until I used the Aspire coils with the large diameter bores that the good flavor came through. Anyone using the V2 should make sure they buy the 0.3 large bore coils.
I can't wait to try out my TF4V! I just got confirmation and shipping info from smok so now I feel more comfortable knowing I actually won! Still crazy odds?! 250 out of the WORLD! So I should have mine in the next week or so!! So damn excited and proud to have the IPV4 AND the crown!! woot woot!
Until next month when there's 20 "better" tanks haha
Although its not stated, I believe that's the reason they come with the tank bands. I don't leave home without it.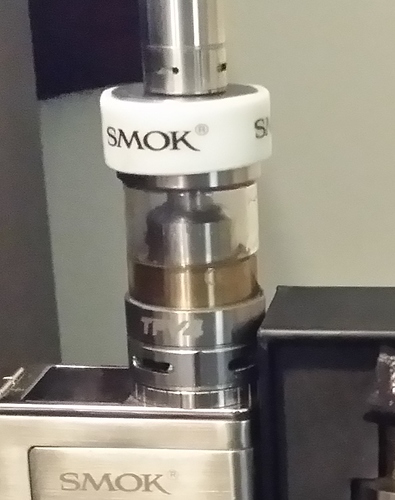 So does the kit come with one of these then? or did you get that seperate? I'm just a little worried hearing about all the people saying it keeps opening on them
hey just noticed u changed ur pic and I RAN OUT OF LIKES AGAIN… haha
my kit came with a white and a black
like
Ok thanks, I just new the cloud machine kit is a smaller kit than the TFV4 kit and it didn't say anything about bands, thanks PV…
I'm surprised more people don't realize that's what the bands are for then?
Yes, that would solve that!!! Now you need another to protect the glass though

My full kit came with 2. You can get them at any vape shop. It so weird that I hear about people breaking tanks… I've never broke a single tank.
My kit came with 2 also. They thought it out well.
It also comes wire a spare glass. How does it match up to the Crown?