Bickford Creamsicle
Flavor Description from Manufacturer: Remember the neighborhood ice cream truck with its playful music beckoning children as it slowly passed the houses on your block? One icy treat always on board was an orange creamsicle. That same delightful blend of vanilla ice cream and orange sherbet returns in Bickford Flavors creamsicle flavoring. Try Bickfords rich, dripping creamsicle flavoring to enhance the taste of beverages and baked goods alike. Creative cooks report delicious results in smoothies, cupcakes, icing and even fudge.
Suggested dilution ratio per River Supply: 5% - 7%. I couldn't find any information on the Bickford site.
Percentage Used: 8%
Equipment Used: Crown III sub ohm tank with A1 kanthal coil at 50W.
PG/VG: 30/70
Steep Time: 1 Day
Aroma: Vanilla, orange, cream, sweetness.
Flavor Description: This is a perfect blend of those little Dixie plastic cups of 1/2 orange sherbet and 1/2 vanilla ice cream. The ones that come with the little wooden spoon. A very accurate artificial vanilla flavor is forward, followed with a nice bright orange flavor. However, it is not fizzy or tart like a real sherbet, but a much sweeter and more mild orange, just like in the cups…lol. It has an excellent full mouth feel or body to it, the creaminess is a flavor by itself it's so present in the background. I am IN LOVE. This is the artificial orange creamsicle I have been chasing since I started mixing years ago. Then forward 6-7 days. The infatuation slowly disappears as the infamous citrus flavor fade arrives

I do have to admit I did continue to vape this for about a week past the flavor fade. The artificial vanilla flavored ice cream stayed true, including the creamy body. With an occasional hint of orange to remind me what I was missing…lol.
However, my love doesn't completely disappear, but the disappointment is real. From day 2 to about 7, mixed single flavor, this is THE CREAMSICLE. The balance is great. This will be part of my rotation, easy to mix SF, and I know to only mix enough to last a week or less.
Off Flavors: None
Throat Hit: 2/10
Pairings: This is a pretty complete flavor on it's own, but I do see a lot of opportunities to play with this. I would also add a drop or 2 of Shisha Orange after the flavor fade to bring back the orange a bit and see what happens with that, just because mixing is fun

Notes: If you are looking for a realistic sherbet and authentic vanilla ice cream, you should probably avoid this flavor. If you are looking for the nastalgic artificial in the cup blend, jump on this. Very easy to mix single flavor, but also picky in that it needs about a 24hr steep for the orange to calm down, and to be finished in a week or less of mixing. Unless you want artificial vanilla ice cream, then I vaped it up to 14 days and it was still going strong when I ran out.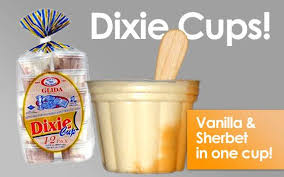 This one is dedicated to @SessionDrummer just because that's the kind of relationship we have