Are there any black friday deals coming up?
Haven't ordered from them, Yet ! E-Cigexpress is all over ELR,
From there kindness to stretching there hand out to a member here on ELR in need.
E-CIGEXPRESS jumped right up front and donated to the cause. For that told me that there Family. This is to whoever… waiting on Payday 3rd @woftam
Thank you for the kind words, we really enjoy being apart of ELR. A lot of good folks are on here and a lot of great ideas and innovation is always in motion in the ELR community!
@ecigexpress is an awesome vendor! Never had any problems w them!
Starting the 21st @ 12:00AM PST
I can vouch for the Defiant Designs mods. The best mechanical squonk mod I own. $75 for a DS is a deal. Plus the email says you get a box of bottles. I am thinking it is 6 bottles in multiple colors.
For you Uwell Crown fans, the v4 Checkmate for $25 with code EARLYBF vapedeal.com
ahhhh man ty so much ill have to give the v4 a try , the original is still the best and eight vape is selling them for 12 dollars , i just wish their rba was worth something …
Did you try the RBA I sent you with the drilled out holes?
yes sir i did … still wasnt close to the stock coils , which i dont understand how a company can make an almost perfect tank and coil then mess up soooo bad on the rba. Aspire got it right with thw cleito , thw stock coils are very good and the rta ( what they call their rba ) is even better when built right … i will get the v4 since ive tried all the other crowns … so ty for the tag
@Nicotine_River have you announced your Black Friday deals yet? After everything you have done for this forum and the people on it, yours is the only one I'm interested in lol need me some more flavors!!
From aliexpress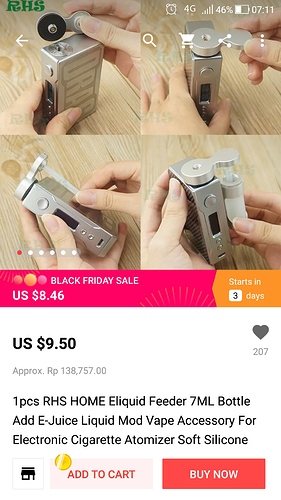 this looks interesting
I can see this mess up the resistance reading though, so probably not for mechs
Hey Y'all, I just want to put this out there because I have taken advantage of it. www.eightvape.com has a thing they do where, if you post a review on there web site, they will give you $8.88 you can do three a month. I just gave them a couple of my old written review. There are rules but they are easy, here is a link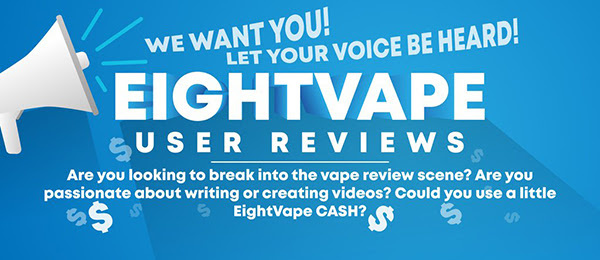 What I did was collect a couple so around 17 dollars and went to there clearence page which is pretty awesome and made an order and paid (including shipping) 12 dollars
If anyone stumbles across a good deal on the Lost Vape Triade DNA250C please let me know.
We will be sending an email out shortly regarding Black Friday!
So I'm not going to post the whole email because I can't copy it on my tablet lol.
Here's the important part:
In observance of Thanksgiving holiday, we will be closed on Thursday and Friday.
There will be not a "Black Friday" sale on Friday or a "Cyber Monday" sale on monday. However, there will be a site wide sale mid December.
We would like to wish you nothing but the best and a peaceful Thanksgiving holiday.
Warmest Regards,
The Nicotine River Team
Just got that email too
What a bummer
This sounded like a sale was coming!
…I'll see you in mid-December, NR. Maybe…

I need nicotine and was going to grab some over the holidays. NR has been good to me but the last nic I got from them was less than stellar. Any recommendations for some clear quality nic?