Let's get this party started. Please post your Black Friday deals here.
Heavens gifts has a 30% discount code for regular priced items
BF2017
This message was posted on their Facebook Page.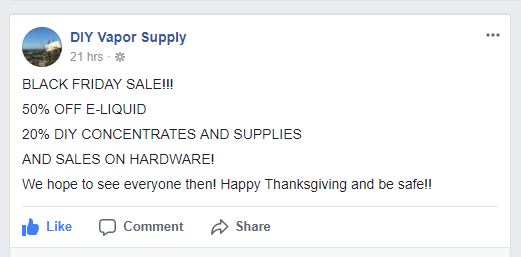 I think that is in store only

Oh shoot! I read the thread…seems to be. He hasn't posted a code. I will ask as well if the prices are adjusted online as well.
@juice_junkie_lover - this is one for sure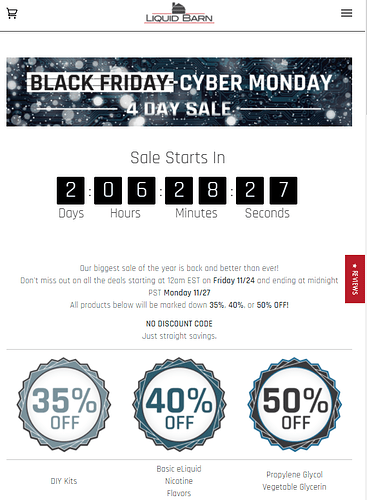 I know nothing about them, just saw it on reddit. Freeman Vape Juice - 120ml for $7, 30ml for $3.15 | now - 12/4 | code blackfriday
https://freemanvapejuice.com/collections/all
They have free shipping at $50 so 8 - 120ml bottles worked out to like $56
Awesome thread. Thank you!!! I have flavors sitting in four different places waiting for the sales to hit.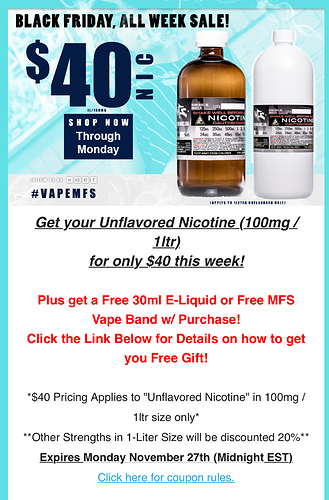 Thought I'd drop this here and I'm good deals. Got this is an email from
www.myfreedomsmokes.com
Glad to have a intro.
Vaptio Black Friday discount upto 70% off.
Entrance: https://vaptio.com/promotion-activity-page/
That coupon code doesnt work i tried it with an order but no luck!
Sry, just passing along my e-mail. I am not sure which one u are refering to but looks like both are limited and cant be combined, etc, try standing on one turkey leg? gl to all and enjoy your turkey, turkeys!
Free global shipping at HILIQ until the 24th and code hilqelr will get you a 10% discount.
I'm filling my cart now! A liter of nic is $44. They're nic is excellent! I can't wait to try some more flavors from them!