Do we need a code for them?
Liion Wholesale is having a 20+% off sale. Sony VTC6s are $4.76 and Samsung 30Qs are $3.99!!!
We have an unopened liter in the freezer from the last time they went on sale. Thinking of getting another one. I haven't heard anything negative about it!!!
Here we go. The Discount Codes for DIY Vapor Supply.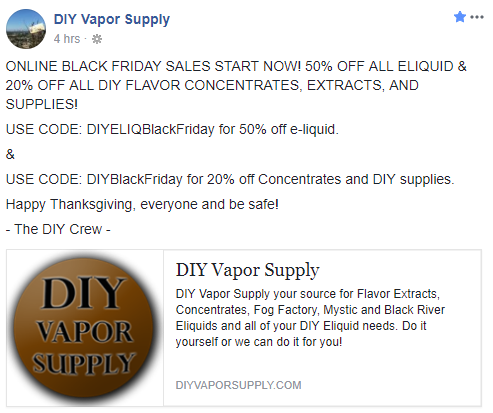 @ADKmac
I've had nothing but good luck with the MFS nic juice… Unless somethings changed with it, it's always been great.
Good to kno thank u very much!

Lightning Vape has 100 pack 60ml Chubby Gorilla clear PET unicorn bottles for $34.99. That's half off the price listed at NicRiver.
Missed this earlier they should be like $14 at eciggity in a couple of hours with the 30% off…
id love to get some 5ml or 10ml chubs
im on it like the black plague , lol but seriously i love to buy the tanks with the rta nust in case the stock .4 coils go away
Advanced Vape Supply has 30%off store wide starting at midnight. But if you are in need of wire or coil supplies wait until Monday where there will be 40% off for those items.
Hey brother, both the cleito OG and cleito 120 have rta decks sold seperately now. I have them both and it's kept those sub tanks alive for me. I'm an avid reload rta supporter but those 2 tanks r still in rotation occasionally thanks to those decks (velocity style if wondering, good build space/easy wicking👌🏻)
Eciggity 30% Off sitewide
That brings the $46 Voopoo Drag and Smoant Charon to $30
Not to mention the $5 Attys in the clearance section.
yes i love the cleito rta its very good that and the smok baby beast are imo two of the best rba/rta systems i wish the og crown rba was worth a damn then all would be good lol