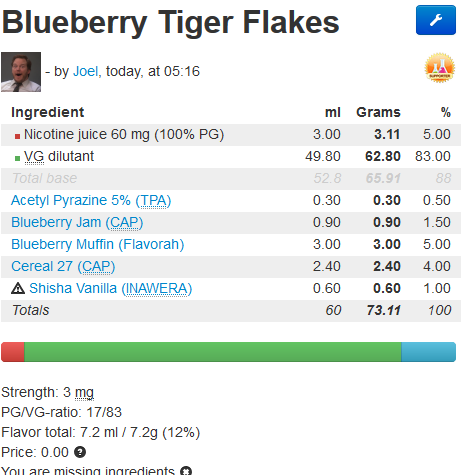 I don't know why it would say I'm missing ingredients, I have them on my desk
Did you mix this ??? I dont see it …and I could never take FLV BB muff that high …but what do I know … Have you tried shroomys Frosted Flake recipe from a decade ago lol ?
I like to put peanut butter and honey in Frosted flakes spook good
The muffin, is a little high for my tastes - I would tend to hang it in there at around half or less (it is light on muffin)
The cereal 27 is the same maybe half - three quarters of what you have there
I find it's a weaker flavour, It's in the ball park of suggested percentages on the Flavorah website
I'm kinda going for that, I want it to be like a blueberry jam muffin with frosted flakes on top
Id like to try the AP / cereal 27 combo but at like 3pct and .5 maybe a touch of FW yellow cake ??? Or JF yellow cake but I still havent tried the JF myself
All I have JF Yellow left I think
@woftam can't you go 1 to 1 ratio with FW and JF YC
Maybe lower The cereal 27 add 1pct YC and keep the AP ??? Im just shooting off the hip here , its been a minute since ive used Cereal 27 … Beaufort has a nice combo he uses with FA breakfast cereal and FA apple pie
Are frosted flakes like corn flakes?
For Corn Flakes you can use cereal 27 and FA Corn (one drop per 30ml)
Yeah it's essentially just a powdered sugar or icing on them
Yes but covered with sugar
This is a pretty good FF recipe …
What percent Cereal 27 ???
Depends on your taste but I would use around 1.5% - 2.5% depending on what else you have in the mix and where you want it to sit.
But i do go pretty light on flavours so you may want to push it a little - just dont use too much FA corn or you will miss the sweet spot
I do like the concept , frosted flake anything is good
Pretty mild, but TPA Sweet Cereal Flakes with a smidgen of Cereal 27 is yummy.
Shes gonna say TPA cereal watch