Nice! I wish I had that much room to work in. Maybe one day we'll finally have a room free up here

I wish more people would post things like this.
Well that's the sort of title that grabs my attention really fast! Although I will say I'm slightly saddened by the fact it wasn't what I hoped but since I'm here…

Sorry about the link I was too lazy to repost

It is a Compact Disc "shelf" I made many moons ago, re-purposed for flavors. The trays pull completely out for easier access and moving stuff around as needed. All are 20ml needle point bottles. I sampled 10 different bottle/needle tip for drop count/ml. They all average 41 drops per ml. This is handy for quick adjustments to flavors without going to the scale.
I still have a few flavors to go to fill it up. …awww shucks…
The bottom shelf is currently used for older steeped bottles of finished juice that I haven't really decided just what to do with.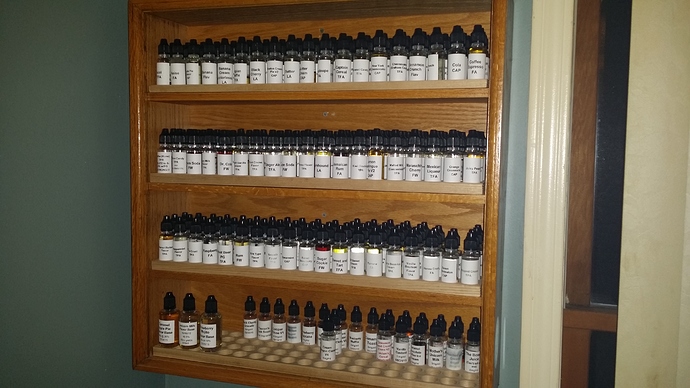 And for big bottle storage…
My space is very limited, my little "man cave" is only 12ft x 14ft and also is home to a couple of bass guitars, an amp, my computer desk and other stuff…but the view from the windows is of forest and valley. Hard to beat.

Gotta love old farm houses.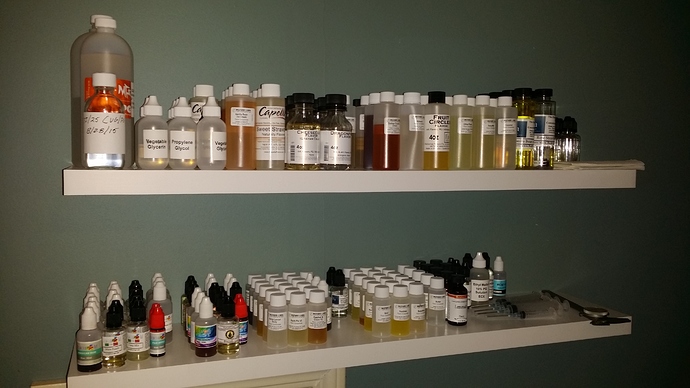 MIX ON!
Me too! He has it going on