Tell us how it goes.
I have been struggling to reproduce the effect of the Chinese juices.
I'm from Oz and it's always hot here.

Now, I've only been vaping/mixing for a couple of months, but what I figured out was that in the hot weather low % fruit recipes are much better during the day.
My average total mix would be around 7% and the Strawberry one that I'm smashing through only has about 4% total flavourings.
I have heavy, creamy flavours at night like dessert after dinner.

I think it shines especially with ice creams and fruity mixes, but taste is so subjective sigh
What works for me is doesn't necessarily work for everyone here.
http://www.ecigexpress.com/shop/diy-e-liquid/e-liquid-additives/liquid-concentrates/ws23-30-cooling-solution.html
About This Item
WS-23 is a cooling agent that has little or no odor or taste.
As opposed to other cooling agents, WS-23 is more round and smooth in character.
This additive is good for those who enjoy "cool or icey" cooling impacts with less flavor muting than other popular additives.
Recommended starting percentage: 0.75% -1.5%
I'd like to add to this that 1.5% is giving me brain freeze… I usually start with a few drops for a cooling effect and I'll add to taste. It's really potent stuff.
This stuff is just ws-23 crystals diluted in PG, so no alcohol and stuff that needs some time to breathe out. You can just add this to a mix, shake and vape it.
Menthol and similar are absolutely VILE and should be banished from existence!

Are you looking for something light in the summer and not too heavy like custards and bakeries? But not icy like menthol?
How can I explain…like ice cream with some sort of fruits etc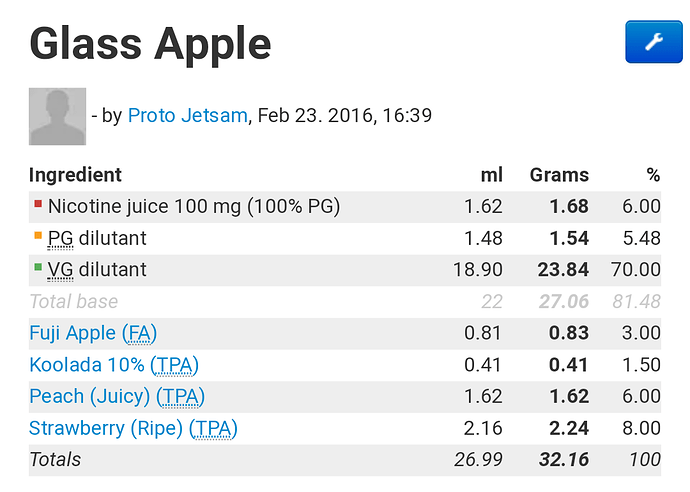 I changed fuji apple fa to cap fuji apple since I there wasn't on the site where I order, I got enough for like 250ml but will try to cut them all in half that should be enough for like 500ml
Start much lower on koolada. This is a season to taste additive. Personally I do one drop to a 30ml. That's in the neighborhood of a really low percent. 1.5 may destroy your mix.
How much should I start? I never touched koolada
Flavorah has one called ice. It produces a cooling affect that is not as harsh as menthol. I used .5% and less. Gets stronger with age!
It's personal choice. I'm sensitive to all cooling agents, mint, pepermint. So I literally do one drop in a 30ml and work my way up. My drops are about 0.025 grams.
Others do mix higher than I do, but just recommend low because you can always add more to taste. If you over do it then you have to add more vg/pg and all the other flavors to fix it.
Since I'm a nut ball and others are not as sensitive 0.25% but I leave that recommendation to someone else because I've only done max of two drops in a 30ml.
I hate everything menthol, peppermint, koolada, ws23 but I like cooler summer vapes or at least my brain thinking it is "cool"
To accomplish that you can bent cucumber, creme de menthe, teas.
Sure it won't give you the same as menthol and koolada does but on a lower wattage build you can still trick your brain in thinking it has some kind of ice in it. Just throwing that out there as a possible option.
I think the best cooling agent I have found is WS-23. although never liked menthol anyway, just the cooling effect Koolada is OK but I found it mutes a lot of flavors, were as the WS -23 is a bit more cooling without muting as bad. These are the 2 to use of you want more of a cooling instead of menthol. Start low at under .5% Just beware the muting of the other flavors.
Doesn't have to be RF SC but a blue raz and lemonade mix are great for summer
I got into DIY about the time that the RF threads were blowing up so naturally alot of my flavors are RF SC. I recently purchased the RF One Drops and despite all the negative remarks about menthol, I ordered a bottle but still haven't tried it yet. I'm guessing that might be an easy way to add some icy sensation to any mix when the mood strikes.

http://www.onedropflavors.com/mm5/merchant.mvc?Screen=PROD&Product_Code=ODFME
Koolada and ws-23 cooling agent? This might be a winner for me… I've been using the $8 deal on Caktus at the moment for Halo Frostbite. And I have read comments that it feels too cool. Honestly, I could even go cooler. P.S. if U take up the $8 deal (if it's still going) expect a possible mess of some fluid leaking. Apparently the pressure in the plane has been cracking some lids open. Hence why they are on special.
Here is a heap of info on menthol derivatives
https://www.leffingwell.com/cooler_than_menthol.htm
TLDR The important bit for the ultimate chill is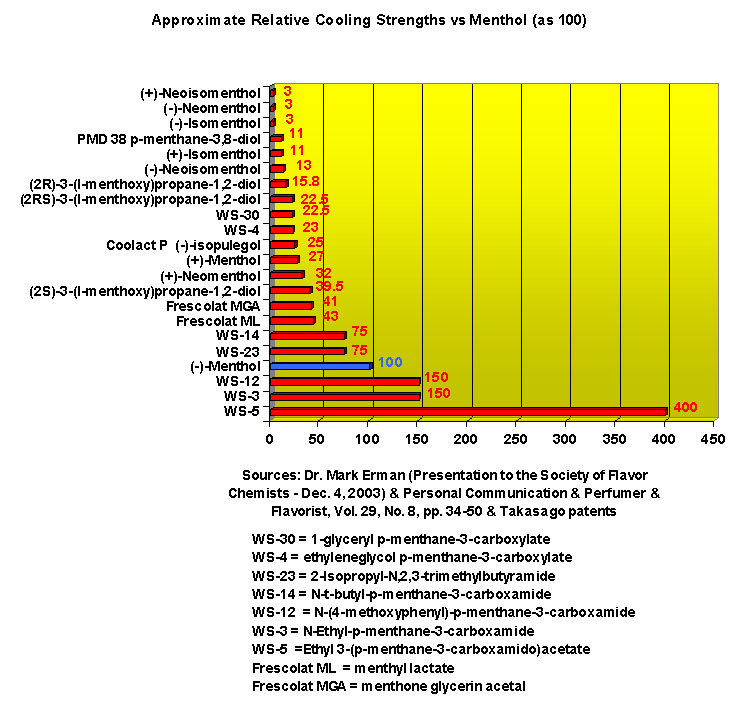 Koolada is WS-3 and can have a slight muting effect on your recipe (i would suggest perfect your recipe) then use either ws-23 for a mild chill or ws-5 for super cold as neither of these will have any effect on the recipe taste.
Isn't Koolada usually sold as a 10% solution vs WS-23 a 30% solution?
Would that make a ws-23 concentrate a stronger cooling agent for our use than koolada?
You can buy ws-23 at 10% 20% 30% so it will totally depend on the reseller and their % used - but yes a 30% ws-23 is colder (while a 20% ws-23 is about the same but much better to use) than a 10% ws-3, however a 10% ws-5 is much colder than a 30% ws-23