We need a section for coupon codes.
It exists in the Resource page

needs to be updated perhaps: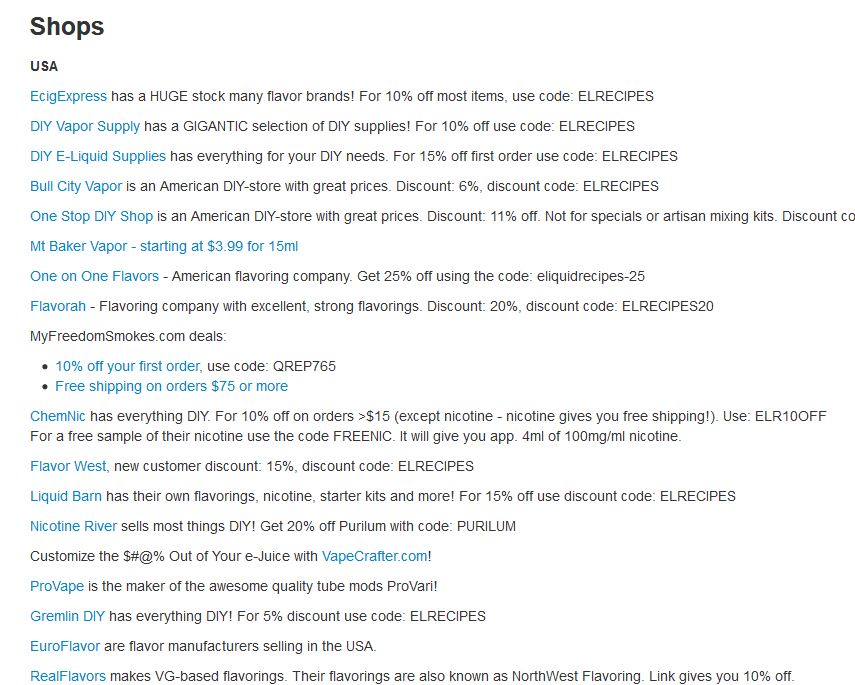 Thanks, figures the shop I was hoping for doesn't have one there. Ever shop at Sweet-Vapes?
I haven't. First time I heard of them.
Pretty good USA prices for coil units, tanks and some mods
Cool thanks. I'll check them out
Hey I'm getting a new tank, gimme an opinion if you will or feel free to suggest another REASONBLY priced tank that has REASONABLY priced coils units and no I don't now or do I ever want another smoke tank their coils will send me to the frggin poor house. I'm looking at the Ceramikas by Vapeston, the Freemax Pure, and the Joytech Ultimo,(I have a Delta 2, Ego one Mega and Cubis Pro by them) all are OK but I wish I could find good cheap coils for my Maganus still
I really wish I could help you out on this. I don't use any tanks with pre-made coils. Totally agree on the Smok coils…they have to be thirsty devils!
I havnt used them but they do have there stuff connected to vapecrawler. You may find a deal through there @GPC2012
Bullcityflavors: vu6- 6% savings
Gremlindiy: elrecipes- 5%
Liquidbarn: DIYorDIE- 15%
what price point di you consider cheap for a pack of coils ? if you dont have the OG crown id grab one of those you could get their coils for 10ish dollars each 4 pack and the coils last long , but my all time fave tank is the original cleito and the .4 coils are under 15 a pack those also last long
I have. Very smooth transaction, products were authentic, and prices (as you mentioned) are very competitive!
Haven't done a lot of transactions with them, but the couple I have were both very positive experiences. I wouldn't hesitate to shop there again.
Right now it's between the Ceramikas (because I really love my Maganus) but their coils are a little pricey, they do state that they're supposed to last 3 to 5 times longer, but that's probably sales propaganda. and the Joytech Ultimo, this one also has ceramic coils and both tank and coils are cheaper. I've had the Delta 2, and Cubis pro tanks they are good, but not as good as the Maganus.
As for price point I'd love to get long lasting coils for a dollar each but that aint gonna happen. Yeah I'm a cheap old fart. lol
I've used Sweet Vapes before, They're a good vendor, but a little tight on their return policy.
Also, I saw in another comment that you're having problems finding coils for your Vapeston Maganus? Element Vape has them for $14 a five-pack.
https://www.elementvape.com/vapeston-maganus-replacement-coils
Hope you find a good tank. I'm no help in that department as I've been using RTA's for a while now. I was getting tired of buying coils that were crap. Now I make my own crappy coils!