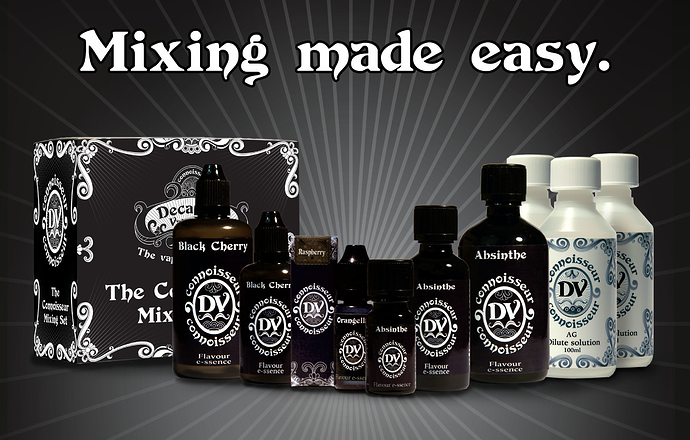 Hi everyone, we've recently discovered the e-liquid recipes forum and we're very excited about contributing to this vast community.
We'd like to start by offering everyone this code for 15% off your next order from the Decadent Vapours website. Simply type in the code 'recipes15' in the basket areas of our site to receive a discount. (All products are included, this code cannot be used in conjunction with other coupons.)
If you're new to Decadent Vapours we're one of the oldest e-liquid manufacturers in the world, first manufacturing our legendary Absinthe e-liquid all the way back in 2009. Due to our vast experience in the industry we now have over 90 flavour concentrates available to buy from our website, in sizes ranging from 10ml all the way up to 100ml. Each of our flavours are made with only the finest ingredients here in the UK and all of our e-liquids are diacetyl and acetyl propionyl free.
As well as concentrates we also offer a range of pharma grade diluents and nicotine, as well as empty bottles including coloured plastic and glass.
Feel free to explore our website: http://decadentvapours.com/ And our DIY section: http://decadentvapours.com/uk/diy-e-liquid/flavour-concentrates/
We'll continue to update this thread with news, recipes and giveaways over the coming weeks and months.
If you have any questions don't hesitate to ask, we're here to help.
DV