Geez, you're no fun at all !

The "Reload" is pretty good and has a post less deck so is really easy to build on, and the taste is pretty damn good for a tank. The "Aromamizer" series I haven't tried, but I've heard nothing but good things about. Once you know how to build, which is not that difficult (check out videos on utube) they are all much of a muchness. A little perseverance goes a long way. The bigger tanks will usually be easier as you have more room to move. Good luck.
Nooooooo, resettle


The Creed is just soso, not a tank you want to start down the RTA path with. I would recommend the Augvape Intake Dual. Not only is it easy to wick since it is top airflow but the flavor is great and you can build it dual or single coil. If building single coil I suggest a 4mm coil so you have enough wick but it really is an easy tank to build and the flavor is excellent.
I do love the suggestion of the steam crave Aromamizer Plus, probably my favorite RTA or as they call it RDTA of all time. The learning curve is a little higher than my first suggestion of the Intake Dual though, learn to walk before you run as they say.
I want to be clear, the Intake came in 2 versions, the original Intake RTA was a single coil which is also very good. The next version was the Intake Dual and they not only added the option to use 2 coils but also increased the airflow. I just really like this option for first time RTA users as being top airflow allows you get get your wicking game better without dumping your juice all over the place. With RTA'S wicking is very important for overall performance, this should make it easier.
While you're deciding on an atty that fits your needs you should also (if you haven't already) start looking at what to do for coils.
You can always buy 'pre-made' if you want the convenience or just can't be bothered making 'em. Personally I never liked the idea of paying someone else for something I could do myself.
Get some wire of your choice and gauge, find a screwdriver with a 2.5mm to 3.0mm shaft and a pair of wire cutters and you're good to begin learning. This thingamajiggy here is highly recommended though…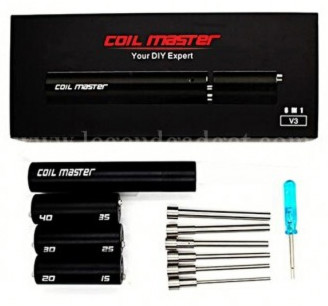 I second this recommendation. I have both the single and dual Intakes and recommend them highly. I haven't tried the Dual with a single coil build yet, but I plan to, probably the next time I recoil it, just out of curiosity. I have seen posts of people doing that and it looks fairly straightforward. The Dual is the favorite of my dual coil tanks. Usually I vape at low wattages and prefer single coil, but I have been pleased with the performance of the Dual.
Full disclosure: I have been a sucker for Augvape since my first Roxy Merlin. I have eight mod box/tank combos I keep in rotation and four of them are Merlins. The Intake single comes in a close second. The Dual is an easy third. Only one of the other two is dual coil, a Baby Beast with an RBA build deck. It's okay, but I'd go with the Intake Dual first. Much better flavor. No seepage.
The last is a Vaporesso tank that came a part of a set with the box and uses pre-builts. There's four coils down in that sucker. I tend to avoid pre-builts since I don't like the 'free razor-buy the blades' marketing strategy. But it is a decent set-up aside from that.
I love all the suggestions. I'm all prepped up on coil work. Unfortunately I was just notified after 4 days that the rtas I ordered are out of stock. Back to square one. Pretty much everywhere is sold out at this point. So I'm not sure where to go from here. I was excited until I saw that email tonight lol.
And as nice as the one is mentioned above im not willing to drop 60 on my first rta. I did like the augvape intake dual but can't find it in stock anywhere.
At least anywhere in stock that looks legitimate and won't take 3 months to ship from china.
If it is a US-based vendor, they (may likely) have reduced inventory holdings in anticipation of a May 12, 2020 FDA deadline for unapproved ENDS sales (just a few days ago slid-out to September 9, 2020).
.
Poking around looking for a review, I noticed that the worthy, reliable Eciggity (in Hawaii, USA) has stock (in Black and Gunmetal colors only, no Stainless Steel) for $24.99 (less 10% discount when using TENOFF code). That's $22.49 total, plus their reasonably priced USPS (First Class or Priority) shipping.
They (Eciggity) still show some stock in your originally mentioned interest (in Gunmetal only, presently).
Their web-sales widget appears to allow one to check stock (by probitively upping the order quantity in one's shopping-cart). Doing that, they appear to have = > 10 . Their system (seems) representative.
So I settled on the creed for now because of extremely limited stock online. But I have had my eye on the augvape intake dual. As soon as those become available I'll be grabbing a couple. This is more of a cheap hobby for me so I'm really thankful for all the suggestions that have led me in the right direction. This is a great community and I'm glad I found it.
Just wanted to update everyone. I ended up getting both the creed and the augvape intake. Took me 2 times of wicking to get it down perfect for my preferences so that was a relief and now thankfully I can replicate it every time. Took a bit of maneuvering but I managed to run dual coils in the creed and have begun wrapping functioning Clapton and fused claptons. I really enjoy the creed but my fiance loves the augvape because of the more restricted airflow. Thanks everyone for the suggestions. I'm glad I got into this.
The Creed is a good tank. It's fairly big. A velocity deck would be easier to set up though. The coils share post holes on the Creed. It's not really that difficult, but not as easy as positioning each coil separately.
I've never tried in single coil mode. I'd probably use one of the airflow inserts if I did. Otherwise for dual coil, I block the side air action.
The Creed makes some really good flavor and is built really well IMO. It's large glass needs to be protected though. It's pretty vulnerable if dropped or banged around.
I've seen recommendations for a single coil tank for beginners. The Hellvape Desitiny is pretty awesome. Great flavor and leak resistant the way the airflow is set up. I have two of them and they're great performers.