Steam Engine is not entirely clear about it, but you can see it's per coil by looking at the resistance: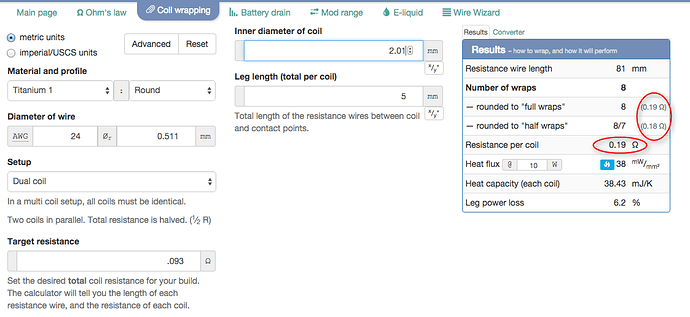 Yeah. The confusing part to me is the wraps are called out as a total of both coils.
The pics ya posted above is exactly what I am running in my velocity. Same number of wraps, same gage and same diameter coils. On my eVic VT it's reading 0.12 and I vape it around 500 … Great flavor and clouds.
Don't have Joules on the eVic, Temps and watts. So I run between 470 and 530 with this set up and 50 watts.
I was asking because at 50w I hardly get any vapor at all. Even in my iPV 3 Li I have to run it upwards of 75J. Which still doesn't produce a very large cloud.
Yeah something is definitely sounding screwy. I can switch out of TC and vape as low as 30w and still get descent hits. Wish I could help ya out more but the eVic is my only TC mod. I can tell ya I love the Velocity, it's the only RDA I use anymore cause it's super easy to build on and has great flavor.
Edited to add that must of been in a previous life when I thought I was vaping at 30w. I just took a break and went outside and tried it, had to get up in the upper 40s before I got any kind of flavor.
I wonder if there is something wrong with this Velocity. I have another I will swap these coils into after work tomorrow and report back.