Firstly apologies for the lack of imagery…for some reason ELR no longer Likes my file types…
Sample sent for review direct from Wotofo
Mods used: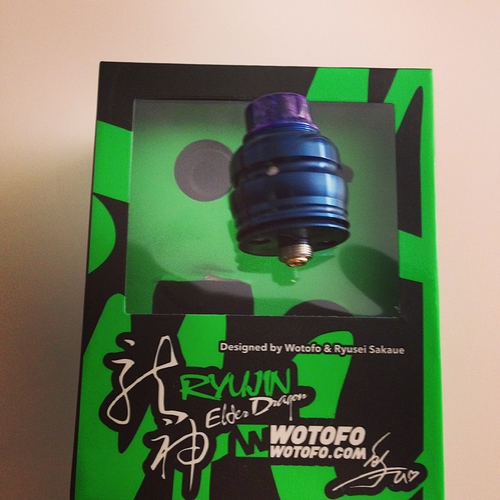 Dripping – Geekvape Aegis purchased from Heaven Gifts using Fused Clapton coil 0.3 Ohm 50watts bought from the legendary Hippo Coils on facebook. Great quality and price #Andy Wild
Squonk - Desire Design Cut squonk, purchased from EFUN.TOP using Fused Clapton coil 0.25 Ohm 65watts
Juice used
Honeycomb custard purchased from Chefsflavours….
https://www.chefsflavours.co.uk/nick-n-mix-one-shots/6626-honeycomb-custard.html?search_query=honeycomb+custard&results=1
This is a great twist to a luxurious thick custard and special mention needs to go to #Nick Evans who has been making waves with some really tip top creations. He is also happy to share recipes and offer advice to novice mixers. More people should follow his lead.
Background
Wotofo 's newest RDA release is another youtuber design collaboration. This time with Japan's Ryusei Sakaue. Rumor has it that he may be 'Mike's Vapes' step surrogate half brother, and has a 50% genetic profile match to Suck my Mod. Ryusei apparently cries tears of VG, and bleeds PG…nothing gets on his wick more than a flavourless atty, hence this new creation.
In Japan they have named this tank 'Ryujin' which translates as 'Drag On dog', or if you have a decent Japanese translator app its actually 'Dragon God'. Personally I am not a lover of the look of this RDA, but then again I rarely buy on looks. I would take a hit through Sloth's nostrils if the flavour was on point. In this instance the flavour is superb, and I don't have to smell Baby Ruths to Achieve it.
The look
In terms of looks, this little pagoda of an RDA is certainly not offensive, its just not 'muscle car' enough for me. The squat shape of it is important though. The coils are positioned close to the domed top cap, funnelling all that flavour to the drip tip. This is a 22 x 34.5mm tank, so close in size to the now antiquated 'Serpent RDTA'…now this was a tank I think slipped under the radar of many reviewers. It was and still is the closest RDTA to any true RDA for flavour…a perfect stealth vape.
Airflow
Aside from the topcap design, the big differentiator here is revolutionary Airflow. We have seen airflow designs improve weekly over the last year, but essentially air directed to straight to the coil combined with the shallow domed top cap maximises flavour. In the elder, you have 4 very well machined 'shoots' reminding me of waterslides, hitting the single coil from all directions.
The only pitfall I can mention with these new fangled airflow technologies, the whistle…. Now its not a negative for me, I don't mind a bit of noise on the draw, but for some it is. I would sacrifice noise for flavour every time. That said, whilst I was running the elder through its paces, I suddenly noticed I was surrounded by a flock of sheep, a sheep dog but no shepherd in sight.
A major positive development on this RDA is the fact you can remove the air vents completely for cleaning. I popped them into my ultrasonic cleaner to get rid of any debris and residue. Many people may think this is overkill…what's wrong with a toothbrush and a hot tap….but I tell you, if you invested $50 in ultrasonic vapemail, it makes you feel less guilty after each use. Also just to ringfence its presence in my house, I bought mine as a present for my wife to clean her Jewellery….'what jewellery she said'……I winked, I kissed…and walked out of the room quickly.
Build Deck
About as simple as they come…single coil, postless with 4 side mounted screws (proper screws that seem decent quality). I tried using flat staple wire and found no twisting of the legs which is always a pro, and a bug bear on some decks.
Overall thoughts
I like this RDA a lot. Its simple to build on, compact and is a real flavour monster. I tried using my own custom drip tips, but they just didn't look great even with the 510 adaptor. I think it's the pagoda style design that needs the 'lip' you find on the factory 810….a minor con, but some people are very picky about their tips.
In terms of squonking, it performed ok, but this is definitely a dripper. With juice fed on top of the coil you get turbocharged flavour. With the squonk set up, the cotton pulls juice from below and just didn't give the same result.
Kit Includes
• Wotofo Elder Dragon RDA
• Coil trimming tool
• Extra drip tip
• 510 drip tip adaptor
• Tri Core Clapton coils – 0.17ohm
• 3mm agleted cotton
• Spare screws and O-rings
• User manual
Wotofo Elder Dragon RDA Specs
• Size: 22×34.5mm
• Detachable air inlets for easy cleaning
• Postless single coil build deck
• Focused airflow supply
• Deep juice well
• Squonk and gold plated 510 pins included
• Body material: stainless steel
• Insulator: German PEEK
• Adjustable airflow
Currently on pre-order, and should be shipped soon. Being marketed between $25-$35 RRP