As promised I am reviewing the Efusion DNA 200 Mod from Lost Vape. I was not given the mod for review or endorsed by any company. It was a simple purchase and this review is solely for the benefit of the ELR community.
The following is the Product Description posted on the VaporDNA website where I purchased this mod.
Product Features
Removable and Replaceable Carbon Fiber Doors
6061 T6 Aluminum Chassis - Anodized
Precision Milled Stainless Steel Buttons - Ultra Responsive and High Surface
Stainless Steel 510 Connection - Nickel Plated Brass Contact
1300mAh FullyMax 3 Cell LiPo - 14.4W Hour - 11.1V - Equivalent to a 3900mAh 3.7V Cell
XT30 Connection - Allows for the removal and servicing of battery
Please Note: Removal and servicing of existing battery will void warranty. This feature is intended for advanced users ONLY and requires additional diagnostic and set-up through EScribe.
85mm by 60mm by 25mm
First Impressions
I loved the look of this mod when I was searching for my first DNA 200 device. I thought how nice the red one would look with the Mutation X RTA. Still think that, although I don't have the tank just yet.
Pictures really don't do this thing justice. Once you have it in your hand you then realize, this is a gorgeous device! Everything about it is pleasing to the eye. I was under the impression that the side panels were carbon fiber. Wrong. They look like carbon fiber (well, a carbon fiber pattern really) but are in fact simple a hologram. At first I was torn between disappointment and intrigue. After all, carbon fiber is to man made products what bits of bailing twine is to a bird building a nest…the creme dela creme of materials. Maybe second only to chrome and diamond-cut aluminum, aesthetically speaking - but that's just the Harley riding truck driver in me

Then I started appreciating these little panel stickers, knowing if I nicked one badly or wanted to change the mod's appearance rather substantially, it was clearly a possibility.
Staying with appearance, the screen on this thing is wonderful. It is bright and easy to read. This one you can read outdoors in full sunlight, which is a major boon for anyone who has difficulty with their vision.
There are only 3 buttons, the typical fire button and +/- buttons. The fire button is flush mounted to the case, but the plus and minus protrude ever so slightly. All have a great feel to them and feel more like board mounted rather than anything mechanical. Certainly none of the janky kind of feel the Efusion's older brother, the Esquare, had with it's fire button. And the micro-usb is mounted on the front panel which allows you to keep the mod upright when charging or tethered to a computer.
Great front panel. Now the top (at least for now) is impressing me just a little. One of the common complaints about box mods is how the 510 atty connector is often recessed or flush mounted, and the tanks or drippers invariably scratch the surface surrounding it. Well here the 510 connector is ever so slightly raised. For most tanks and drippers that will prevent or greatly limit any scratching. Also the connector is of a good size too which will provide a solid ground contact.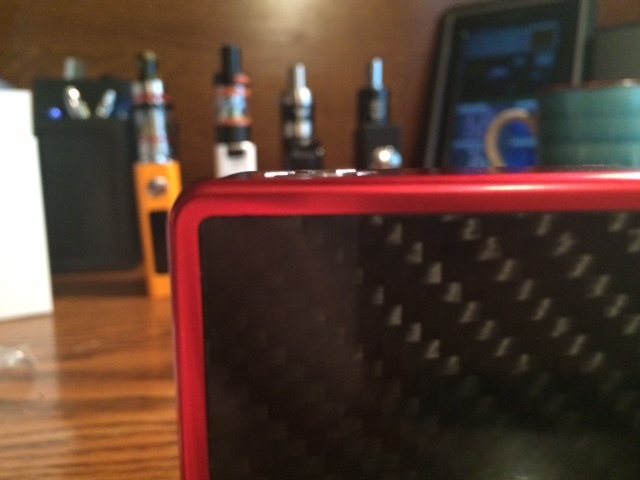 Finishing with aesthetics, how does it look with a topper?
I think it's as sharp as they come. By the way, I merely wanted to demonstrate the display and how I have the device configured. The display customization is not something you can do with the mod itself (or any DNA 200 to my knowledge) and is a feature of Evolv's Escribe software only.
Performance
I've had this mod for 2 days. I have learned that with the enclosed LiPo battery, I can get a good 6-1/2 to 7 hrs of heavy vaping from a full charge. For someone who is not a heavy vaper or is using more than one mod in rotation, this would certainly last an entire day. Let me say that with my limited experience with the DNA 200 chip, one thing I do believe at this point is that performance of these mods is extremely dependent upon the batteries. Other factors which may come into play are the quality of wiring, switches and contacts. Otherwise, it's a DNA Board and as such is going to do what a DNA board does. And what it does is nothing less than sheer delight! It does temperature control so perfectly you'd think NASA designed it. I can set up my wire configuration through the software, upload that to the mod, and start vaping. There's no playing around with it trying to find a temperature somewhere between the fires of hell and the tip of an iceberg. If you set 450F, it vapes 450F (or what I think 450 is) and it stays there. No roaming around, not great one minute, what the hell the next. As for this device's LiPo pack, I never saw or noticed any change whatsoever in how it vaped, even when the display showed zero battery power left. Charge time when new was around 5 hours. Recharge from completely depleted was around 3. But from a full charge to fully depleted, performance was the same every puff.
Pros
Beautiful Mod - worthy of the sun deck at your house or the Promenade Deck on a cruise ship. While camping or dining. It's just stunning
Nice, bright and easy to read display which is viewable in full sunlight.
Smooth, rounded corners and anodized case feels very comfortable in the hands.
Customizable side panels
Relatively quick recharge time when connected to wall charger with USB (about 3 hours with 1,000 mA wall charger).
Slightly raised 510 atty connector for reduced atomizer scratches on the surface
Solid buttons that are precision crafted
Unsurpassed Temperature Control from a full charge to full battery depletion
Cons
Encased battery pack. Replaceable but not for the average person without electronics knowledge
Limited battery life. If used as a person's only device, this would need a recharge after 6 or so hours of heavy use
Yes, far more pros than cons. Much of this and any other DNA 200's qualities will be heavily reliant upon the DNA 200 board, which is in a class by itself. This mod is not something I would recommend for anyone who is uninterested in temperature control, as that is where the DNA 200 shines. I won't even say that it's where the Efusion shines, because its the board which sets it apart from all other non-DNA 200 mods. So if you are a simple Kanthal fanatic - save your money and pass this one by because you can get a few good mods for those purposes for what you would pay for this one which, currently, is retailing for $179 most everywhere it's sold. The power behind this mod (DNA 200), coupled with the Escribe software however, is miles and miles farther down the road in terms of temperature control and stability than its closest competition. So since most DNA 200 mods are essentially the same, why pick the Efusion? The PROS list above will help you with that. But really, it's just too damn nice looking not to want.