I had a really bad experience with Element Vape and I've been watching for updates to see if they are improving because I really do love their selection!

What caught my attention, was the "Welcome back" banner. The shipping method bypasses the mail ban by the vendor shipping to another business, then the purchaser picks the items up at that business. Pretty nice if it works good.
Thx Jim, this is great and promising news

Interesting @JiM210. I'm going to have to watch how long it takes to go live in the US.
https://www.pudopoint.com/find-your-counters/pudo-point-counters-network/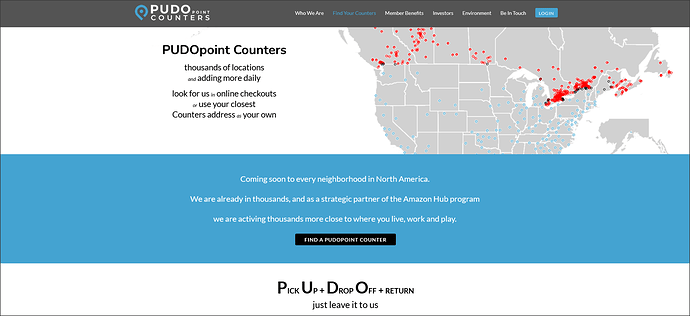 You know what's funny, is I JUST RECEIVED a Vaping order from a Vaping Company, BY, UPS ?? !!!
Like @SessionDrummer I hope something like this comes to the USA. Because I live in apartment, when I order from Amazon, I use one of their locker hubs that is only 5 minutes from home. I would be happy to drive to a location to pick up my vape gear.
I think this is already in the US. On elements site there is a link to click to enter your zip code to see if they can deliver to your location.
Just got an order from Element a couple weeks ago…They shipped it USPS, was here in 3 days.
That's darn good considering you're on the east coast, I think.
That is funny. I guess no one listens to the guberment anymore.
I know right, I had read some horror stories of element orders taking 2-3 weeks so I had low expectations when I ordered. Thought it would be some 3rd party shipping/delivery method. Then it shipped USPS and the USPS driver signed my neighbors name for it and left it in my mailbox. I didn't know what the hell was going on…lol
I still get most of vape mail either UPS or USPS, I figured most companies were just going with the "don't ask don't tell" policy. The only company not to (for me) has been Element.
I love ordering from Element but I can no longer do it. With 75% vape tax plus shipping things are just about double. They are about a 3-5 day ship though usually…
Massachusetts born and raised
YES please!

Wish I could help you get out of Mass but I live near Chicago so the vape tax is cheaper but you'll get shot on the weekend!
Mayor Beetlejuice needs to go.
Hehe @Pastorfuzz I have family there, and that is the saying I keep hearing…