I tried doing this the nice, peaceful way, but forget it now! Gearbest is on my personal shit list, and everyone here should be aware of their shady business practices.
So, over the 4th of July weekend, I decided to purchase a couple of RTA's from Gearbest.com
Here is the link:
https://www.gearbest.com/vapor-styles/pp_618118.html?wid=1433363
These RTA's are listed as "SER" V4, meaning "ShenRay".
All The pictures on the reviews also show people with authentic ShenRay RTA's.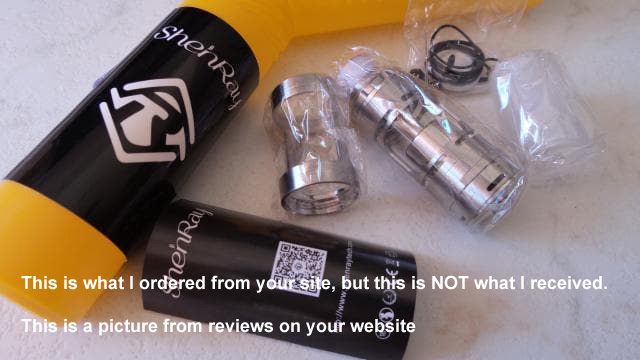 Great, so I decided to order 2. A week and a half later, I get my package, and immediately noticed that I did not receive the RTA's in the authentic packaging.
This is what I received:
Hmmm, that's strange, but might still be OK, I thought. NOPE!
Juice Flow Control would not work, and upon further inspection of both RTA's I noticed this on both tanks:
The center pin is not centered because the whole base is not fitted properly. It does not screw in properly. This is on both tanks, which makes them unusable.
Very poor quality here, so I compared it to my authentic one that I have, and noticed several more differences. Upon further inspection of the new tanks, I noticed that the 'spare parts' bag had another clone manufacturers name on it, and that's when I realized I had not received authentics.
Not happy with the 'ol switcheroo they pulled on me, I opened a support ticket on their site, AND also reached out to them on the forums to try and resolve this peacefully without posting ANY of this publicly.
After providing all the proof they requested, they would not offer me a refund, so I opened a dispute with PayPal. Here is where it gets me infuriated…
After opening the dispute with PayPal, they first offered me a "partial" refund of $6.18. Really?! You send $30 worth of fake goods, and offer me a partial refund for $6??? WTF?! So of course I declined it.
Fast forward to today, and I receive a nice little response on my ticket stating that they will offer me a full refund for $30.90 but, ONLY if I close the ticket.
Again, Really?! WTF is this shit? Hey Gearbest, FUCK YOU! I AM NOT CLOSING THE TICKET.
If I close the ticket, I have no way of getting my money back.
Fuck these shady assholes. They are on my shit list, & I will not ever buy from them again, but wanted to post this so others are aware of their bullshit practices.
If anyone has a similar problem, DO NOT CLOSE your Paypal dispute. Paypal will not help if you close the ticket.
Geez, how fucking stupid do they think people are?! FUCK YOU GEARBEST!