You made me check Heartland Vapes just now, fortunately they have not yet changed their prices. Wow!
I haven't seen any others either which is why I find this extra troubling
someone needs to call them. (ED) but then again, I never liked their vg anyways.
I feel like calling them and giving them a piece of my mind, but screw them. They're not worth it. I figured I would just post this. Hopefully this should have a better effect
Hmm, maybe I should call them & tell them what I did lol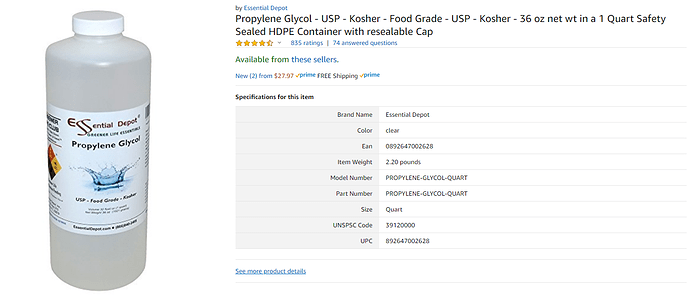 Same product same page on Amazon… I also brought it to the public attention by asking why they were price gouging here: https://www.amazon.com/ask/questions/Tx17I49BQAKDCCF/?questionId=Tx17I49BQAKDCCF if amazon publishes my question
I tried to leave a review with that information in it, we'll see if they deny that as well. Same, I don't deal with companies like this.
I don't blame them for not publishing it really. There's too many people who use those platforms maliciously. You should twit it. If that's what it is called.
I'll do that Phil. I don't normally call out companies but when they are being unethical I have a problem with that.
lmao. I believe you mean 'tweet'?
Wow…thats Thats their Platinum Line of VG corona free and filtered through gold mesh
lmao a gallon of pg at tractor supply usp is only 23.00
5 gallons of VG is $65 with free shipping at River Supply.
I'm guessing the 'gouging' is due to people now turning to DIY sanitizer, not vapers panicking.
I also wonder if maybe they have some software with algorithms that adjust prices automatically based on supply/demand that did this and maybe they didn't even realize it. But of course, that is probably very naive of me to think.
"This price increase is expected to be temporary. How temporary will depend upon the remaining citizens of this nation being reasonable in their ordering needs."
Um, What the actual F**K?! Oh, now I really want to report them for price gouging.
Hey we are selling A lot and people want it so we are gonna take advantage of their desire to pay for it…So for now we gouge everyone until we can …
Thats how their response reads to me
If you selling a lot more than usual and your margins are good then you should be maki g a shit load of money without taking advantage of the mass hysteria …#essentialdepotban