Man, the new flavors have to stop, SSA's recent run was enough :p. Not sure if this was already posted.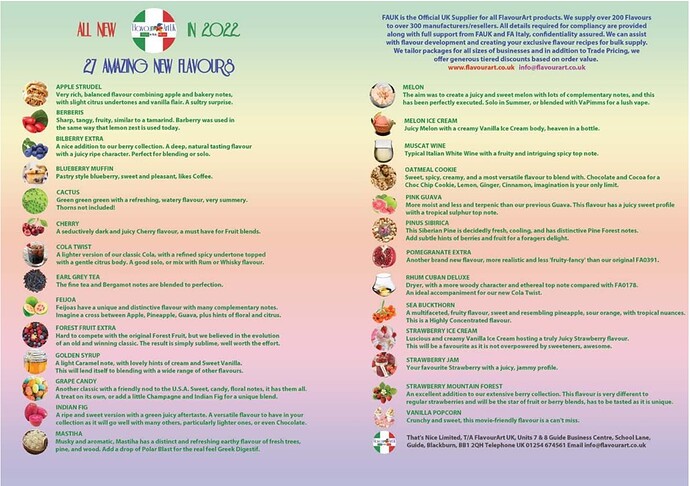 Oatmeal cookie with some Fig… Sounds good to me
I'm a bit concerned with Bilberry Extra though… Why do we need Extra? Wasn't the normal enough?
Same with Forest Fruits Extra, that was some potent and delicious stuff already.
@SolteroDIY some of those sound really good. I can't find ANY information on those yet. Where did you get that ?
I have to shout out to @wllmc to see if BCF is going to be getting any of them. Thank you. Thanks @Ken_O_Where.
Yes, they do! Vapouround Magazine UK, but originally saw this mentioned in DIY discord.
Because its FA ill bite , I skipped quite a few of the SSA
FA dropped it in their Instagram end of last week
I went ahead and populated the DB with the new flavors.
Dayum, that was fast. I was going to do that tonight when i was super duper high. Thank you TZ, you are doing an awesome job.
I figured I better do it quick before the names get all fucked up. Already saw 2 that need to be merged FFS!
Ohhh i cant wait for @SessionDrummer to review these. A few sound pretty interesting.
Thank you! Maybe we won't end up with 1000 variations

Thank you @robin, and I'm trying everything I can at the moment to score some, but so far, mums the word.
And up goes your bottle inventory