Glad I bought everything I wanted a couple years ago.
This sucks for new folks just getting into Vaping looking for a cheaper price.
Looks like it's getting harder to get gear and Nicotine by the day.
That's what I was thinking …
I sure haven't @Pastorfuzz. I may have to add them to the list. Please let me/us know what you get, and what you think.

I don't know. The email I got was from Getsuckered.
I haven't looked into it.
I just got some OOO flavors and I didn't see any mention of it on the website.
Will have to check it out when I get some time.
Trying to organize my flavors now.
A never ending battle for sure.
@fidalgo_vapes Get Suckered either merged with OOO, or were bought by them in 2018…
Get Suckered Flavors ® is now a OOOFlavors.com Owned Company.

Get Suckered.com has been in the Flavor Industry for well over 35 years. As of Friday, October 20th, 2018, they were acquired by OOOFlavors.com.

Call us if you have any questions. (800) 971-3015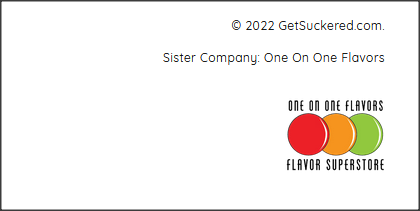 Yeah, not sure what to make of it. Sounds like FT may soon have some stocking issues from the manufacturer's… but I'm sure if they can get it they will sell it! I just checked out my cart today to use up my left over gift card balances (just in case)…
So far everything went through

well, shit. It was fun while it lasted. Glad I got some devices I'm happy with. Just gotta make 'em last.
It is interesting that China is following along. Normally they'll do whatever makes them a buck and screw everyone else.
That's what I was thinking @Lostmarbles. I wonder how this is going to play out…
Hey guys new to the forum but have been hanging around ELR for the last 6 months.
Just stumbled across this thread by total accident.
So I placed an order with FT on the 31st of October, within a few days noticed that all but 1 of the items I ordered no longer exist on their page.
The order appears that it will be fulfilled but I raised a ticket with them anyway asking what's going on.
This seems to be a lot bigger than just vape stuff and includes High powered lasers, high powered flashlights and so much vape stuff.
Where there were all brands of mods now there are only a few even tanks and drip tips have been removed.
As most of it comes from over there the impacts of this will be huge internationally.
If I knew about this earlier it would have been a much bigger order.
Likewise


I've got a few of those and a few boxes of stuff I've never even unpacked yet.
We've seen this coming a long time folks, next is PG and VG.
In 2020 everybody was mixing up hand gel instead of e-liquid, made VG very hard to get.
PG prices have been going up for some time now.
Enjoy what you have right now, transport is going to be a problem soon, then the shit will really hit the fan


Welcome @Hairy_Wombat

Thanks


Glad I stocked up on PG / VG from Basedrop then

Still trying to find substitutes for unavailable items with FT.
"Change item XXXX to item YYYY"
"Turns out YYYY is not available after all, choose something else"


Oh man, happy days are gone again

Don't fret. I'm starting to see manufactures in China reopening distribution centers here in the states that abandoned not long ago. Geek Vape has re opened it's West coast distribution facility. Sorcemore has almost always promoted their US facilities. Bought from them today. Picked up a Steam Crave Plus V3 shipped for $37.00. The MFG's have a will they will figure out a way.