I won this tank. I'd like to post a review of how its been working.
Whats in the box-
The tank comes with the pre-installed coil, an extra coil, spare glass, and spare o-rings (clear). I was curious which version was coming beacuse this tank comes in a wide variety of styles and colors.
Mine is the gold stainless steel version. The color looks great. The tank itself has been engraved to look like mesh. It has no other identifying marks. The actual coils that came with the tank are the exact same color and outside texture.
About the texture, I thought it might be a little rough. It's not. It provides for a good grip. The top cap is unscrewable style. It comes off easily and the threading is very smooth. The air flow control slides easily but not too easy. There is a small metal stopper to prevent it from spinning all the way around.
Coils-
The tank comes with two of the same coils. Its a .15Ω kanthal mesh rated (40-90W). This is my first experience with mesh. There are a few mesh RDA's out there that caught my eye. But I haven't heard of any other tanks that utilize mesh as the heating element in a sub-ohm tank. Instead of various wires this one uses a kanthal screen basicly. It touches the entire area of the cotton, and heats evenly. I've read that mesh coils should last longer but time will tell. I haven't seen any clear pictures of the inside so I tried to get a photo-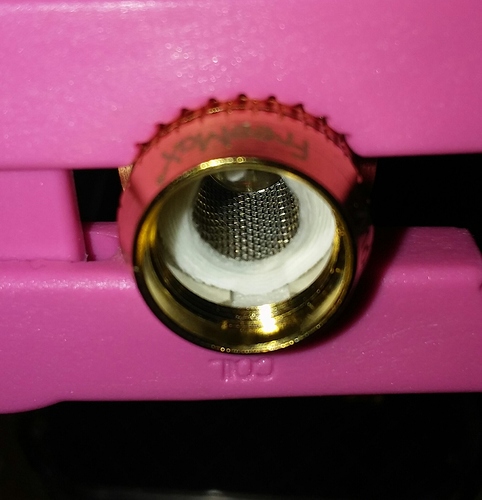 Performance-
After leaving the coil to wick about twenty minutes I started at 30W and worked my way up 10 watts at a time. I usually take three pulls about 2 seconds per burst. Then I go up another 10 watts. These need to break in. By the time your on your second fill is when it comes alive. Here's a list of how it performs for me-
30W- Not much happening here. A hint of flavor.
40W- A little better but it still wants more power.
50W- A light airy vape with decent flavor. Can tell this is the low end of the spectrum.
60W- Its starting to come on now. Tastes really good and the cloud production is picking up.
70W- Boom! This thing is pumping out the flavor big-time.
80W- Same great flavor but the vapor is warming up.
90W- This thing can handle 90W easily. This is getting pretty high in wattage for my preference. Vapor is getting warmer again at this setting.
I'm really enjoying this tank. I think it gives off the best flavor of anything I currently have. It's not mind-blowingly better but its definitely an improvement. I have gotten NO dry hits, even while chain vaping. It hasnt leaked a drop either.
It's a little short in stature and doesn't hold alot of juice. That's never been a problem for me as I carry juice with me everywhere.
I dont prefer the tip that comes with it, only because I don't like metal in my mouth. Its an 810 so I just put another one on it. The stock tip is wide but tapered towards the bottom-
Specs-
*24mm Diameter Base
*Knurled Design
*Threaded Top Fill System
*Two Large Fill Ports
*Pour to Fill
*3ml Max Capacity
FireLuke Mesh Coil Family-
*0.15 ohm
*40 to 90W
*Organic Cotton
*Dual Adjustable Bottom Airflow Control
*16mm by 2.5mm Each Airslot
Fully Closeable
*13mm Wide Bore Knurled Drip Tip
*Gold Plated 510 Connection
Product Includes:
*One FireLuke Mesh Sub-Ohm Tank
*Two FireLuke 0.15 ohm Mesh Coil Head
*One Spare 3ml Glass Tank Section
*Spare Parts Pack
*User Manual
Where to buy this- https://www.heavengifts.com/product/Freemax-Fireluke-Mesh-Tank.html
This is my first review for any vaping product. I hope the information presented helps you. Sorry about the image quality. I am using the camera on my phone. You can ask me anything you want about this tank.