I like a cloud but just love me some flavor. I thought it would be interesting to have a place we could compare notes. I've gone through in the past few days with fresh builds on everything using what I felt was the best flavor producing set up for each topper.
It could be drippers, cartomizers, clearomizers or RTA's - what ever you have that you think just kicks the flavor. Photos aren't really necessary but maybe would help others who aren't familiar so they can see what you're talking about. This lineup might change for me - I have 2 new items coming. But as for today, here's my best flavor/builds and air.
From left to right -
UD Goblin Mini. Dual 26ga Ti, 6.5 spaced wraps 2.5mm ID. Air wide open and use in TC
Steam Crave Aromamizer RDTA. Dual 22ga Ti, 6.5 spaced wraps 2.5mm ID. Air - open on 2 of 4 intakes using in TC.
SMOK TFV4 with TF-R2 dual RBA. Dual 22ga Ti, 7.5 spaced wraps 2.5mm ID. Air wide open using in TC.
Eleaf Lemo 2. Single coil twisted 26gs 316L SS. 2.5mm ID, 4 wraps spaced. Air wide open using in TC.
Joyetech Delta II with RBA. Single coild 24ga Ti, 2.5mm ID, 5 spaced wraps. Air wide open using in TC mode.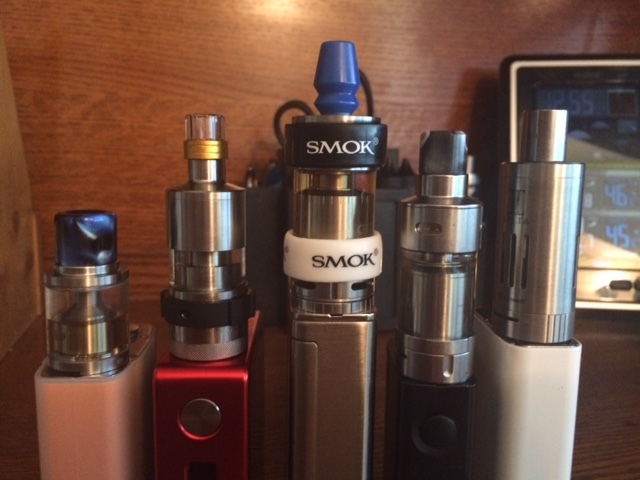 Honorable mentions - only because I rarely use them anymore but still fantastic flavor -
Freakshow RDA with dual 28ga Kanthal, 10 wraps on 2mm (my go-to new juice tester). VW mode.
Kayfun Lite - single 28ga Kanthal, 8 wraps on 2.5mm (tied for first with the Freakshow I think). VW mode. I do use Ti with this one too sometimes and can get a great, comfortable vape. Air too restrictive for frequent use though.
Aspire Nautilus with BVC. Still use occasionally and always a flavor maker. Love it but stays in the bathroom next to my Golf Digest magazines.
Do you have the tanks I use…set up the same or way different? Please share what you have that just wows you with flavor, and if you can improve my setups I'm all ears!