Have you tried the strawberry? How would you compare it to others, say Alpine Strawberry?
It wont be like Alpine… Alpine is a certain style of strawberry, its the sweetest strawberry in the world.

Yes, sorry for not making it clear.
I think I'll have to break down and get it. I can't count how many times I've had it in the cart then removed it.
MF SB is a very good strawberry but imo there are others out there that compare for less $$$ i have tonuse MF straw at 2pct ish
This is largely speaking to the general public, and not to you in particular (except where it's obvious)

Just went through these…
Cleaned up a couple of improperly listed Blends as a result, but the one's you listed are not "Blends".


They're just the normal flavors (in these cases, fruits and a tobacco).
What I DID find out though, is that the FA UK site is confusing the situation (blurring the line between two lines in particular; "Blends" and "Short-Fills").
Their line previously marketed as Blends
https://www.flavourart.co.uk/blended-flavourings-10ml.html
is now being marketed as "Blended Flavourings".
I'm leaving it AS IS in the database. Simply because Blends came first, and second, because it's easier to distuinguish what makes them special as compared to "Short-Fills" (which appear to be ANY of their flavors, but with the packaging/mixture format to accommodate the TPD regulations; as opposed to being in normal concentrate form.)
PLEASE try not to confuse the above with the generic "Short-Fills":
https://www.flavourart.co.uk/fa-short-fill-e-liquid-for-you.html
The link above includes BOTH their Blends line, as well as their usual flavors, but in a format that accommodates the TPD regs (as stated above). While yes, they are a "separate line" in essence, I DO NOT want to create additional entries in the database for their Short-Fills listings.
EG:
Banana (FA)
Banana (Short-Fill) (FA UK)
I'll leave that decision to @daath.
I would hope that our userbase will use the normal flavors (EG: "Black Fire (FA)" or "Banana (FA)" etc.) for their Short-Fill 'needs' rather than feeling compelled to further inflating the database with an additional entry for damned near EVERY flavor that FA makes. Especially since THEY (the user) know that they aren't using the concentrate version.
Consider this "the exception to the rule" (as well as temporary) for the time being. YES, I understand completely that they are different things, but, by the same token, as rapidly as things are changing (and subject to reversion later, thanks to ongoing litigation), I believe that it would be unwise AT THIS TIME, to make any "definite changes in direction/focus" where the database is concerned, until the dust settles somewhat. Again, this is my personal opinion, and Lars has the final say of course!
Like many other aspects of vaping (as we know it), things are currently in a very high state of flux. And that's not only being reflected legally, but in the industry as well. So we're all going to have to excercise continued patience (in some areas more than others).
If @daath gives the go-ahead… I'll gladly add "xyz (Short-Fill) (FA UK)" listings to the database (based on the shirt-fill link above). But until then, I humbly request that users please do not add them as such.
Again, I appreciate the heads up @woftam !! I continue to learn (and see new trends) frequently when I have to reference the manufacturers websites before updating things…
I called them UK blends simply because they do not appear on the FA Italy site so I figured they are made in the UK from other Fa flavours.
No harm/no foul at all bud!!


I was just trying to clarify, and explain what I found.

FA UK does in fact list them under their Fruits and Tobacco's listings (separately), and that's all I meant.
They may be quicker about updating their site is all.
The irony is, while they list them individually (under either Fruits, or Tobaccos), they aren't listed at all under their "View All Flavors" page…
https://www.flavourart.co.uk/all-flavours.html
Looks like emoji are F'ed again
Edit: oh there they are they are working
I just watched Wayne mix a recipe and you would have freaked out , the flavor listing were way off lmao
Sorry I admit… I was being catty… truthfull but still catty

Thanks, it's appreciated.
Well it is the truth… I don't get it.

Meow!

As far as i understand FA-UK is not a part of FA company, but rather just their prime distributor. Maybe FA are using them for testing the market with these new flavors.
I hear Blueberry Juicy Ripe is very promising.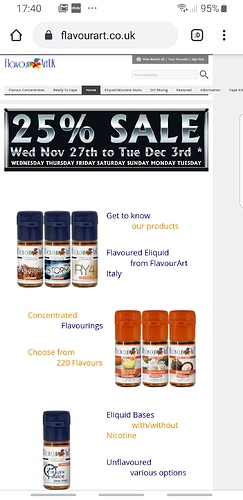 @Mikser
They told me they are there sister company you just may be right
Who knows. On their website they say:
FAUK is run by me, John Chamley, who has been working in this industry since October 2008, and Bethany, my eldest daughter and co-Director who joined the company in 2013… …We are partnered with FlavourArt Italy and have been their main UK Distributor since 2012, supplying our 220 flavourings to 300 manufacturers and resellers in the UK.
Also on the official FA website, FAUK is not mentioned anywhere.
All the new ones are available at Chefs Flavours.