Thanks for the work, I appreciate it.
TPA Caramel (Original) Does not contain any syrup.
This is also stated on ELR what is it with all this copy-paste?
When i saw people say the same thing on ELR i went and looked it up myself.
You guys sure it isn't TPA Caramel Flavor you are referring to?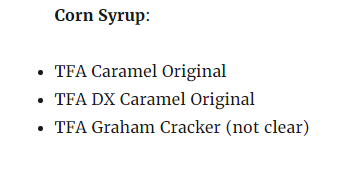 I'm wondering why TPA Graham Cracker (not clear) is listed and TPA Caramel Flavor is not?
This article is from 2016, and he states it is information he has gathered (on forums like this) so if anyone of us could give a definitive solid answer that would probably be more accurate.
I'm eating pizza with one hand and typing with the other so it goes extremely slowly. Lol
And i thought the DX version of flavors were supposed to not have any of the bad stuff in them, so if they contain syrup what's the point?
I am honestly not sure about it, but i think that the DX lineup is supposed to be diketone free, which still leaves a lot of bad things that could be added.
I moved the posts over here since it is more relevant
I am not sure but i would suggest that the caramel original (&dx) was the version before the caramel. Vendors selling caramel state:
Concentrated Caramel flavoring by The Flavor Apprentice. Caramel concentrated flavoring is FDA approved for use in food, beverages, and products for human consumption.

Ingredients: Natural & Artificial Flavor, Propylene Glycol, Triacetin.
where on the caramel original it says
Concentrated Caramel Original flavoring by The Flavor Apprentice. Caramel Original concentrated flavoring is FDA approved for use in food, beverages, and products for human consumption.

Ingredients: Nat. & Art. Flavors, PG, Water, Corn Syrup, Caramel Color
How accurate the information is I don't know - I would be happy to change those 3 to 'MAY' contain since the information available to us is contradictory.
I can't prove anything right now while eating pizza.
But i'm 99% sure TPA Caramel Candy/Original is a-okay to vape with a tiny bit caramel coloring and TPA Caramel Flavoring is no good to vape.
They sure do a nice job of making you aware that it is 'Caramel Original' we are talking about here. But Caramel (Original)/Caramel Flavoring i think it would be easy to confuse the two if you don't actually use TPA. They might have looked at the wrong mds or mistaken them for each other. Who knows? i'm just saying it wouldn't be the first time a vendor mislabels a flavoring.
I once tried to make a vendor put syrup warnings, in the description of they're flavors. It also worked to some extent. But vendors just typically have so many flavorings it is an nightmare having to keep track of which flavorings contains what.
At some point even the most patient vendors will get annoyed with syrup warnings.
It isn't just one vendor it is many that have the same exact ingredients and not just u.s vendors.
If you don't care anyway, what difference does it make that it was this caramel flavor containing corn syrup and not that other one?
Alright, alright.
I'm still sure Caramel Original is fine to vape.
But i can't explain why vendors state it contains syrup…
Dude I don't recall saying anywhere i don't care. I cared enough to go through the sds sheets and post the information I found.
It is not up to me to tell you what to vape and what not to vape - I am sure you are old enough to make an informed decision based on available information and that is all I was doing is providing the information how you choose to use it is up to you.
Was talking about vendors in this post…

Lol, nice timing by me to go take a dump…
I'm sure you are just as dedicated as everyone else here. I wasn't shit talking you.

Hey, should this whole thread me moved to health and advocacy? LOL, JK
I wanted to bump this thread because it is still very relevant and we should be pro-active in our quest to stay healthy. That being said, what if the whole sugar thing is really just more anti-vaping propaganda spread by our friends at BIG-TOBACCO?
Here is a long read on several experiments on the cacogenic properties of sugar, it will definitely not want you to go buy a pack of smokes, but it may make you want some yellow cake.
WARNING LONG STRESSFUL READ:

quoting from that study: ( 6.6. Summary, toxicological assays) At sugar application levels up to 10%, which is twice the usual maximum application level, no consistent toxicologically relevant changes in the activity in these assays were observed; statistically significant changes seen in one inhalation study could not be confirmed in others using similar types of sugars and study designs.
This is particularly important in view of the statistically significant increases in nicotine-based yields of acrolein and formaldehyde observed in smoke from cigarettes with increasing sugar application level. Formaldehyde and in particular acrolein play relatively prominent roles in the in vitro cytotoxicity assay (Tewes et al., 2003) and can elicit irritative effects in the upper respiratory tract in rat subchronic inhalation studies (Feron et al., 1978; Woutersen et al., 1987).
I can imagine how our vape sugar scare started but the study is directly linked to tobacco and may not be the same in vaping?
Now lets think of how much sugar we actually put in our vape, I think a miniscule tiny amount? lets be diligent in our efforts to stay healthy, but maybe yellow cake aint all that bad.
I've always used fw yellow cake when I need it lol but I also don't use cake flavors very often so I figured that lowers any potential risk👍
I guess there are some studies that indicate toxins may be produced from vaping sugar, I read this tho:
https://www.quora.com/Is-heating-sugar-toxic
It says sugar is fine?
I still think that we need to make our vape as safe as possible so I'm trying to compile a list of vendors who have SDS or MSDS sheets for their flavors:

anyone wanting to comment is welcome
I haven't read the full thread and maybe it's been mentioned before but TPA Caramel no longer contains sugar syrup etc