this is hysterical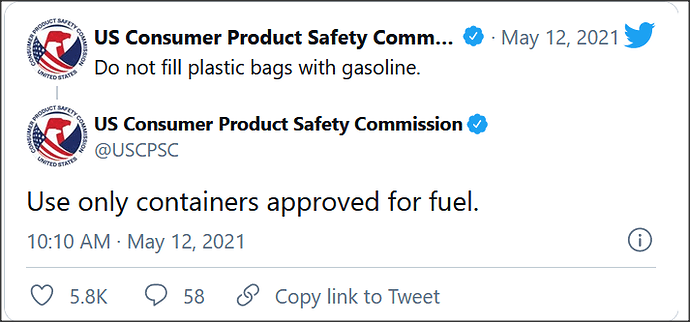 The fact that they had (or felt the need) to post this, just says it all. Did we really need to tell people this ??
Perhaps so …
That one makes sense. He's a farmer/rancher, and has a ton of equipment to feed after all.
That's a jackass that needs to be arrested for sheer stupidity.
We are at the beginning of the transition from fossil fuel to electric. Like it or not. I'm not even talking politics here. Don't be surprised when we start beaming solar energy from outside the Earth's atmosphere to a set of collection points that convert it strait to electricity, 24/7. The petroleum industry has already noticed the writing on the wall for some time now. Instead of participating in a transition so they remain a part of it, they will resist; lobbying, lying, cheating, manipulating at their highest level. I don't put murder past big Corporations either.
My wife thinks I'm crazy, and I'm sure some of you might too but the fist thing I thought of when the pipeline hack job story broke was "planned inside job". Yup, we need some event to instantly justify jacking up prices even though COVID is still holding demand at record lows for this age. And why not get some government $$ in relief, political sympathy, and free talk about how we can't live without the big petroleum industry. It's true that right now we can't go on about our business without them. But heck, right now we're happy for the Federal reserve to keep printing us more money. Why not, I'll be dead and gone, is what I used to think but now I'm not so sure that I won't be witness to the bad times coming our way.
"exactly", well said.
also. if Trump killed the pipline, the dems (notice i didn't say biden, biden is nothing more that a frontman) would be all for it.
Yep, some people need to hear it. Just like "Don't smoke a cigarette when filling up with gas." Sometimes what we call "common sense" isn't really "common".
I LOVE M.C. Escher. Used to sell a lot posters of his work. Absolutely mindblowing. I can't wrap my head around how he uses perspective in such creative ways.
And most of them just done with pencil or black ink or something. There are 3 of them in my living room.