I won this from @Heaven_Gifts gifts I was supposed to get the geekvape lucid kit but… got sent this. I'm just gonna roll with it and give my humble opinion.
It came with a spare glass,charger cable, extra o-rings and a total of 2 coils. The battery is a 900mAh.
No manual, prolly cause it is a sample version.
Thankfully it's very simple to use
5clicks=on/off
3clicks=change power from 7watts(red)-8watts(blue)-9watts(green)
2clicks=battery power status low(red)- medium(blue)- high(red)
Airflow-
It has 5 different airflow choices from an extremely tight draw "thick milkshake through a coffee straw" to an airy MTL hit.
Ratings 1-10 with 10 being the best
Looks and size 10 (I love pretty and petite)
Percived Durability 9 (IPX5 water resistant, very well built)
Flavor 6.5 (this is a good rating compared to other prebuilt coils)
Coil longevity 8 (like the energizer bunny)
I hate slide to fill tops on tanks. I'm a contractor and manage to slide them open in my pants on occasion. It becomes obvious to everyone that I've had an accident.

Although I don't think this will be a problem with 90% of users.
I think this is a great starter kit for anyone trying to quit cigs and get into MTL. With one caveat use 50mg nic salts if you want this battery to get you through a full day. Of course there are exceptions to every rule my wife started vaping and only used 22mg juice with a 350mAh battery per day.
The coil doesn't seem to like anything thicker than 60vg40pg.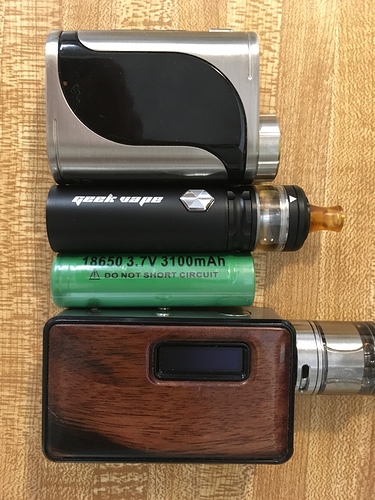 top to bottom pico25, geekvape flint, 18650, lostvape epetite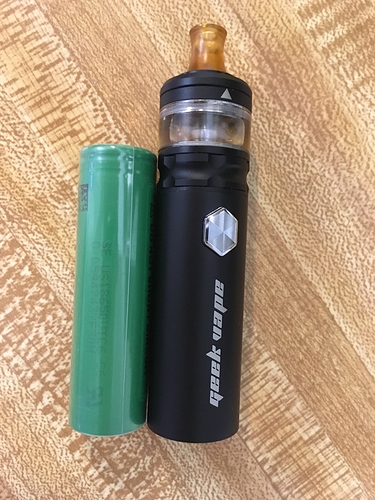 18650 battery next to the geekvape flint kit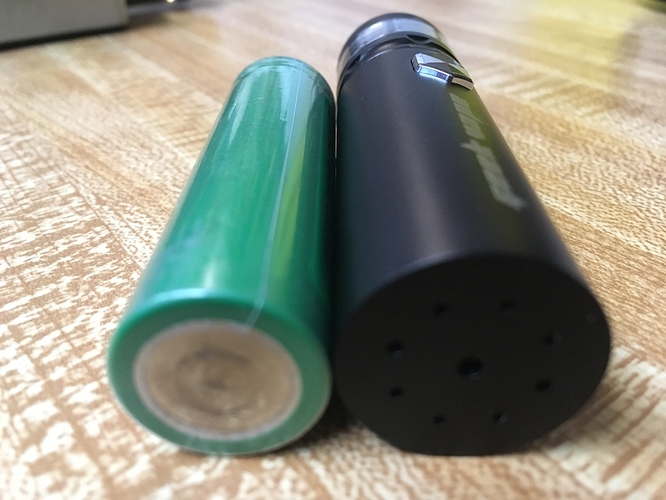 Thanks for putting up with my mixture of O.C.D and A.D.D.