@mjag thank you for all the details. Much appreciated!
My pleasure, I hope it helps
You made an awesome review. ::
@mjag, I know this thread is a few years old now but did you find that the Aegis X large screen drains the battery more quickly than on the other mods in the series? Nice to see you here again mate, it's been a while.
Always good to see you too!
Just going on memory I don't remember battery life being poor with the Aegis X. I was going to dig it out of the garage but the box that has all my dual 18650 mods is out of reach right now…oh the joys of moving

I did buy the Geekvape Z200 which also has a large screen and haven't had a complaint about battery life so far.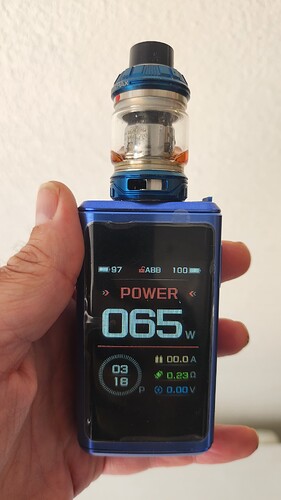 I still usually have 1 Geekvape mod in my rotation, right now 2, the Z200 and the dual 21700 Aegis Legend. Actually right now it is 3, I forgot about the Geekvape Aegis Squonk that I use a Profile RDA with vandy vape SS316L 200 mesh, it is just an excellent combo in TC. I have never had a Geekvape mod fail on me…knock on wood…lol
Thank you for getting back to me mate, that's all I needed to know. Moving home has to be one of the most stressful experiences I've had and not something that I would care to repeat in a hurry so I can just imagine what you are going through. Take care mate and thanks.
Thanks buddy, much appreciated.
Just got an email from Geek Vape. They are selling samples of the T200 . Not packaged and random colors for $19.99 unboxed and $29.00 boxed. $11.00 shipping out of their US warehouse.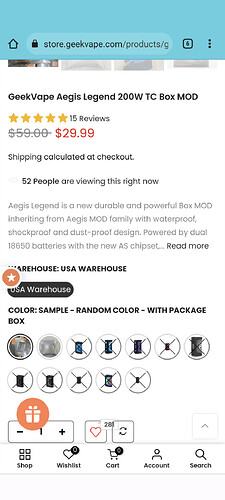 They don't fail but their battery doors are all suspect and the weakest engineered specs on their mods. I have a couple 21700 dual Legends (one came with a bent battery door closure tab) and a couple single Aegis 21700 Max's (great mod except for the screw battery "door" loses round and has to be either hammered or I just use electrical tape around the threads. Actually, there are the only mods I find it more useful to just charge via USB (so I don't have to remove the battery).
Not a big fan of the screw on doors, I know I have one of those mods that threads are starting to get wonky.
The battery door on the dual 21700 Aegis is not a favorite of mine. It can be sometimes difficult to close, opening isn't a problem.
Not sure if I ever mentioned it but that blue L200 I really wanted to get wasn't as nice in person as I had hoped. I still almost ordered it on my last sourcemore order though, I gotta sickness…lol
Oh No I finally just pulled trigger on this Mod…I jabe so mamy Guar21 unopened i felt it was time to grab something different
I so identify with that statement!
You just have to make sure and push the button in when you close it and it should be fine. It sometimes doesn't go back in when you shut it all the way. I enjoy the dual 21700 but it could have been better. The top plate also worries someone like me who hates tank scratches so I always use thos plastic discs under my tanks for it.
It's a solid mod. Like MJAG says the battery door is a lil tough to close, especially with Lishen 21700's (they are slightly longer then P42a's)…I have three, one of them the battery clip came bent and it is even harder to close…but still works. I don't care that much about scratching to tops, I mean they are my desktop go-to, a lil too hefty and kinda ugly for out and about.