I was being facetious lol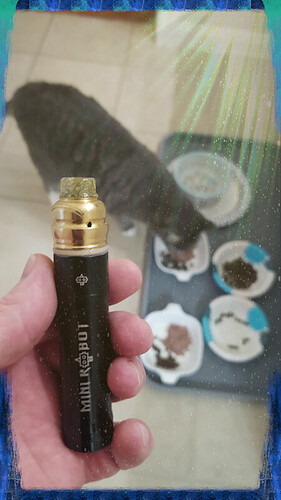 This is truly a great pairing

note: I have to use a insulator/spacer or the 510 shorts. It's a good thing the mod has protection and shuts down when shorted. I fashioned the spacer from a plastic water bottle cap using scissors and a single hole paper punch.
This has a yellowish stain to ot because of greasy hands… This is pretty spendy but dish soap didn't work. Other options?
Should out to KFC in the background. Their potato salad was frozen
nothing but dry hits, eh?
Try the Coleslaw

Not a fan, always opt for tater salad…
…the yellow stains are not from the two piece I had, other types of grease
Don't get carried away on the rubbing but try alcohol. Test it on a tiny spot first. Don't know what was used so be careful. Start dabbing and see what is coming off on the paper towel.
IDK, looks like earwax to me

Blimey, that dude is the MacGuyver of Squonks
Oh, I have an eraser, it's on a pencil I just have to wipe off the ear wax
Alumide is the alloy the body is made from. The paint is applied to to the alloy. I'm trying to protect the paint so it doesn't become all silver. Sorry I didn't make that clear.
Don't know if it'll work but maybe Goo Gone? That stuff works on a lot of stuff. Maybe lemon juice???