They're dead Lenny now STFU.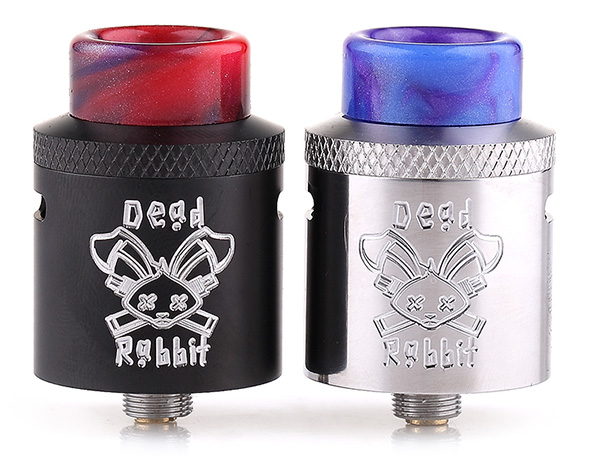 Packaging:
Well the Dead Rabbit box in an interesting colour choice a drab green but do we care about it nope - I personally couldn't care if it came wrapped in in an old sock as long as it protects the contents during shipping which this one did.
What's in the box:
Well the rda of course, a goodie bag with some spare o rings a couple of hex keys, spare grub screws, a bf pin, a 510 adaptor, a 810 drip tip - pretty much you standard set of bits.
First Impressions:
Dead Rabbit - interesting name but hey we all see some crazy names for vape gear but this one is truly original, like the deck. I have to say the innovation in decks is evolving quickly as of late and the Dead Rabbit has a unique deck. I'm not even sure what you would call it, it is a postless deck but raised so I am gunna just call it a pedestal postless deck (totally awesome name if you ask me).
The unit is really well machined, nice tight O rings, super clean on arrival, the engraving is nice and crisp and clean. It also comes with some good bits and pieces including a resin drip tip. The air holes are high on the sides which they need to be due to the pedestal postless deck (patent pending) they are fairly big and slant down to hit directly on the coil/coils (there are 3 in the cap for single or dual coil set ups). I wouldn't describe it as an airy rda it flows a little less wide open than an original goon does (if that helps you at all).
I love a postless deck I just find them a breeze to build on the only draw back is cutting the coil legs to the right length but because this deck is on a pedestal and the coils holes go all the way through it is super easy to put the coils in with slightly longer legs and just trim the excess off - a really nice touch (it is the little things that make toppers stand out from the crowd).
Please excuse my pic I cant find my macro lens so I just had to make do (TBH I don't ever lose things my wife just puts them away in a random spot that makes no sense at all so I will probably find it in the freezer or something).
Now as you can see the juice wells are shallow and the tails for the wick have to be quite long. I did think this was going to be a bit of an issue turns out is isn't since the o rings are good and the air holes high then it can hold a bucket of juice and the long wick tails will hold a heap as well.
How does it vape?
Like a champ - I really like a nice warm vape with a heap of flavour and the Dead Rabbit delivers. I tried to over squonk this and get it to leak and I squonked a metric ton of juice into it and it didn't leak, not one drip. The airflow is bang on just right for me.
Pros & Cons:
Pros:
On the plus side
Great flavour.
Shallow wells but holds heaps of juice due to the really well fitted o rings and high airflow.
810 drip tip x 2
510 adapter.
Easy to build unique deck style
No leaking.
Single or dual coil capable.
Cons:
On the down side.
I like to try to find something to pick on but this one I can't really find much.
I am sure there is something better than that but for me this is a winner.
Would I buy it?
Well I did buy it so kind of a stupid section to have but I am really happy I did pull the trigger - the flavour is great and the quality of the build is excellent. I think that this is a great rda. So if you squonk (or don't) put it on your list it is a great bit of kit.
Since I actually bought this item myself I will direct you to the best price I found which was at Elegomall
They list the price as $34.90 but if you create an account and log in you will find it for around $25.
If you'd like to stop over at http://www.steampugs.co.uk you can see how the Dead Rabbit scored against other sweet pieces of Vapeology, and while you're there you can meet the new Steam team and check out the shop!