You're very welcome Lucas.
No.no, I still be here asking questions lol! I is exploring the interweb!


You'll still have to put up with me
when i got my first PC, i downloaded the whole internet


That's good…lol!! I am so lost i finally figured it out it took a week almost but once I did. ATF wouldn't let me send half my stuff over mostly cuz my flavour notes didn't have quotetation marks beside them theyre super picky I found out. .and no matter how much ive tried to fix my stash ive gone through it a 12th time cuz I still had some wrong…its been tiring …I get why its like that tho to prevent 125000 wrong and confusing flavours being entered. .its just a bitch
i never did find a way to enter any flavors, i gave up.
I'm not leaving I am just exploring the interweb
I'll miss black pepper

Has anyone found a way to import flavor stash from here to ATF?
First EXPORT your stash from ELR, save the file, then at ATF, IMPORT the file.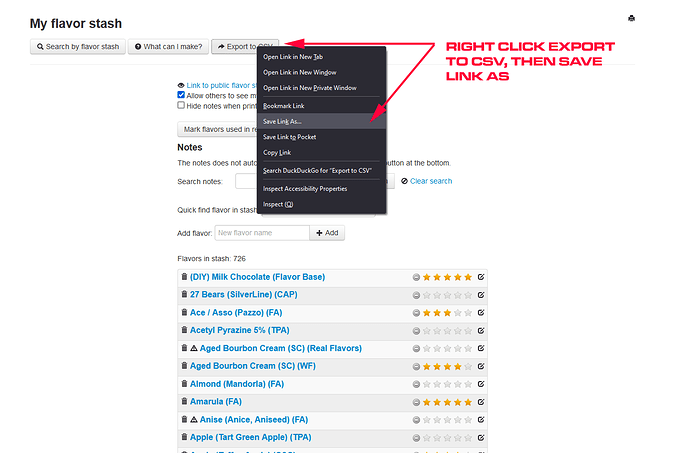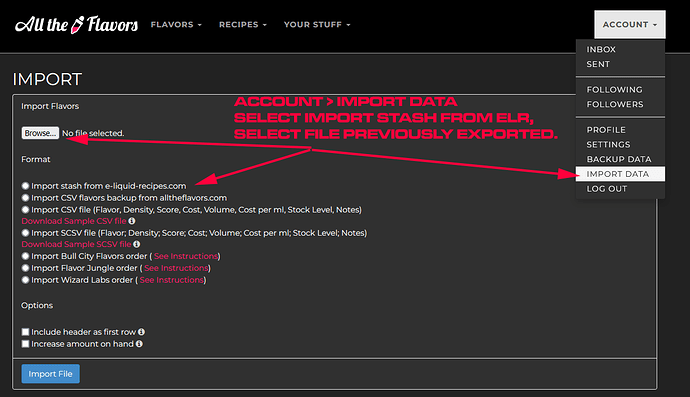 Thank you! I didn't see that or find any documentation at ATF or other forum discussions that mentioned it.
I've been wanting to know this for months!! Finally!, I've slowly started just adding them one by painful one and notes it's been awful!
To fix the Wonder Flavors (WF) entries so they will import without error, edit your 'ELR exported' .cvs file. Use a plain text editor to remove the parentheses from (SC) so it reads SC and save the file. Leave them around the (WF).
I have about 270 flavors and when I checked the "What can I make" Only hit on about six recipes. Five of which I have already mixed from ELR. I don't see where ATF has the option to use "What can I make" without the flavor vendor names. That's what I was really interested in.