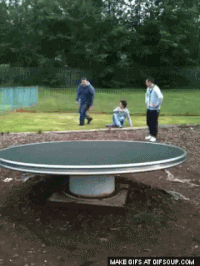 Roundabout why you may ask? It's about the way I got it really. This was one of the prizes in a Heavensgift giveaway that I didn't enter.
I entered a previous one where they gave away 3 prizes and I won the one thing I really had no use for, so I passed it on.
I probably didn't enter this one because of other prizes to be had I didn't want.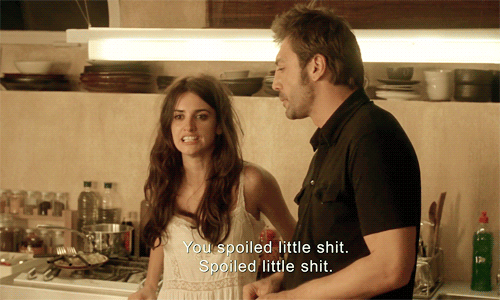 Someone else won this RDA, he had no use for it and passed it on to me.

Lets start at the beginning, which is of course the box.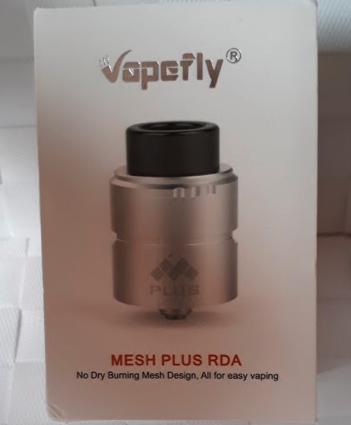 Now it had a sticker on the plastic wrapping that said sample, so I don't know if this is the final version.
Lots of extra bits, o-rings, decent squonk pin, screws and they included three bags of different mesh; kanthal, NI80 and SS, two pieces of each no less, just the SS alone made me happy.
Ever had a dry hit with one of those mesh RDA's with a massive wad of cotton?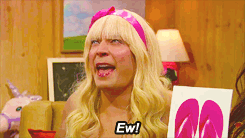 It is a nice looking RDA with knurles on the AFC, which is at the top and notches inside the barrel to make sure it's situated just right so the airflow always hits the right spot.
Nicely protruding 510.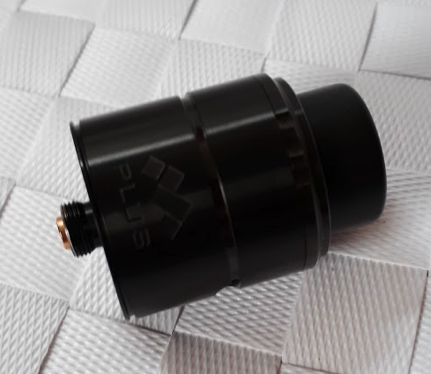 The manual could be a little more descriptive.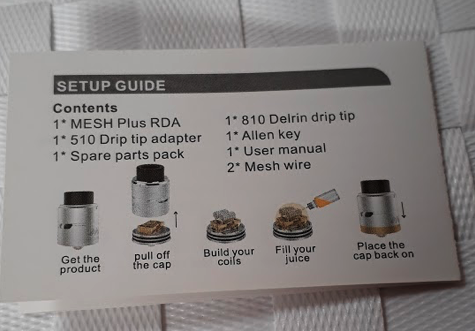 It just shows a build with regular coils, which is rather strange when you're marketing a mesh RDA.
The deck looks pretty good and is easy to build on.
There are springs behind the little blocks so when you unscrew the screws (does that sound right?) a cap opens up for you to insert your mesh.
So you insert one side of your mesh in the cap and screw it down. Then you get yourself a whole pad of Japanese cotton, peel of the outside and use the whole bloody lot to get your cotton as tightly packed as possible.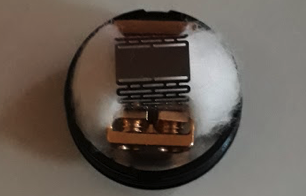 Then you cut the ends and tuck it in and start pouring your liquid over the cotton to get it nicely saturated.
It took 2 ml of juice to get to that point and probably another one to fill the juice well, which is about 6mm deep.
With that amount of juice you would expect to be able to forget about refilling for a bit but unfortunately it was starting to taste rather dry pretty soon.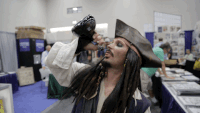 So I squeezed in quite a bit more but it tasted dry but actually wasn't so…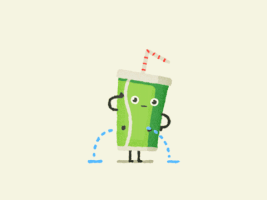 Most people who DIY won't be all that bothered with the amount of juice you need to keep this baby happy but think of the people who buy commercial juice for a lot of money.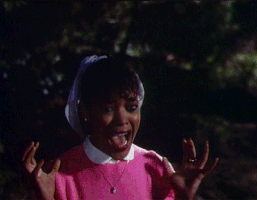 If the tradeoff for the massive amounts of cotton and juice would be massive flavour it wouldn't be all that bad but, as far as I'm concerned, it isn't.
I'm not saying the flavour is bad, but with the amount of liquid needed I was expecting stellar flavour.
I got much better flavour of some sub ohm tanks with mesh stock coils. Those stock coils have a normal amount of cotton and use far less juice.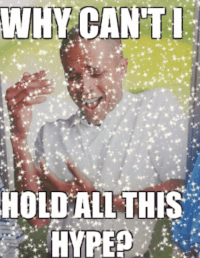 Now before you fly off the handle, this is just my opinion and YMMV, I'm just telling you about my experience.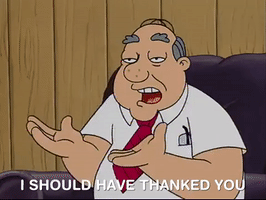 I got far better flavour with a regular coil. I put two in at first but the ends of the coils were facing the wrong way for the cotton to go into the juice well, you would have to twist the cotton around and it annoyed me so I put in one coil and twisted it around so it was facing the right way.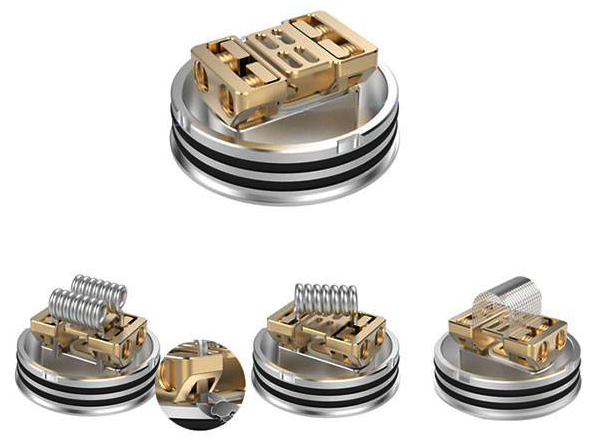 The difference was very noticeable even with a single coil I got much better flavour out of it.
I'm now looking regretfully at the two rolls of SS mesh that I bought because I intended to use it on the Profile.
I probably end up using regular coils in that too.
I don't think mesh is for me, if it is for you then this is a nice RDA, it's well build and you can use regular coils. If mesh is not for you either, there are other RDA's out there suited for regular coils that you could have instead.
I will have to leave it there the choice is yours.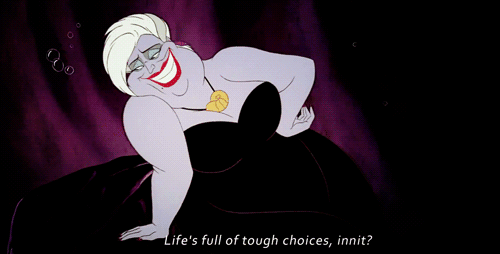 SPECS
Stainless steel construction;
Gold plated 510 connector;
Diameter: 25mm;
Postless build deck;
Quad terminal, quad clamp;
Compatible with mesh wire, single coil, dual coil;
Adjustable side airflow;
810 Delrin drip tip;
Comes with bottom feeder pin
I do want to thank @heavengifts for sending me this even though I didn't win and of course a much bigger thank you to the person who did win.

If you think this review is a little shorter than usual you're right, that's because this thing here might look very cute but she is wearing me out.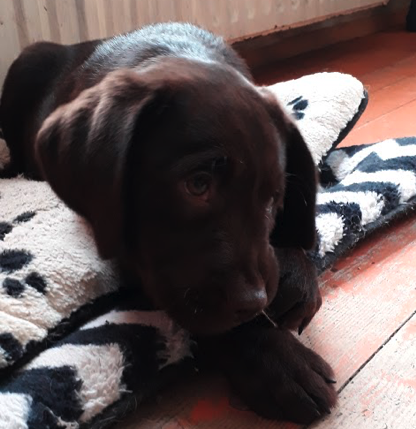 Thanks for reading.