Joyetech ESPION Infinite with ProCore Conquer: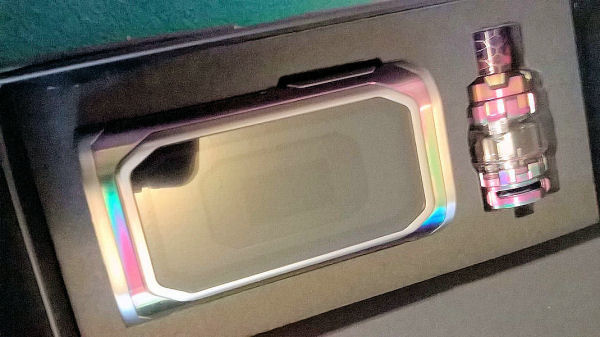 This is the NEWEST Joyetech MOD made for anyone who would like a unique, well-built, high power, long battery life, fun desk vaporizer with an entertaining built in colorful light show. The Infinite MOD has a series of low power LED lights arranged in an infinite mirror illusion effect on the front of the MOD. The approximately 0.5 X 1 inch display is set in the middle of the infinite mirror. Secret: An infinite mirror is a visual effect created by arranging a 2 way mirror above a regular mirror so your vision bounces off the bottom mirror and then off the back of the 2 way mirror and back to the back mirror ad infinitum. On the Infinite MOD the effect is intensified by the colorful LED lights. The illusion that is created makes the MOD look like it is hollow, but take my word for it this MOD is far from hollow. Housed within the Zinc Alloy body just behind the infinite mirror is 2 X 21700 batteries driving up to 230 Watts of power to the ProCore coil which is housed in a high volume 5.5 Milliliter Conquer Tank, which is exactly centered in the top of the MOD. The device is Stout and Sturdy measuring 33mm X 49.5mm and 140.5mm (6.5") tall, it weighs in at a whopping 384g, which is 13.55oz or 0.85lb half full of liquid. You can tell when you pick it up it is definitely not a lightweight, it feels solid and well-built. A 30mm tank will fit fine without any overhang or interference with the top located plus and minus adjustment buttons. The dual 21700 batteries will power the device for days even with the LED lights set to ALWAYS ON mode. This device would be a good candidate to reverse charge your cell phone, maybe Joyetech will do that with a firmware update or future two battery MOD. The new 0.15ohm mesh coil does fantastic up to about 75W, and the huge airflow is just too awesome.
Nit-Picks
The display is actually pretty small for my old eyes. But I still wish Joyetech would have made the text as big as possible, and labeled the TC Coil lock "TC Coil" and the TC Power as "TC Power" in the menu. Also I wish the battery status showed the remaining voltage and the percent remaining, but I don't think that is possible with a 21700 & 18650 battery MOD like this. And again the displayed last puff time is only about 2 seconds so you won't have time for the vapor to clear and ever see it, just my ongoing opinion. The device does have every safety feature you could imagine built in, it will even display imbalanced batteries and improper USB voltage error displays.
Unique, Beautiful, Powerful, Solid
The main screen is really cool in all the RTC, Wattage and TC display modes, especially with the infinite mirror LED's glowing. Overall I love this device and the tank is awesome, I highly recommend it for its feel, aesthetics and most of all its functionality. This is definitely my new favorite desk mod.
hidden functions:
You can display the time by pressing the fire button while the device is turned off.
You can Lock the + - buttons by pressing and holding them simultaneously for 3 seconds.
You can cycle through the LED light modes by double tapping the fire button.
Kit Contents:
1 X ESPION Infinite MOD
2 X AVB 21700 batteries (optional)
1 X ProCore Conquer atomizer
1 X ProCA (0.4ohm) head
1 X ProCD (0.15ohm) head
2 X 18650 battery sleeve
1 X QC USB cable
2 X Manual
1 X Warranty card
2 X Warning card
1 X Package Spare parts: 3 O-ring seals, 1 filler ring, 1 spare glass.
Specifications:
Size: 49.5mm (L) X 33.0mm (W) X 140.50mm (H)
Screen type: 0.96 inch TFT color screen
Screen resolution: 80 X 160 dpi
Output wattage: 1-230W
Output mode: Power/RTC/TC (Ni, Ti, SS316)/TCR (M1, M2, M3) modes
Resistance range: 0.05-1.5ohm for TC/TCR mode or 0.05-3.5ohm for Power mode
Temperature range: 100-315°C / 200-600°F
Battery type: 2 X high rate 21700 or 18650 cells (CDR25A)
Max charging current: 2.0A
Max output current: 50A
Max output voltage: 9V
The (almost) Infinite list of Conquer COILS:
Joyetech ProCore coils, are the standard coils for all the Joyetech ProCore Series tanks:
ProCD 0.15ohm Kanthal reticular (mesh) coil DL 40-80W
ProCA 0.4ohm Kanthal for DL 40-80W
ProC1 0.4ohm Kanthal for DL 40-80W
ProC1-S 0.25ohm Kanthal for MTL/DL 25-55W
ProC2 0.15ohm dual NiCr coil for DL 30-70W
ProC3 0.2ohm triple NiCr coil for DL 70-90W
ProC4 0.15ohm quad NiCr coil for DL 60-80W
Suggested Wattage:

Have you heard…

---
---
There are a few other coils that might fit ProCore series Tanks, the reader will need to further research to see if they may have any of these tanks and if their coils will fit and safely work in the Joyetech ProCore Conquer Tank. The following is furnished for information purposes only; I have not personally tested any of these coils to see if they even screw in. Of course you will be responsible for any damage of any kind, and I'm sure your warranty will be voided if you use non Joyetech coils in the Conquer tank. The wide range of possibilities may however give you opportunity to use the Conquer for TC mode, give ceramic coil possibilities, and maybe even a rebuild-able (RBA) coil, or possibly a ProCD mesh coil for your Baby Beast:
SMOK TFV8 baby coils, these are used for the SMOK TFV8 Baby Beast & Big Baby Beast & TFV12 Baby Prince, OSUB Plus Kit, Stick V8 Kit and Brit Beast Tanks:
Baby Beast V8-T8 Octuple Coil 0.15ohm: 50-110W / Best: 60-80W
Baby Beast V8-Q2 Dual Coil 0.4ohm: 40-80W / Best: 55-65W
Baby Beast V8-Q2 Dual Coil 0.6ohm: 20-50W / Best: 30-40W
Baby Beast V8-X4 Quadruple Coil 0.15ohm: 30-70W / Best: 45-60W


Baby Beast V8-T6 Sextuple Coil 0.2ohm: 40-130W / Best: 70-90W
Baby Beast V8-M2 Dual Coil 0.25ohm: 25-45W / Best: 35W = Optimized for the SMOK Stick V8 (3.7 Direct Output Voltage)
Baby Beast V8-M2 Dual Coil 0.15ohm: 25-45W / Best: 35W = Optimized for the SMOK Stick V8 (3.7 Direct Output Voltage)
Baby Beast V8-T12 Duodecuple Coil 0.15ohm: 50-90W / Best: 60-80W
AsMODus Ohmie coils; these are used in the Asmodus Ohmie Tank:
0.5ohm Dual Kanthal Coil Atomizer: 40 - 60W
0.2ohm Sextuple Kanthal Coil Atomizer: 70 - 90W
Coilart Mage Subtank
MAGE MESH coil 0.2Ω 50-90W (Best 60-80W)
MAGE coil 0.2Ω 50-100W (Best 60-70W)
MAGE coil 0.4Ω 30-80W (Best 40-50W)
Eleaf HW Kanthal coil Atomizer heads, these are used in the Ello and Ello Mini tanks:
HW1 SS316L COILS 0.2 Ohms 50W – 65W
HW2 Kanthal Dual-Cylinder 0.3 ohm 30-70W (Best 45-65W)
HW3 Kanthal Triple-Cylinder 0.2 ohm 50-130W (Best 70-90W)
HW4 Kanthal quad cylinder 0.3 ohms 40W–110W
E-XY T1 coils, these are used in the E-XY T1 RBA Tank:
E-XY T1 0.2ohm
Geekvape iM coils, these Kanthal coils are used for the Illusion Mini Tank:
iM1 0.40ohm 40 - 60W
iM4 0.15ohm quad 50-120W (best 60-80W)
iM 0.2ohm X1 Kanthal Mesh 30-90W (Best 60-80W)
Illusion RBA?
iJoy XS coils, these are used in the Ijoy Exo S and Ijoy Exo X:
0.1ohm XS-C4 Quad Coil - rated for 40-100W
0.4ohm XS-C1 Single Coil - rated for 40-80W
Karnoo T1 coils, these are used in the Karnoo T1 Sub Ohm Tanks:
T1 0.2ohm
T1 V2 0.4ohm
Marvec Priest AIO
0.2 Ohm 40-130W Best: 70-90W
Medusa TFV8 BABY Staple Clapton Coils
0.25ohm Staple Clapton Coil 35-80W Best: 55-65W

Sigelei SM coils, these are used for the SLYDR M Sub-Ohm tanks and the KAOS Sub-Ohm Tank:
SM2 0.4ohm Single coil 40-75W (best 50-65W)
SM4 0.15ohm Dual coil 30-65W (best 40-55W)
SM6 0.2ohm Triple coil 40-120W (best 75-95W)
Vapefly Fantasy Mini M8 coils, these are used as an alternative to the SMOK TFV8 Baby Beast, SMOK TFV8 Big Baby Beast, Ijoy Exo S and Ijoy Exo X:
M8 – 0.15 ohm octuple coil head 50-120W (best 60W-80W)
Vaporesso NRG coils, these are used in the Vaporesso NRG Mini Tank:
GT2 Kanthal 0.4ohm: 40 - 80W / Best 55 - 65W
GT4 Kanthal 0.15ohm: 30 - 70W / Best 45 - 60W
GT6 Kanthal 0.2ohm: 40 - 100W / Best 70 - 90W
GT8 Kanthal 0.15ohm: 50 - 110W / Best 60 - 80W
GT CCell SS316 Clapton w/ Ceramic 0.5ohm: 15W-40W

Vapesoul VOne Sub-Ohm Tank:
Octo Coil Design: 0.15Ω ohm Wattage: 40W-120W (Best: 50W-110W)
Vaptio and/or VivaKita Frogman coils, these are used for the Vaptio and VivaKita Frogman Sub-Ohm Tank:
0.4ohm Frogman-W2 Single coil 30W to 80W
0.15ohm Frogman-W4 Dual coil 30W to 70W
0.2ohm Frogman-W6 Triple coil 40W to 130W
0.15ohm Frogman-W8 Quadruple coil 50W to 110W
WOTOFO FLOW coils, these are used for Flow Sub Ohm Tank:
0.25ohm Parallel Dual Coil 35 - 60W
---
That is a lot of coil possibilities!
Take note however these coils may not be 100% cross compatible, the Baby Beast V8-X4 Quadruple Coil 0.15ohm fit and worked great in a Joyetech ProCore Aries tank but Joyetech ProC4 would not fit into a Smok Baby Beast tank.