Sometimes you get a surprise delivery, it can be good or bad. I did not know Joyetech had sent me the Espion mod with ProCore X kit until it showed up…let's find out if this is one of those good or bad surprises.
What you get
Espion mod
ProCore X tank
ProC1 (0.4ohm) head preinstalled
ProC1-S (0.25ohm) head
Spare glass for 4.5ml
Extended vent pipe for 4.5ml
USB cable
Manual
Warranty card
Warning card
Spare o'rings
Available in 3 colors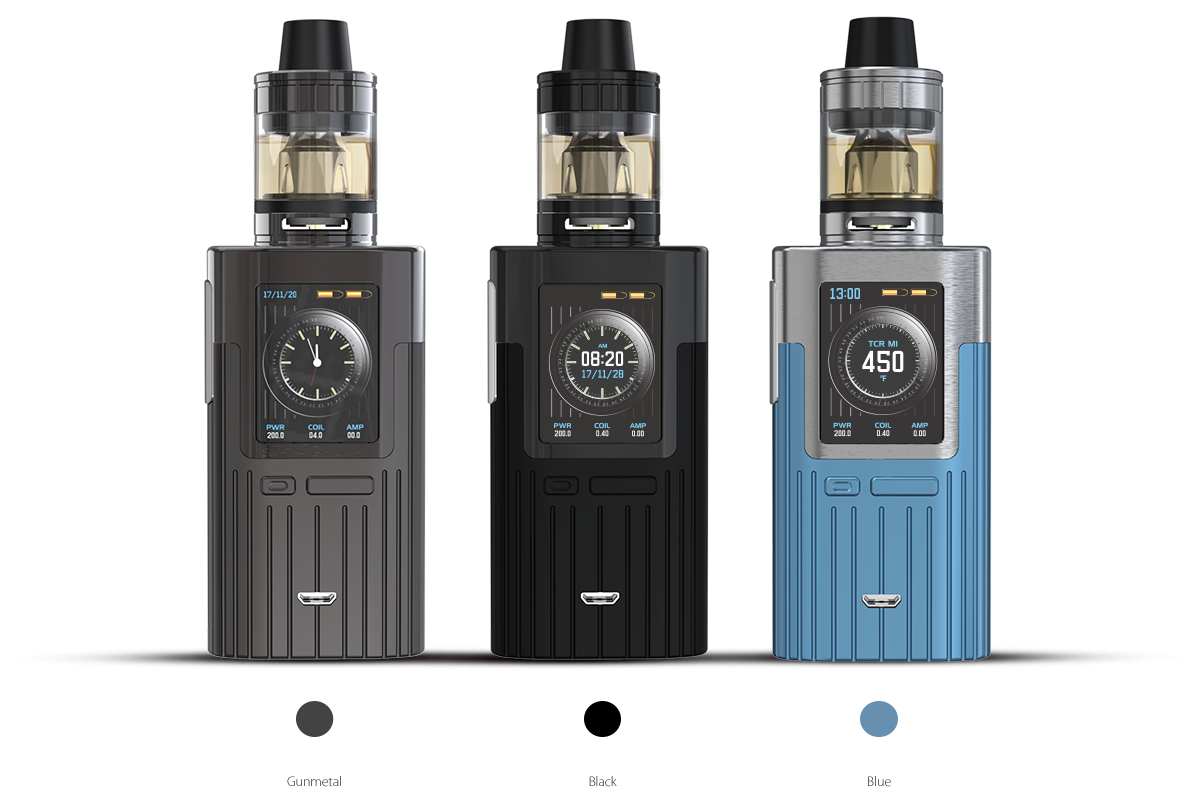 Specs
Mod size: 44mm(L)*28mm(W)*83mm(H)
Screen type: 1.45 inch TFT color screen
Screen resolution: 240*320 dpi
Output wattage: 1-200W
Output mode: Power/RTC/TC(Ni, Ti, SS316)/TCR modes
Resistance range: 0.05-1.5ohm for TC/TCR mode
0.1-3.5ohm for Power mode
Temperature range: 100-315°C/ 200-600°F
Battery using: Dual replaceable high rate 18650 cells (CDC25A)
Max charging current: 2.0A
Max output current: 50A
Max output voltage: 9V
ProCore X
The ProCore X is a pretty basic tank, I really would have liked to see a nicer looking tank that would better match the slick looks of the Espion.
In 4.5ml mode on the Espion

It comes out of the box in 2ml mode but is expandable to 4.5ml with the included chimney extension and larger glass.
Broken down with 2 coils included in packaging, 2 glass sizes, chimney extension and spare o'rings.

2ml mode

4.5ml mode

I started my testing with the ProC1 0.4ohm coil in 2ml mode. It has a wattage rating of 40 to 80 watts but it is said to be best between 55 and 65 watts. If your a chain vaper like me then 65 watts would be too much, I got dry hits on my third pull. At 55 watts it was a lot better but on extended vape sessions I could still get a dry hit, lowering it to between 45 and 50 watts was better in my chain vaping sessions.
Flavor right off the bat was impressive, after the first day I was already looking for sites to order more coils. The flavor really came through and I was impressed, not a cloud beast but you would be looking at different tanks for that anyway, this is more for the flavor chasers.
The 2ml capacity makes fillups an all day affair, it got old after the first day so on went the 4.5ml chimney extension and larger glass. I wasn't expecting much loss in flavor but must admit it was not as tasty as the 2ml setup. Still good but a little was lost, I would definitely recommend keeping it in 2ml mode for the best in flavor, too bad there wasn't a bubble glass option to keep the height the same but increase capacity.
Coil life wasn't as good as I was hoping for, 10 days is not bad but I have tanks with coils that last me twice as long, 10 days for me is not great so that is a con.
Switching to the ProC1-S 0.25ohm MTL coil was a must, I am normally not a big MTL fan but this coil is more of a restrictive lung hit and I found it enjoyable. The wattage rating is 25 to 55 watts with a recommended range of 30 to 40 watts. 55 watts is just to hot for this coil unless you like the taste of singed cotton. I found for chain vaping 25 to 30 watts to be where I liked it, any higher and I could run into dry hits. It is a cloudy bastard for what is supposed to be a MTL coil, even with the airflow barely open and at 20 watts I could still get a decent cloud going.
Flavor on the ProC1-S MTL coil was good but a little lacking for me compared to the ProC1 0.4ohm coil which surprised me a little. Could just be my preference to more airflow but there was a definite difference in the flavor I got using the same juice. They were both tested in 2ml and 4.5ml configs as well but the 2ml ProC1 was the flavor combo for me.
The drip tip is more of a drip cover, much like the Aspire Cleito. I do not have an original Cleito to see if that drip cover would fit but do have a Cleito EXO but the cover from that tank is too big. You can remove the cover and some 510 drip tips will fit, usually the ones with dual o'rings but it looks funny with the exposed o'rings. Overall the included drip cover is fine, comfortable enough and not too big or small.
Overall the ProCore X is a good tank with great flavor in 2ml mode with the ProC1 coil. Looks are plain though, not really my cup of tea but maybe it's yours?
Espion mod
Right out of the box I was impressed with how small this mod was for a dual 18650. Not only that but the build quality and looks had me grinning from ear to ear. Then I put in a pair of batteries…ohhhhhhh, that screen, me likey.
Check out the screen comparison with the SXmini G Class, the Espion screen is bigger and easier to read as the fonts are bigger as well, I love this screen!

The menu is pretty easy to navigate once you get use to it, 3 clicks of the fire button to get into the menu, use the up/down button to navigate and then use the mode button to select. I do admit that sometimes I would forget and use the fire button to select like you do on a lot of other mods, hitting the fire button just takes you out of the menu your on. Joyetech made a nice little video to explain the operation so I am posting it here for those who want to check it out:
While being one of the smallest dual battery mods on the market it still accommodates a 28mm tank with no overhang.

30mm tanks don't look bad if you can deal with 1mm overhang on the front and back.

Of course 24mm tanks will look just fine, love that they centered the 510.

That's all sexy and what not but does it put out?
Yep, and then some. The Espion has been a joy to use in the month I have had it in both power and TC modes. It even has a RTC mode but that just means Real Time Clock which you can select either a digital or analog clock to be on the main screen as you vape. Even in just power mode you still get the time, it is in the top left corner.
Power mode left nothing to be desired and they even include a preheat if you so choose to use it. I did try the preheat which is user set, you choose the power of the preheat and well as the duration. I do like preheat but am not crazy about the set versions, I prefer the percentage based on the power you have set like Yihi and Smoant does it. If I am vaping at 75 watts with the Espion I have to go in and adjust my preheat, if I want it to fire at 95 watts for a half second then that is what I do. If I then change to a low wattage tank and set my main watts to 40 watts I better not forget to change my preheat, if not then I will get 95 watts for a half second. I actually did do this a few times, after awhile I just turned the duration of the preheat to 0 seconds which nullifies it.
Even without the preheat this mod fires up instantly. I know Voopoo talks about how fast there mods fire and I have a drag and like it. I put the same tank on both the Espion and Voopoo Drag and the Espion is just as fast, dare I say it, it felt a little faster. That is the one thing that kept amazing me about the Espion, how quickly it fired up and why I feel the preheat is not even necessary unless you have some huge gnarly coils. Very impressive power performance from the Espion and all the way up to 200 watts I never felt like it was lacking, this one is a winner.
TC performance was also very good…most of the time. I did have some occasions were it just didn't like some huge SS316L builds like the dual SS Aliens in my Aromamizer Plus which ohm out at 0.10. It would work sometimes but then other times it would kick me out of TC and back into power mode. I also had a few times when it didn't want to get the resistance right, kept the resistance from the previous tanks. This would mainly happen with low TC builds even though Joyetech lists a low of 0.05 for TC it definitely gets finicky when you get to 0.12 or less.
Aside from that though the TC performance was excellent, one of the better TC mods I have tested in it's price range. Combine that with it's excellent power mode performance and Joyetech really did a great job with the Espion, I love using it.
One thing to note is sometimes even in power mode it will retain the ohms from the last tank. I found that just unscrewing the new tank, hitting the power button so that it says "no atomizer" then screwing the new tank back on will clear that up. Doesn't happen all the time but has happened to me a handful of times in a month.
The fire button does have some play, I can tap it lightly and get some clickity click action going. It doesn't bother me much and shaking the mod does elicit any odd noises. I know it will get some peoples OCD to flare up though and it must be mentioned, just a small oversight on Joyetech's part from an otherwise solidly built mod.
Battery life has been pretty good, it doesn't have a puff counter so just going off of experience. It does have 2 amp internal charging so even on the go you can charge up quick.
Battery door has been solid and easy to use, no complaints there.

The 510 has been solid with good travel and all my tanks have sit flush.

It is mounted from underneath so no chance of 510 popping off and chucking you tank to the floor.

Size comparisons
I really am impressed with how Joyetech was able to make such a small dual battery mod and keep the 510 centered. I decided to round up some of my smaller dual 18650 mods so I can show you how small the Espion really is.
Shorter than the Alien and the same height as the Dovpo Trigger 168.

The Battlestar is the same height and a little more comfortable to hold. The Cylon in bigger and taller but also accommodates 30mm tanks as opposed to the Espion's 28mm limit.

Smaller than both the Fuchai Duo 3 and Modefined Sirius.

Feeling a little dwarfed by the VapeCige Creator and G Class.

Pros:
Great flavor from ProCore X tank with ProC1 coil in 2ml mode
2ml and 4.5ml options
One of the smallest dual 18650 mods on the market
Excellent power mode performance with noticeably fast firing
Preheat mode
Excellent TC performance with builds higher than 0.12ohms
Solid construction on the Espion mod aside from the loose power button
Beautiful, big and easy to read color screen
Intuitive menu system
Cons:
Coil life could be better
Drip tip not replacable
ProCore X tank is rather dull looking compared to the sexy Espion mod
Too much play on the fire button
Can have problem running builds 0.12ohms and below in TC
Will not read the ohms of new tanks on occasion, need to remove new tank, hit fire button and then put back on
Final thoughts
As you probably have figured out by now I love the Espion mod, while it does have some cons what it does get right is ohhhh so right. From the beautiful and well thought out color screen, easy menu system, solid construction and flat out great performance the Espion is a winner and I have no doubts you will love it too.
The ProCore X tank feels like an afterthought, I really wish they designed another tank to go with the Espion and they don't really look good together. the ProCore X feels like it should be included in a starter kit, not with the Espion.
The ProCore X performance in 2ml mode with the ProC1 coil is a legit flavor tank, not as much when you use the 4.5ml extension. Overall it is a good tank, just not great like the Espion to warrant it's inclusion into this kit.
If you are looking for a deal then one place you should check is this site: http://www.vapecrawler.com/results/espion Of course a google search might yield some great results as well.
Thank you for checking out my review and thanks for Joyetech for sending me the Espion kit for review, it was an excellent surprise. You can find more info here: http://www.joyetech.com/product/espion-with-procore-x/
Check out how this stacks up to other tasty vape gear and meet the Steampugs team of reviewers. Your bound to have a good time and read up on some great products, not so great ones too http://www.steampugs.co.uk/